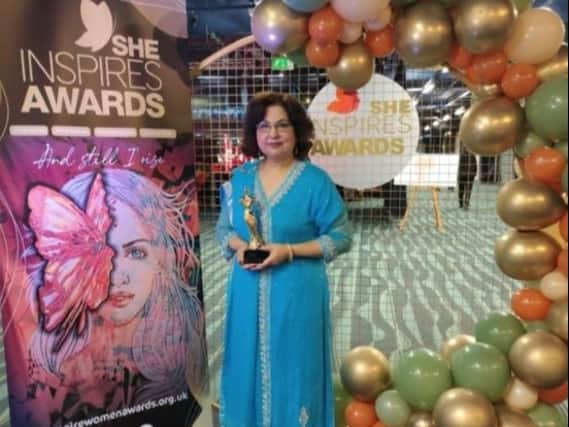 Author, educator, community integrator, arts and culture festival organiser - Qaisra Shahraz has many talents and has enjoyed a huge amount of success.
And running through all the various strands in her life is her love of Manchester, the city she has called home since shortly after arriving in the UK from Pakistan with her parents aged nine.
She explained why the city is an ideal place for her to enjoy a life and career which encompasses and embraces two cultures and has seen her awarded an MBE.
She also spoke frankly about her experiences of racism and Islamophobia and her work building bridges and bringing communities together.
What were her first impressions and experiences of Manchester?
Qaisra arrived in the UK in the late 1960s as her father was one of the many people in the Indian subcontinent who took up the offer of vouchers to come to this country to fill labour shortages.
The family initially moved to Rochdale and then settled within a year in Manchester when her father got a job with the Post Office, an institution he would stay at for 39 years.
However, being plucked from her life in the big city of Lahore and ending up in the North West of England was a substantial culture shock.
It also meant she was exposed to racism and hostility at an early age.
She said: "I was used to big houses, warm weather, sunshine. In Rochdale it was foggy, there were terraced houses, cold and mist.
"Then there was racism. At that time there was the National Front, you had name-calling and the use of the P-word and there were bricks into the window. That was part of that experience.
"One of the hardest things for me was seeing the bullying of my own mother by young children. I remember her running ahead of two or three thugs, racists name-calling and pursuing her. It is heart-rending for a child to see and know that.
"The other incident I remember was a brick being thrown which just missed my baby brother in his cot. You lived with that fear."
However, there were also extremely positive experiences in Qaisra's childhood, including meeting the positive and encouraging teachers who would end up setting her on the path that would shape her career and life.
She said: "I had some lovely teachers who welcomed me and taught me English. That made such a difference. People don't realise how much a language matters.
"In the third year of secondary school I won a prize in English.
"In those days you either did CSEs or O-levels and I was a couple of marks short in English, but a teacher had faith in me and put me into the O-level stream. After that I went on to do A-level literature.
"That one act defined my life and opened up the world of books.
"Teachers can make or break your future, and I had ones who made mine."
Success in the worlds of education and words
Qaisra has got to know Manchester's further education establishments extremely well as she has qualifications from all three major universities in the city: the University of Manchester, Manchester Metropolitan University and Salford University.
Her studies ultimately led to a successful career in education which included teaching and working as an inspector for Ofsted.
However, alongside that she had nurtured the ambition since the age of 14 to be a writer, and said the turning point for her creatively was joining the Manchester organisation Common Word's women's writing group.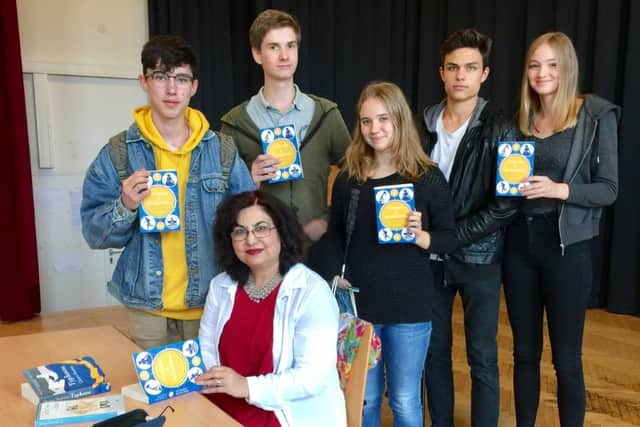 She said: "It gave me the platform to write stories. It was an incentive to write. We encouraged each other. Every week I would write a new story, share it and get nice feedback."
She has now written three novels (The Holy Woman, Typhoon and Revolt) with a fourth book in progress and two collections of short stories.
Her work is on education curriculums in Germany, her books have enjoyed success across the world with translations into numerous languages, and an academic volume studying her work has been published.
A city comfortable with its diversity
Qaisra now lives in Fallowfield says she loves life in Manchester, explaining the positive impact the city has had on her, especially in terms of its diverse communities and its values.
She said: "The person I am has been totally shaped by the city. It has given me opportunities and provided education and facilities. It's a very welcoming city and for me Manchester is one of the best cities in the world. It's the right size and has everything you need.
"I love the cultural scene. When I was a student I would go to the Royal Exchange Theatre and see wonderful plays by Ibsen or Shakespeare, and I also love musicals.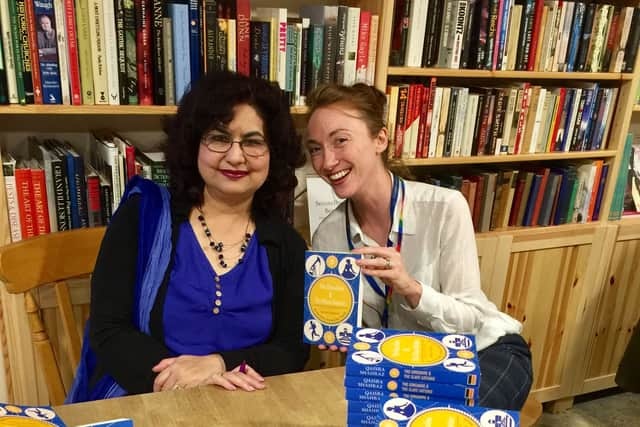 "Manchester is so multi-cultural. There are different, well-established communities here. I belong to the Muslim community but there are many diverse communities: Nigerian, Somali, Turkish. We are totally enriched by this experience.
"I can visit mosques, go shopping and buy clothing on Wilmslow Road, go to all the restaurants. The city welcomed me as a migrant and I feel a sense of belonging, being part of the fabric of Manchester.
"When I go to other places in the south of England I am reminded I am an outsider, there is nothing that reflects you there. In Manchester I feel valued and respected and I can live comfortably with my different identities."
Qaisra says that she is an extremely positive person by nature, and stresses that as every person's life is unique her experiences cannot be taken as indicative of wider feelings.
She is aware that for many people in her situation there are acute and painful clashes of cultures and profound identity crises, but says she always felt happy living partly in British culture and partly in her Pakistani heritage.
Why is her fiction not set in Manchester?
Although some of her early short stories were set in Manchester, Qaisra's successful novels leave England far behind and instead concentrate largely on bringing to the bookshelves stories of Pakistan and its people, in particular the often-untold lives of its women.
She says she has been asked previously why she has chosen not to follow the path of authors such as Monica Ali with works like Brick Lane which chronicle the British Asian experience in fiction.
She said: "As a reader I loved reading about other countries. I wanted my imagination to fly to other places. I didn't want to read about my immediate world so my imagination also flew as a writer.
"There wasn't much written about Pakistan. I wanted to bring my Muslim Pakistani heritage to the Western world and show what life is like in a village.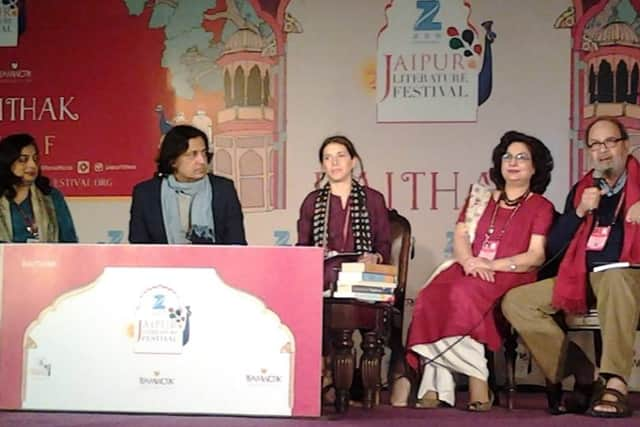 "I deliberately wrote these books as a window to explore issues about culture. My latest book which I'm writing is set in Morocco and France.
"It's not that I don't love Manchester, my imagination just goes abroad. Everything is written in good old Manchester, in Fallowfield opposite the grammar school."
Qaisra says that while her books may be set in other countries they are filled with the British values stemming from her life here, saying: "If I had been writing in Lahore they would be totally different".
'September 11 changed everything'
Another notable string to Qaisra's bow is her work bringing communities together and leading inter-faith dialogue and projects.
She has spent some 15 years on projects bringing Muslim and Jewish people together and also spent a decade on a twinning effort partnering women from the two religious communities, including school pupils.
However, the environment in which she was doing her community work became far harder in the wake of the September 11 terrorist attacks in America.
And when terrorism came to Manchester with the appalling bombing of the Manchester Arena at the end of an Ariana Grande concert, the resulting fear and horror she felt would lead to taking on her latest ambitious project.
Qaisra said: "Since September 11 things have changed dramatically. There was a big spike in Islamophobia, women and mosques were targeted.
"I had lived here most of my life and it was my home, but every time I opened a newspaper there was stuff about terrorists.
"What got me most, and what I still find challenging, is that every time there's this kind of terrorist activity it's described as Muslim or Islamist, whereas the Ku Klux Klan have been killing people for hundreds of years and they're not normally called Christians. Nobody calls that guy in Norway a Christian terrorist.
"Every time we are besieged by it and we have to live with it.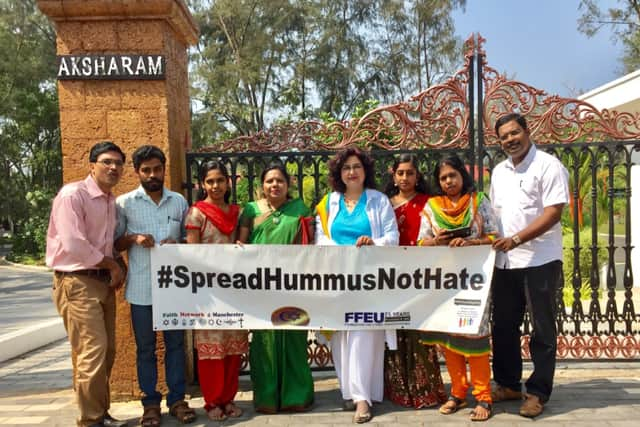 "The arena attack was a devastating experience. I remember that beautiful young girl who went to see her favourite pop star. It's inexcusable, it is madness, nobody can explain the loss of that child.
"I was doing the faith network at the time and we were holding a vigil. One woman was afraid to leave her home, she thought she would be attacked.
"That was a defining moment. I thought enough was enough and decided I was going to celebrate being a Muslim.
"Every time an attack like that happens it leads to division. I'm a writer and have been to many festivals, so I had the idea for a festival."
The Muslim Arts and Culture Festival
Macfest began in 2018 and has grown from a 10-day event to a series of celebrations of virtually every aspect of Islamic life spanning multiple countries and continents.
It focuses solely on arts and culture, with the nature of the festival's origins meaning Qaisra was anxious to leave religion and politics out of it.
It brings Muslims from different countries together to celebrate the diversity of their approaches to life and welcomes non-Muslims who would like to learn more and experience other cultures.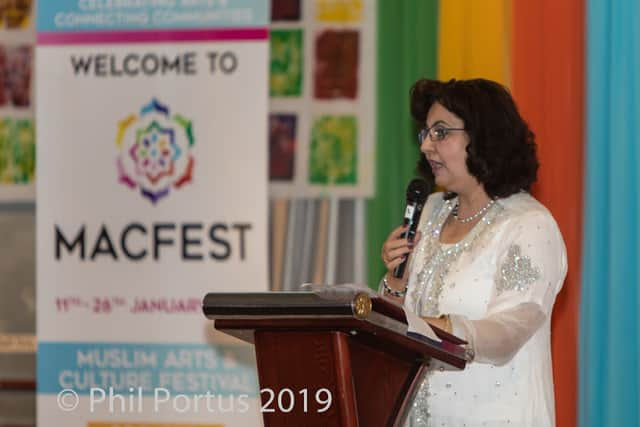 It now spans several months and will look in-depth at topics including African and Arab heritage and have events celebrating Ramadan including iftars, which literally means the breaking of the fast and are the meals Muslims who are fasting during the holy month eat after sunset.
There is also a host of music, dance, visual art and other cultural contributions, while the festival has also hosted panels looking at subjects including Black Lives Matter, with climate change on the agenda for 2022.
One of the most important aspects of the festival is that it also works with schools across Greater Manchester to help pupils understand each other and counter negative stereotypes or impressions.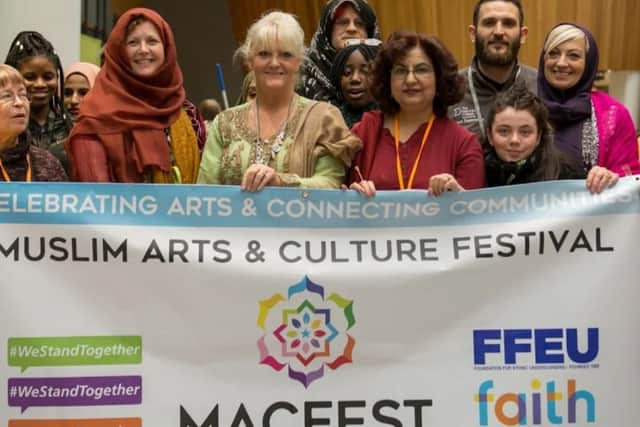 Qaisra said: "I felt so besieged by things as an adult and wondered what it must be like for vulnerable children who were being bullied in school? I knew it just had to be in schools, taking in art and cultural activities to celebrate diversity.
"Terrorists give such a negative view of Islam, my aim was to be the opposite."
Qaisra says another important strand of the festival is celebrating and elevating Muslim women, something which she has been keen to do in everything she has taken part in during her life.
Macfest, which employs women in more than four out of five roles in the organising team, has been recognised with the Queen's Award for Voluntary Service, the country's highest civil honour.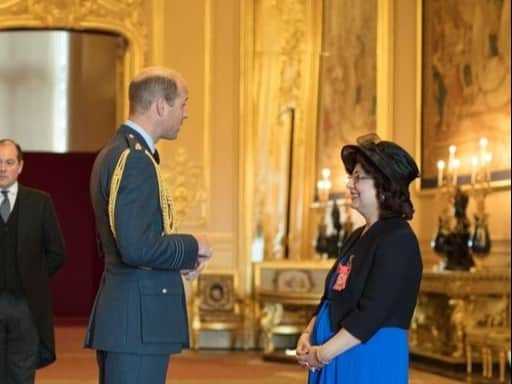 And Qaisra received a major accolade herself when she travelled to Windsor Castle to receive the MBE for services to gender equality and cultural learning.
She said: "That is part of my quest so it was wonderful, a humbling and unforgettable experience."
She has also received a National Diversity Award in 2016 and was named one of Manchester's most influential women in 2017.
Manchester is still Qaisra's place to be
However, despite the ongoing issues of racism and Islamophobia, Qaisra maintains that Manchester, and England more generally, is where she is very happy to live.
She said: "We have problems but if I had to choose England would be my first place. My story is a lucky, good one, but Manchester has provided me with everything I needed."