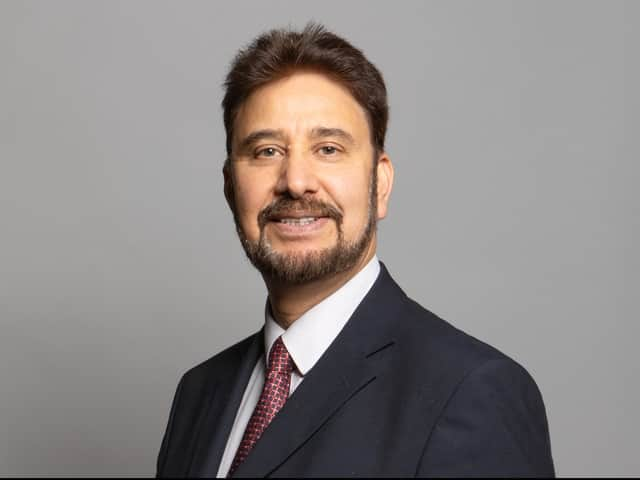 Manchester Gorton MP Afzal Khan has come a long way from the teenager who arrived in the city in 1978 from the Pendle area of Lancashire.
He did his law degree in the city, enjoyed a history-making stint in local politics and after a stint in Brussels began representing a constituency here.
Manchester has also remained his very happy home and he has spent some three decades living in the same house in Crumpsall.
In a wide-ranging interview on what Manchester means to him he spoke of the transformation of the city and the unique spirit of the place and its people.
A place for education and opportunities
Mr Khan arrived in the UK from Pakistan at the age of 11 , was adopted and lived in the small town of Brierfield.
Leaving school at 16 with what he describes with tongue in cheek as "nine no-levels", his first job was as a labourer in the cotton mill which was the town's chief source of employment.
By the time he was 18 he was working night shifts there, but it was heading home from one of these at around 6am that he experienced what would turn out to be a formative moment.
He said: "I was walking uphill to my home and my bed and halfway up for some reason I stopped, turned round and looked at the mill.
"A thought came into my mind: 'What do you want to do?'
"I concluded that to have a different life I needed to have an education. My 'no-levels' weren't good enough.
"Ultimately that need to progress brought me here to Manchester."
The Manchester Mr Khan arrived in was a far cry from the gleaming metropolis of modern times and was in something of a post-industrial slump.
Nevertheless, for him the city did turn out to be the place of opportunities he had hoped, although a good deal of hard graft was also required.
He has seen the transformation of Manchester's fortunes first-hand and has been delighted by it.
He said: "When I compared it to Brierfield it seemed huge but it was also a dying city. The population was going down.
"Now the city is growing and I have been able to see the whole transformation, and be part of it to a certain degree.
"Even when it was dying I compared it to Brierfield. Many people spent their whole lives at the mill I worked at and that was what I was clear I didn't want to do.
"Within a couple of years at the mill I had risen as far as I could, unless I went into the management side."
Studying and enforcing the law
Having got himself O-levels and A-levels, Mr Khan eventually successfully studied for a law degree at Manchester Metropolitan University.
He had initially begun studying physics, but dropped out partly due to a lack of aptitude for the subject and partly because his family needed money as his wife was still a student and they had a young child.
He did a variety of different jobs, including being a youth worker, a bus driver and joining Greater Manchester Police (GMP).
At the time there were very few ethnic minority officers in the force and he explained why he felt compelled to join up.
As issues around race and the police continue to swirl today, Mr Khan spoke thoughtfully of his own experiences on the front line.
He said: "It was the fact there weren't many BAME people in the police that took me there.
"Britain is my country and we need to make sure that all the main institutions resemble it. There was a lack of black and Asian people in the force and there were tensions between the force and communities.
"I would say my experience of those three years was positive, for my confidence and for understanding society better.
"As a police officer I didn't experience much racism, either within the force or from members of the public.
"There was a riot at the central detention centre in the city and we had a line of shields as a protection and then something almost like a snatch squad would move into cells, grab prisoners, pull them out and make sure there were no missiles to throw. The handling of the prisoners was rough, irrespective of colour.
"That doesn't mean racism doesn't exist in the force because police forces reflect society. But for me it was a positive experience.
"There was heavy sexism existing in the force at that time, though. I don't know what it's like now but I felt I would never recommend a woman join the police."
Making the move into politics
Mr Khan's determination to ensure institutions in Britain represent society was also one of the things that drew him into local politics.
In addition, he said his decision to stand for Cheetham ward on Manchester City Council came from a belief that divisiveness was creeping into the area's politics and he wanted to see councillors doing more to bridge gaps and bring communities together.
His approach proved a hit with the electorate. After winning with a reasonably small margin in his first election in 2000, he went on to turn Cheetham into a Labour safe seat.
By the time of the 2011 local election he was returned to his seat with a staggering 84.4 per cent of the vote.
He represented an area he knew extremely well as his law office was based in Cheetham Hill and he lived very close by in Crumpsall.
He took on a variety of roles in politics covering areas including finance, diversity, business and equality.
However, in 2005 he ascended to a post which would write his name into the city's history.
A huge step for diversity and equality
Mr Khan became Manchester's first Lord Mayor from an Asian background, and also the first Muslim to be first citizen.
It was an extremely busy year and one which gave him a comprehensive insight into the city as he attended more than 1,000 official engagements.
He worked on community cohesion, using public spaces for strengthening relationships between different groups of people and fund-raising.
He helped to set up the British Muslim Heritage Centre in Whalley Range, located in a listed building set among eight acres of land open to the public.
Mr Khan reflected on what his achievement in serving in a such a prestigious position meant both for him and the city.
He said: "It was a great honour to be the first citizen of such an amazing, world-class city. You could go anywhere by 2005 and Manchester would be known.
"It said something about our city too, that it is open, welcoming and gives people opportunities.
"It's not interested in where you come from, what it's interested in is where you are going.
"I grew up in poverty, I had no qualifications and I didn't have a single pound in my pocket to start life in the UK, yet I became Lord Mayor.
"So many people come to Manchester for so many different reasons from other parts of Britain or of the world and make the city their home.
"We love Manchester and are proud adopted Mancunians.
"Manchester is a powerful magnet, it has a strong pull."
Paying tribute to the city's unique spirit
As well as drawing people in from far and wide, Mr Khan paid tribute to the abiding spirit of the city and the values of its people.
He said: "My fundamental belief is that good people are in the majority all over the world and the number who want hate and division are smaller. That applies to Manchester and Mancunians.
"It's a place that supports social consciousness and challenges to the status quo. Our history is full of this, we have always taken things like that on.
"Whether it's the IRA bombing which took out the heart of the city, 7/7 or even the bombing in which we lost so many young people, Mancunians come together even in such difficult times.
"That speaks so much about us.
"The Mancunian spirit is what makes Manchester special."
Mr Khan served a stint in Brussels as a member of the European Parliament (MEP) for the North West, after an election campaign which pitted him against Nick Griffin and the British National Party (BNP).
It was a personal triumph for him as he had helped to found Hope Not Hate and Unite Against Fascism to combat far-right parties and politics.
After that his political focus switched back to the city as MP for Manchester Gorton, which he still represents in the House of Commons today.
It is a varied political patch, taking in areas including Longsight, Rusholme, Fallowfield, Whalley Range and bits of Chorlton, Moss Side and Burnage.
He says that variety is a major part of its appeal as an MP.
He said: "You find a really good diversity in its full sense, whether it's housing, opportunities, businesses, communities.
"We have so many local organisations and business opportunities are really important too, for the city and Gorton.
"We still have an issue with people growing up in poverty, which is unacceptable in a city and country like ours.
"Every week I use my social media platforms to highlight different types of businesses and encourage people to support them.
"This pandemic has hit us all hard and the more we do to help businesses the quicker we can recover."
'If I had the opportunity to live in any other part of the world I wouldn't change it'
Perhaps Mr Khan's ultimate vote of confidence in what Manchester means to him comes when he discusses the possibility of living anywhere else.
He said: "If I had the opportunity to live in any other part of the world I wouldn't change it.
"I feel at home and comfortable where I live.
"I wouldn't swap it from the point of view of my heritage or my faith. I love it.
"Manchester is a really good size, we have world-class facilities, you can do almost anything you want to do, we are connected to the rest of the world through the airport and we have great parks.
"Whatever you need, it's all here."