For many people classical music conjures up images of grand concert halls and opera houses with musicians playing the works of Bach, Beethoven, Mozart and other revered figures.
That, though, is emphatically not the approach taken by the ground-breaking Manchester Collective.
In five years the group has taken well-known works to venues such as warehouses, collaborated with a host of artists and played a stack of new music as well as pieces which have been neglected for years and could do with a fresh hearing.
They have brought classical music's masterpieces to new audiences and places while programming experimental and radical concerts in the established temples of high culture.
An appetite for a different approach
Both had followed a fairly traditional route into the classical world, and both came from musical families.
Rakhi moved from her home in west Wales to Manchester to study at Chetham's School of Music and then stayed in the city to attend the Royal Northern College of Music (RNCM).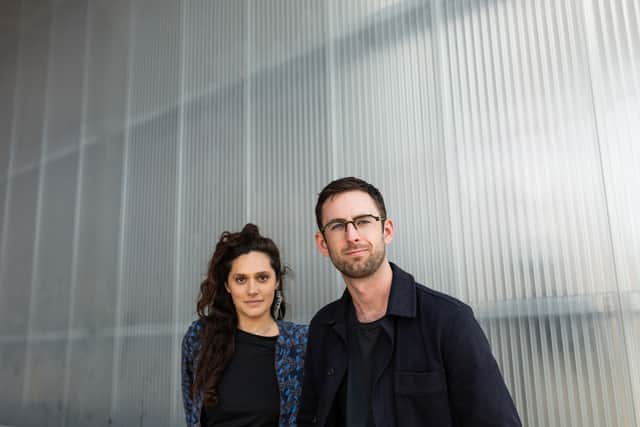 Adam, on the other hand, arrived in the city to do a Master's in 2012, having been brought up in Australia to Hungarian parents and studied at Sydney's conservatoire.
He followed his father into the pit playing for opera orchestras, while Rakhi played in both contemporary and baroque groups at the Northern.
She was always curious about a wide variety of music and thanks to her dad Indian music was frequently listened to at home.
When Rakhi and Adam met in 2016, they quickly realised they had a vision for doing something slightly different within classical music.
Adam said: "It felt like at that time we could both go one way or another. There was a gap in the work we were doing and we felt we could include more new music and a more personal style of programming.
"We were both quite keen to play to audiences that weren't quite as old or monocultural as you get at a symphony orchestra a lot of the time."
Forming an ensemble
Having been introduced by Rakhi's sister, the two of them decided to take the plunge and found the Manchester Collective.
They quickly got a group of like-minded musicians together and launched into a tour of northern venues.
The Collective has a flexible line-up, with players coming in for concerts depending on how many instruments are needed for the works being performed.
And Adam and Rakhi discovered that once the idea had been born there were a fair few musicians who relished the different approach.
Adam said: "Making music together in a way that feels quite free, where some of the music is a bit more unusual, working with living composers and juxtaposing pieces you wouldn't normally see on the same programme is quite an exciting artistic prospect for a lot of players."
Rakhi said: "Once people have seen someone do it and it works it's easier to follow.
"We've learned a lot from contemporary groups and ensembles like Aurora Orchestra [who are perhaps best known for performing pieces from memory], who have started being more adventurous.
"We've created our own version of that in a chamber context and and that has given people confidence to follow their own path, but someone has to have the bravery to do it first."
A rapid road to success
The Collective's debut gig was in Liverpool and Adam said around 20 people turned up to witness the first chapter in its performing history.
Its debut Manchester show, though, was a very different matter and helped to convince them they were on the right track.
Adam said: "About 140 people rocked up and a bunch of the local music scene came. There was a really good vibe and it felt like it was going to work. That was very exciting."
More success followed quickly, and by the end of its first year the group had played at an established concert venue for the first time, attracting a large audience to Stoller Hall.
They played a major work from the 20th century, Olivier Messiaen's haunting and beautiful Quartet for the End of Time for clarinet, piano, violin and cello which the composer had written in a camp while a prisoner during World War Two.
At first the group had played in alternative venues because they were the only places they could get bookings, but this also turned out to be an important milestone in the Collective's story.
Rakhi said: "It was quite liberating for us and a good test. We were learning as we went along and in some ways the music and our idea connected with people more."
A daring and experimental approach to programming
The Manchester Collective has become known for its unusual approaches to putting concerts together and for collaborating with a huge range of artists and creatives.
They have worked on audio-visual installation Dark Days, Luminous Nights, released their debut album The Centre Is Everywhere which takes its title from an Edmund Finnis piece written especially for the group, been part of Sirocco with the boundary-breaking South African cellist Abel Selaocoe and Chesaba and performed a number of world premieres.
Breaking new ground continues in the group's current season as they are collaborating with Stockport restaurant Where The Light Gets In which recently won a prestigious prize for its sustainability and grows vegetables in a garden on a multi-storey car park in the town.
At the same time they have been invited into some of classical music's most prestigious spaces, with a residency at London's Southbank Centre and a debut BBC Proms appearance at the Royal Albert Hall which included playing two concertos with harpsichordist Mahan Esfahani as the soloist.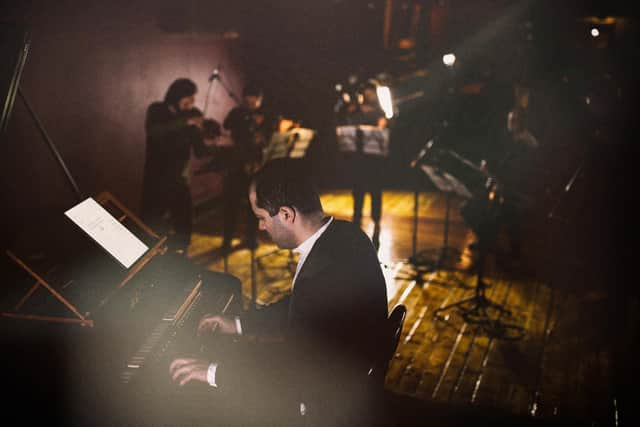 Rakhi said: "This last year things have really flown. I don't know if we were seeking the recognition but when you are totally absorbed and engaged in what you do things can happen as a result."
Both were delighted to perform at the BBC Proms, saying the festival allowing people to stand in the Arena and see the world's best orchestras for a few pounds makes it unique.
And for the Collective playing in unusual venues and established concert halls are equally important.
Adam said: "Going to a warehouse and hearing a Vivaldi violin concerto for the first time and going to a temple of culture and presenting a unique experience are both thrilling and can draw people in from both directions."
Shaking up the mainstream classical repertoire
One of the most notable inclusions on the Proms programme was The Holy Presence of Joan d'Arc, a piece by the African-American and openly gay New York composer Julius Eastman who should be regarded as a major figure in minimalism but who spent time living on the streets and whose music is only just being put back onto concert programmes.
Astonishingly this was the first time any of Eastman's music had been heard at the BBC Proms, a milestone which seems fitting in the light of current efforts to include more music by minority ethnic composers on concert programmes in the wake of last year's global Black Lives Matter protests.
However, the Collective has long had an interest in Eastman and in some ways his overdue first appearance in the Royal Albert Hall is a reflection of the classical mainstream needing to catch up with other parts of the music scene.
Adam said: "This is an area where underground music is far more progressive than the mainstream.
"We play at The White Hotel in Salford, a club in an old MOT garage, and the guy who runs it has been talking to us about Eastman for about five years.
"These aren't rediscoveries, these composers have been knocking around, but for groups like symphony orchestras it's probably more difficult to do something like that.
"Orchestras play an insanely narrow slice of all the music that's been written for them. A study found that for the top 100 orchestras in the world 88 per cent of their concerts didn't contain a single work written by a woman. That's ridiculous."
Rakhi pointed out that contemporary groups such as Apartment House have been playing work by Eastman for years and that the Proms appearance will certainly not be the last time his name appears at a Manchester Collective concert.
The group is determined that even as it gets better known and offered more prestigious slots its commitment to championing lesser-known music will remain.
Adam said: "As we are getting opportunities in parts of the mainstream establishment we can be a bit more pushy about programming."
More dates in well-known concert venues will also not be the end of the Collective's appearances in clubs, factory spaces and other places where classical music is something of a rarity.
Rakhi said: "Context is interesting. If you have an orchestra playing something like the music of Xenakis [an avant-garde Greek composer of the 20th century] in a concert hall that might be a bit jarring, but if you played it in a warehouse or at a festival people would be going nuts."
What next for the group?
Having been forced into doing other kinds of work due to the Covid-19 pandemic, the group is currently enjoying getting back into the swing of hitting the road and travelling to venues around the UK as well as performing in Manchester.
The group has a busy concert schedule lined up for the coming months, including its next appearance at Halle St Peter's in Ancoats on Saturday 25 September.
A typically-intriguing programme includes new work and American composer George Crumb's mysterious piece Vox Balaenae (Voice of the Whale), for three masked players.