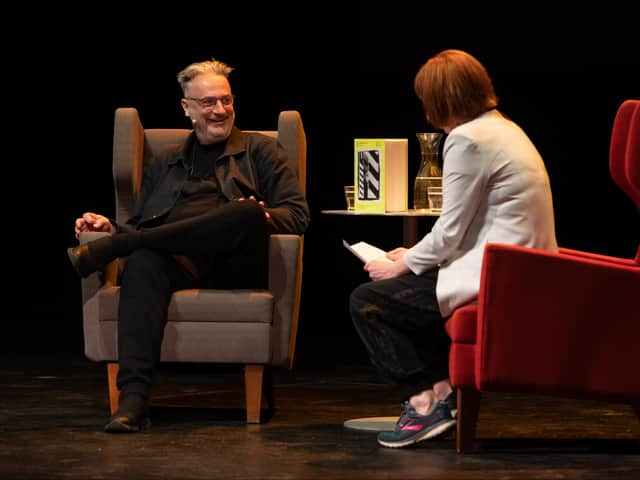 Paul Morley talking to Julie Campbell about his book at Manchester Literature Festival. Photo: Gareth Lowe
Manchester Literature Festival's digital edition is currently in full swing with an array of great online events for bookworms.
A range of major, award-winning authors are taking part and all the events are available to view online during the month of November.

Most Popular
We've taken a look through the programme and picked out five things you won't want to miss.
Elizabeth Strout in conversation
The much-loved American writer has returned to her popular character Lucy Barton for her seventh novel Oh, William!
A poignant tale of grief, trauma, healing and how well we can ever know someone, the book sees Lucy reunited with her first husband William for a road trip which brings to light long-hidden secrets from his childhood.
Elizabeth Strout. Photo: Jemal Countess/Getty Images
She is a Pulitzer Prize-winning author who has been praised by the likes of Hilary Mantel.
Rebecca Solnit in conversation
The author of more than 20 books and also an activist, Rebecca Solnit will be discussing her book Orwell's Roses.
Based around the rose bushes George Orwell planted around the garden of his cottage in Wallingdon in 1936, the book explores ideas such ass the climate crisis, poverty, totalitarianism, feminism, and slavery in the sugar trade, drawing links between Orwell's works and current societal issues.
She is speaking to Manchester Literature Festival patron Kamila Shamsie, author of The Women's Prize winner Home Fire.
CWEN: Alice Albinia and Maxine Peake
Alice Albinia's inventive novel Cwen focuses on the disappearance and feared death of Eva Levi, the founder of a gynotopia on an archipelago off the east coast of Britain where women control all of the civic institutions.
The inquest reveals a group of women from different backgrounds and the challenges they faced, while behind them all lies Cwen, uniting the earth and female power.
The author has travelled around the edges of Britain, from Orkney to Anglesey, piecing together ancient, medieval and modern tales of islands ruled by women and her non-fiction book The Britannias will be published in 2023.
She speaks to well-known actor, writer and political activist Maxine Peake.
Novel Voices: Caleb Azumah Nelson and Brandon Taylor
Two brilliant young talents discuss their acclaimed debut novels.
British-Ghanaian writer and photographer Caleb Azumah Nelson's first book is the lyrical Open Water, in which two young talented and Black Londoners fall in love to the soundtrack of the city and music.
Brandon Taylor, meanwhile, made his debut with Real Life in which Wallace, a Black gay biochemistry student at a Midwestern university, tries to come to terms with the death of his father in Alabama.
Both writers are interested in issues such as male vulnerability, trauma, grief, love and tenderness as well as where writing by and about Black men fits into the literary canon.
The event is being presented in partnership with the Centre for New Writing and Creative Manchester.
Tishani Doshi: A God at the Door
The award-winning poet shares verses from her new collection A God at the Door.
She discusses her work and imagination, the urgency of writing about injustice, inequality and climate change, and the role human rights and feminism play in her life as a poet and person with fellow poet and human rights lawyer Mona Arshi.
The event is being presented in collaboration with the Ripples of Hope Festival, which took place in Manchester.
It also features of a short film of the collaboration she wrote responding to the idea enshrined in human rights articles that everyone has the right to recognition everywhere as a person before the law.
What else is on?
As well as the events which have been especially created for the digital festival, there is also the opportunity to watch online a number of Manchester Literature Festival events which were filmed.
Bernardine Evaristo at Manchester Literature Festival. Photo: Chris Payne
These include Paul Morley talking about his biography of Tony Wilson of Factory Records, Madchester and The Hacienda fame, an evening with Bernardine Evaristo, Jeanette Winterson and Mark O'Connell and an event with former Labour MP Alan Johnson talking about taking up fiction writing.
How do I watch the events?