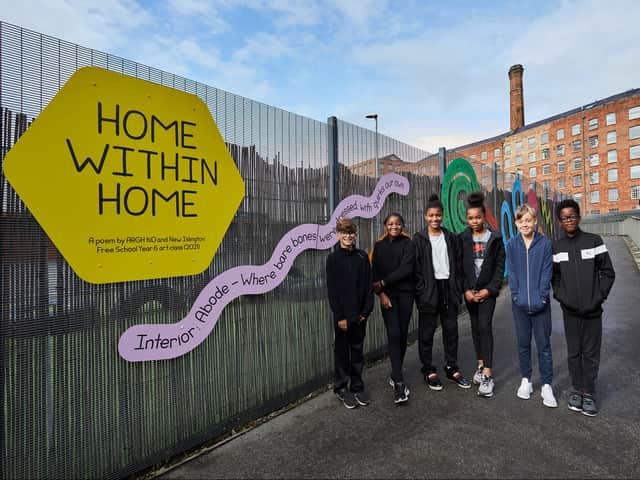 A Manchester poet, hip hop artist and radio presenter has teamed up with school pupils to create a bold new artwork in the city.
David Scott and pupils of New Islington Free School created the piece, which has been unveiled in celebration of National Poetry Day (Thursday 7 October).
The poem explores the idea of what makes one of the newest areas of the city a home and is on display at the school.
What is the poem and why was it created?
The poem is called Home within Home and was put together by Longsight-based wordsmith David, who is the frontman of alternative hip hop band Argh Kid and also presents on BBC Radio Manchester, and leavers from New Islington Free School.
The words, together with colourful artworks by the pupils, are now on display at the school in its canalside location.
The poem delves into why Manchester's newest district already feels like a home and captures the best parts of life in the city.
It was created as part of the regeneration project going on at New Islington which focuses on positive impacts the neighbourhood is having.
The poem signs off with the line: "the heart of MancUnians is U".
What is New Islington?
New Islington is a neighbourhood just a short distance from Manchester city centre which is being created by House by Urban Splash.
It has family homes and apartments, independent businesses, places to exercise and a marina which has quickly become a draw for locals and visitors alike.
It also has a health centre and the New Islington Free School, which has been rated Outstanding by Ofsted.
What have those involved with the art project said?
David said: "I'm so honoured and proud to have created this piece with such talented young people.
"This group has sacrificed so much this last year, and I really believe that creative outlets can help them as we navigate our way out of the pandemic.
"This project allowed them to focus on the positive elements of their surroundings, and what parts of this awesome city of ours make them feel safe and at home.
"Writing down or drawing out our feelings is wonderful therapy and some of the lines the kids came up with are award winning and I'm proud to sit them alongside my own words as we unveil this special piece to the world."
New Islington Free School headteacher Tabitha Smith said: "We are big fans of the arts and giving our pupils the chance to work with great Manchester talent such as David.
"In a year in which they have sacrificed so much, I was delighted to be able to give them a fun project to work on – one which has inevitably evoked so much pride and made them see so much good in our surroundings here.
"The finished prose is beautiful and says everything that we believe to be true about New Islington and Manchester.
"I am delighted to preserve our students' creative legacy and showcase this poem on our gates; thank you and congratulations to all who were involved."
Toby Brown of House by Urban Splash said: "New Islington is a bustling, vibrant and exciting neighbourhood – and a wonderful place to call home. The pupils at the school are an incredible part of this community and we are really pleased with the work that's on display."