Helen Flanagan stuns at Pride of Manchester Awards as I'm A Celeb fans ask why she isn't in South Africa
Helen Flanagan looked stunning as she stepped out for an awards ceremony in Manchester.
Helen Flanagan wowed fans with her outfit at the Pride of Manchester Awards as she put on a dazzling display. The former Coronation Street star, 32, opted for a slicked-back hairstyle and donned a sparkling gold mini dress with matching gold heels and a clutch bag as she stepped out at the Kimpton Clocktower Hotel.
The TV personality was joined at the awards by stars including Kym Marsh and Christine McGuiness, as well as Love Island runners-up Lana Jenkins and Ron Hall. Helen later took to Instagram to post a picture of herself posing alongside her friend Maddy. She captioned the post: "Best girls since forever."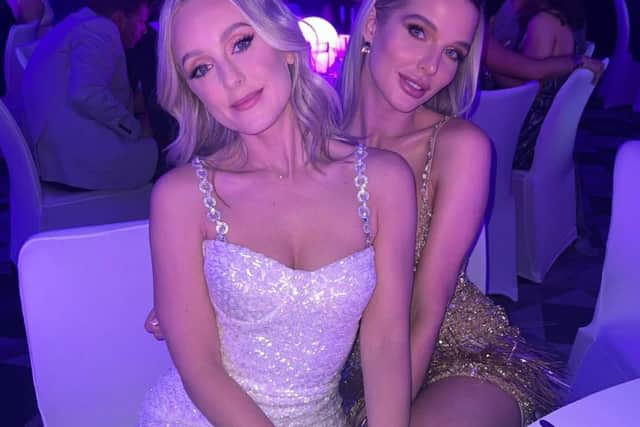 It comes after the actress gave an emotional update to fans following her split from footballer Scott Sinclair. Helen called it quits on her relationship with the Bristol Rovers footballer in October after 13 years together, claiming that a bad omen led to the decision. They share three children, Matilda, seven, Delilah, four and Charlie, two.
The mum-of-three shared a video of herself bare-faced and cuddling her Guinea pig alongside a candid statement to fans. Helen wrote: "So this long weekend was my first weekend that I didn't have my kids as they were having a good time with their daddy and nanna. I usually when my kids go away, make sure I go out. Usually run to London and get drunk with my friends. I felt like it was time, though, to face being in my family house on my own, which is something I've put off for a very long time as I didn't want to feel sad."
The Coronation Street star added: "But sometimes I suppose you've just got to feel stuff, and it's ok to cry x I wanted to share this because sometimes we scroll on Instagram, and things can look perfect, but in reality, some things are just S**t…Also, I have a big following of other mums and women that will relate to me, and I love that I've built a supportive network of women x.
"Anyway, here's some snaps from my weekend. Me and Angel didn't want to get out of my dressing gown, and binge ate Colin the caterpillar cake… honestly, Matilda begged me for Guinea pigs, and all I do is clean up Guinea pig poo x." She rounded off her post by writing: "Anyway, bring on the week. My house has never been so immaculate x."
Helen recently took part in the all-star edition of the popular I'm A Celebrity reality show after her first stint in 2012. The 32-year-old was dumped from the ITV show with EastEnders actor Dean Gaffney on Wednesday.
Earlier this week, the tv star revealed that fans were baffled to see her shopping in Tesco while she was on the screens in South Africa. This year's series is fully pre-recorded and was filmed in September last year. Speaking at the Pride of Manchester Awards, Helen said: "Everyone is like 'What are you doing? Why am I seeing you in Tesco?' and I say - 'We filmed it last year.'" She added: "They say 'you're supposed to be in South Africa.'"