Helen Flanagan: I'm A Celeb star is mum-shamed after posing in lingerie for outdoor Ann Summers shoot
The mum-of-three has appeared in a new advertisement campaign for lingerie company Ann Summers.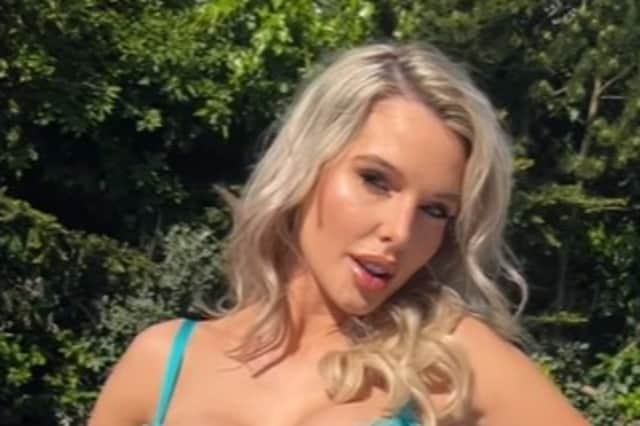 Helen Flanagan has been cruelly mum-shamed by trolls for wearing lingerie in a garden photo shoot. The former Coronation Street actress, 32, best known for playing Rosie Webster, donned different lingerie outfits for a new Ann Summers campaign.
The video uploaded to Instagram sees Helen posing on a picnic blanket, tucking into cake and strawberries and sipping on glasses of prosecco. "I Just Want to Make Love to You" by Etta James can be heard playing in the background. The TV star wrote in the caption: "Picnic weather... celebrate the good weather with sexy empowering summer lingerie sets from @annsummers #styledwithAS #AD."
However, cruel trolls rushed to the comments to shame the mum-of-three. One person wrote: "Sorry, this is embarrassing not only for yourself but as a mother, one who has picnics in underwear??? And 2, the world has gone crazy." Another said: "Bet your kids are proud... I'd be mortified seeing my mum like that." Someone else penned: "Just a bit disappointed tbh. Love her posts as a mummy, not this."
Many of the TV star's fans came to her rescue following the negative comments, with one saying: "All these negative comments!! She looks AMAZING, and I'd be proud if she was my mum. Just because she's in her underwear doesn't make her a bad mum. It's awful people are trying to mum shame when she is a great mum!!! And she is doing an Ann Summers ad, so of course, she's going to be in her underwear. That's the whole point of advertisement." Another added: "Omg, so much hate??? This lady is making a living like us all and has the assets to do that by promoting brands and looking pretty bloody amazing Leave her alone. If you've got it flaunt it !!!"
Helen is currently taking part in the all-star edition of the popular I'm A Celebrity reality show after her first stint in 2012. During a recent episode, she took on the "highest ever I'm A Celeb trial" alongside former boxer Amir Khan, who has now left the jungle, and radio host Myleene Klass.
She thanked fans for their "nice messages" after her latest trial aired. Speaking to her one million Instagram followers, Helen said: "Thank you so much for your nice messages about the jungle. Honestly, anybody that knows me like I hate heights. I really am not a height fan. But thank you so much for your nice messages. Honestly, it means the world to me. Thank you so much, and yeah, I just really tried to work with that kind of mindset, like keeping calm, rationalising things."