I'm A Celeb…South Africa: Helen Flanagan forced to apologise to Ant and Dec after latest trial
The former Coronation Street actress first took on the I'm A Celeb jungle in 2012.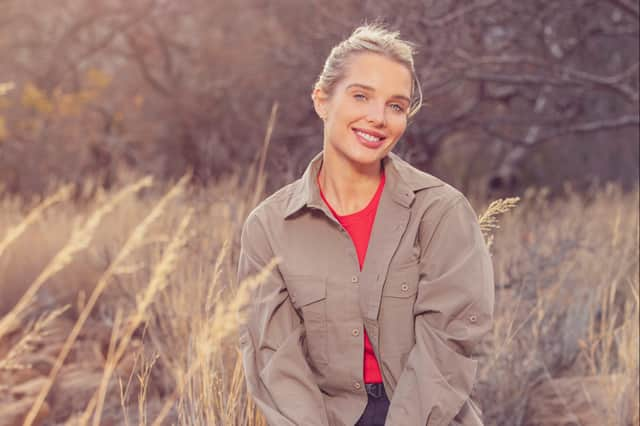 The pair were tasked with unlocking a padlock and had to search through containers of offal to find the combination while critters rained on them from above. The winner of the trial came away with a picnic for their team, while the losing team dined on rice and beans.
As the pressure got to Helen, she was heard shouting "f*** off" at the show's hosts, Ant and Dec. The explicit remarks were picked up on by Paul, who mentioned the actress' 'potty mouth' leaving her red-faced. Ant told Helen after the trial: "I mean it was a bit hairy for a few moments, wasn't it? There were a lot of F-bombs." She later apologised and said: "I'm sorry, guys. I'm usually not a swearer." She added: "I'm sorry, and I'm sorry Mum."
I'm A Celebrity fans took to social media to praise Helen for her performance in the trial. One person said: "Oh my, Helen was such a different person ten years ago on the bushtucker trial. I thought she did amazing and made her team very proud." Another penned: "Well done Helen. Giving birth made her a very strong and determined woman. Her children will be very proud of her. She deserves a win this time." A third said: "Well done, Helen!! Keep it up your doing great." Someone else commented: "Helen has pleasantly surprised me in this series. She has conquered her fears bravely. What a turn round! There's no stopping her now!"
In a recent episode, Helen took on the "highest ever I'm A Celeb trial" alongside former boxer Amir Khan, who has now left the jungle, and radio host Myleene Klass.
She thanked fans for their "nice messages" after her latest trial aired. Helen said: "Thank you so much for your nice messages about the jungle. Honestly, anybody that knows me like I hate heights. I really am not a height fan."
She added: "But thank you so much for your nice messages. Honestly, it means the world to me. Thank you so much, and yeah, I just really tried to work with that kind of mindset, like keeping calm, rationalising things." The former Coronation Street actress first took on the I'm A Celeb jungle in 2012 and finished in 7th place.