While the former Tottenham Hotspur and Brentford man has undoubted quality, there are real questions to be asked about Eriksen's arrival at Old Trafford.
Namely, where is the 30-year-old going to play, and what will it mean for the likes of Bruno Fernandes and Donny van Beek?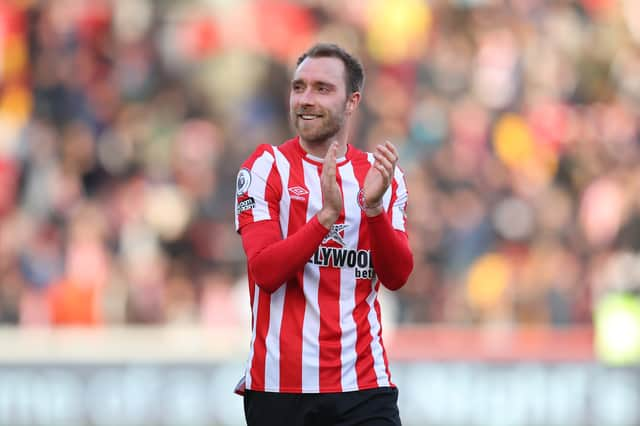 Where does Eriksen fit?
Eriksen, like Fernandes and Van de Beek, operates best as an attacking midfielder, mainly in a role just off the striker.
Yet, it's difficult to foresee a situation where the Dane can manage to force Fernandes out of the team, even after his disappointing campaign last campaign.
The Portugal international registered just 10 goals from 45 appearances in 2021/22, down from 28 in 58 from the season prior.
But it's hoped the appointment of Ten Hag will breathe new life into Fernandes, who will likely be asked to play in a slightly deeper role under the former Ajax manager, who prefers a 4-3-3 system.
There is a possibility that Ten Hag could opt to play with a deeper midfielder - perhaps even Frenkie de Jong - at the base of a three, and allow Fernandes and Eriksen to operate alongside him. But playing with two attack-minded midfielders is a huge risk for a side who were so inept at stopping opposition attacks last term.
Meanwhile, asking either Fernandes or Eriksen to perform in a box-to-box role makes little sense, and suppresses the best attributes of both players: their creativity.
Then there's the Van de Beek element to this whole saga. The 25-year-old has more than a point to prove ahead of his third season at Old Trafford, while he failed to make any real impression on loan at a struggling Everton side in the second half of last campaign.
To a certain extent, United supporters still don't know what Van de Beek is capable of, so rare and underwhelming were his on-field contributions in his first 18 months with the Red Devils. But a predominately offensive midfielder who is low on confidence, will not benefit from the added competition provided by the arrival of Eriksen.
Meanwhile, the Danish international's signing should all but snuff out any chances of the promising youngster Hannibal making inroads into the first team.
Can Eriksen play anywhere else?
Eriksen has previously operated in the wide areas for Spurs, but this mainly involved him moving inside off the left flank and linking up with Dele Alli or Harry Kane.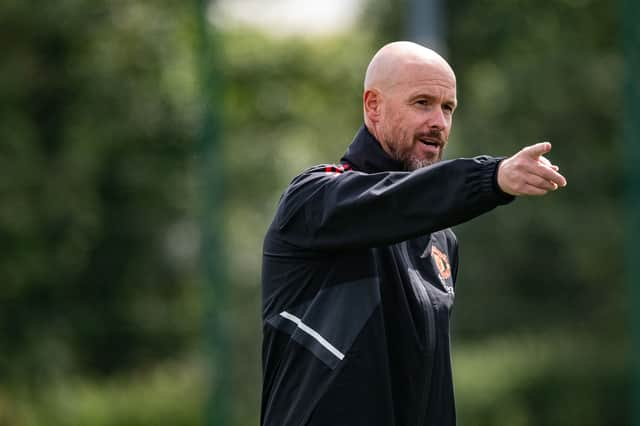 Ten Hag likes his wingers to perform in an altogether different role, playing high, dribbling at full-backs and looking to get in behind with pace; not the sort of option Eriksen would provide from that area.
A man United are tracking - Antony - offers the best example of what Ten Hag wants from his wingers, rather than the inverted playmaker that Eriksen would offer.
In Marcus Rashford, Jadon Sancho, Anthony Elanaga, Amad and Facundo Pellistri, Ten Hag already has the traditional wide players he prefers, and reconstructing his entire philosophy around Eriksen makes no sense.
There is a third option for the 30-year-old, who could chiefly come in as back-up to Fernandes, and be an option who is rotated into the side, particularly against weaker opposition against whom United will retain greater possession.
Again, this seems like an odd fit for a player of Eriksen's quality, one who was approached by several Premier League clubs and could have been a marquee signing for the likes of Newcastle United, Everton or Brentford.
Repeating the same mistakes?
For Eriksen, replacing Fernandes, playing alongside him, operating out left or primarily being back-up all seem illogical, and there remain genuine questions around where exactly he'll fit into Ten Hag's plans.
A similar uncertainty greeted Van de Beek's arrival two years ago, a transfer which has not gone to plan. Meanwhile, the arrival of Cristiano Ronaldo in August appeared to be a knee-jerk decision, with United snatching at the low-hanging fruit on offer.
The choice to recruit in already well-stocked positions, along with the reckless approach to renewing contracts, led to the bloated squad that Ole Gunnar Solskjaer and co assembled last season. The results of that were disastrous, as the Red Devils endured their worst Premier League campaign ever.
Yet, Eriksen's transfer has a foreboding feeling of deja vu.