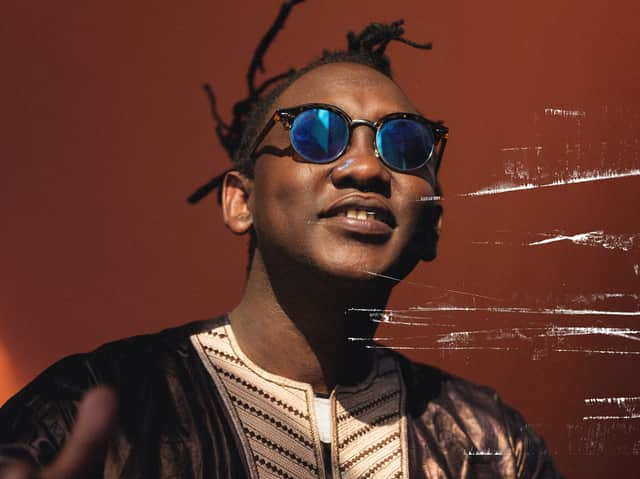 •Abel Selaocoe is a musician on a mission to bring Western and African traditions and styles together - and finds Manchester the perfect base for his creative talents.
The cellist, singer and composer's border-crossing, boundary-breaking style and work was honed in Manchester and the city's vibrant cultural scene continues to play a huge role in his life and success.
Abel spoke to ManchesterWorld about why the city is an ideal home for him and how he is looking to put down roots here.
Arriving in the city to study music
Abel first came to Manchester around a dozen years ago to study the cello at the RNCM, the city's renowned conservatoire.
He was brought up in Sebokeng, about an hour and a half from South Africa's largest city Johannesburg, and first started playing the cello at a Saturday music programme for children from the townships.
He got a scholarship to a prestigious school in the city where he continued to develop his musical talent and then began to look at the question of heading abroad to study his instrument and embark on a career in classical music.
Abel said he knew very quickly that the RNCM and the city it is in was the place for him.
He said: "I went to London to audition and that felt very anonymous. South Africa is a very warm place, everyone greets you all the time.
"I went to Manchester and just walking in there was a different air. There was a feeling I would be an individual there and have an identity of my own.
"As soon as I walked into the college the teacher auditioned me and then said they knew the right person for me.
"The environment would be tailored for me and I was very attracted by that. Someone listened to me and recommended this person to me, rather than throwing me into an audition system with a one-size-fits-all philosophy.
"Manchester was small enough and big enough."
How Abel defined his musical voice in Manchester
Abel arrived in Manchester to study Western classical music at the Northern, and said performing that at the highest level was his career ambition when he got off the plane from South Africa.
However, he soon began to take increasing interests in the sheer diversity of sounds and music being made around the city, whether it was a skilled player of the kora (a West African harp-like instrument) in Piccadilly Gardens or what was going on in Manchester's many non-classical venues.
Among the people he met was Sidiki Dembele, a rhythmic master of the djembe who lives in Manchester but was originally from Cote d'Ivoire.
As he started spending time with an eclectic group of musicians and playing outside of the Northern, his idea of what he wanted to do began to alter.
He said: "I went to Manchester to study classical music. This was the first dream: I would be this classical cellist playing in every renowned concert hall.
"The dream began to change because of the personalities I met. I started missing home and I started playing with different musicians who weren't classical musicians.
"With my teacher it was so malleable, she just let me. She said if you want to start a band, start a band; if you want to play Bach, play Bach.
"That was the start of carving my voice."
Abel founded a band called Kabuntu, which means "of the people", and by the time he left music college was already extensive performing around the city.
He said he was also questioning at this time what it meant to be an African classical musician.
His longest-lasting group has been the trio Chesaba, which means "three men" in the West African language of Bambara.
He said: "The opener of my creativity was being part of the city, understanding its pace and metabolism.
"At first the Northern felt different, like the building was its own place. The wonderful thing about it was that it allowed so many people to walk through and play, you didn't have to be part of the institution.
I met a lot of different people and collaborations began to happen. I started hanging out with an incredible beatboxer and we had a duo. Some of the stuff we did was beautiful.
"I was also really inspired from hanging out with Sidiki and I discovered Manchester had a really vibrant sense, similar to South African places, of spontaneous meetings.
"All this time I was still going to class at the Northern and playing this wonderful classical music.
"I had to look for the balance between these worlds.
"With Chesaba we bring forward three different cultures and meld them into one through improvisation. We could just start playing concerts with no plan and come up with the most beautiful creative things."
Working with the Manchester Collective
Intriguingly the seeds for this partnership were sown some years before it actually happened as Abel and Collective co-founder Adam Szabo were in the same cello class at the Northern.
Abel said: "It's so crazy how our paths have taken us. I thought he would be an orchestral cellist, nailing the notes.
"A few years later I saw him creating this organisation that was so open-minded with lots of different musicians bringing their essence.
"I watched the Collective grow and it felt like I could be a link between African and classical music. I had worked relentlessly on the classical music while African culture came naturally to me.
"The question was whether you could link these worlds in a concert space."
The idea that was eventually created was Sirocco, named appropriately after the wind that travels between Africa and Europe.
As Abel was already composing by this point the project was created to bring together some of his self-penned material with existing classical pieces, some of which had been written centuries ago and others which were brand new.
Abel says this is "an extension" of Sirocco, "moving forward but still celebrating" music played by Western instruments alongside South African music.
The central figure of The Oracle, Abel says, is someone who brings a message for the collective good and wellbeing of the listeners.
He said: "As an artist I spend a lot of time alone, but there's a difference between that and loneliness. Being on your own as an artist is about really creating a space for yourself to explore things honestly.
"The Oracle is about the way my instrument could be viewed and bringing quite a beautiful message that is very close to my heart. This is my version of Afrofuturism and where the cello fits into it.
"It's about escaping from tradition and celebrating it. It's about education and what we feed our young people from the beginning, it's about the way we make decisions for the future.
"Celebrating South African tradition and philosophy and using it in my modern life, navigating and sometimes struggling with that."
A place to put down roots
Abel says he sees his future very much being based in Manchester.
He said: "We're going to have family here. I'm growing in this place. I go away quite a bit and come back and my people are here.
"I play for them and ask questions about how they see the world.
"I'm meeting even more incredible people and it feels like an endless hub of creativity. I want to elevate it with whatever I can contribute and be elevated by who's here.
"It's not about the facilities, it's the people. The spirit that exists here is special."
He said: "For me it's about the music, the dancing and the places where people get together. People work so hard during the week, at the weekends they are looking for a way of opening up.
"I find going to dance or to meet for a beer is the best way of letting people blow some steam off and I love getting the groove on with my friends.
"I'm also about the nature just outside Manchester on the city's outskirts. It informs my work and I'm always looking for that."