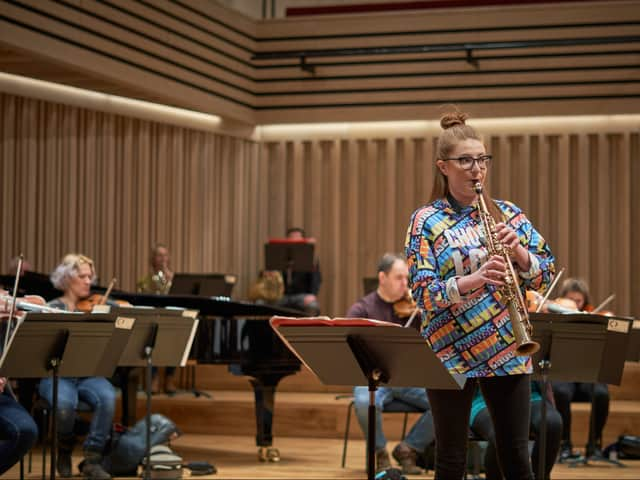 One of classical music's best-known young stars will take centre stage as she returns to Manchester to help one of the city's orchestras celebrate a milestone anniversary,
She spoke about her link with the Camerata as the ensemble's resident artist and her love of the city which played an important part in her musical journey to professional success.
What is Jess Gillam's concert at The Stoller Hall?
Cumbrian-born musician Jess and the Camerata will be on stage at the state-of-the-art venue located in the Chetham's School of Music complex opposite Manchester Victoria station as the ensemble celebrates half a century of music-making this year.
Jess will be the soloist in Glazunov's Saxophone Concerto on a programme which also includes Be Still by Daniel Kidane, a work commissioned and premiered by the Camerata last year.
It is the first of several performances she and the orchestra will give together this year, with a concert at King George's Hall in Blackburn in May and one at The Coronation Hall in her hometown of Ulverston in September.
Jess said: "It's great to be starting off the celebrations in Manchester. I really love the Camerata and am really proud to be an artistic partner with them.
"Every time we play together I love it, they have such an amazing ethos and spirit. They are about really high-quality music and performing to the best possible standard while engaging with people and getting out into the community.
"The Glazunov concerto is a brilliant piece. It's quite Romantic and has lots of really lyrical melodies, but also really explores the possibilities of the saxophone.
"We're also playing a piece by Max Richter, which is completely stunning and is one of those pieces that makes time stand still, and David Heath's The Celtic which is inspired by folk music and rhythms. We've got a varied concert."
What is it like being a resident artist with the Manchester Camerata?
Jess has now been resident artist with the Camerata for a few years and said the partnership is a flexible one which enables them to jointly explore whatever they wish in music.
She paid tribute to the orchestra's abilities and explained why she is delighted to have the long-term link with them.
She said: "For me it's one of the most exciting orchestras in the country which pushes the boundaries of what a concert can do. The Camerata is up for trying anything.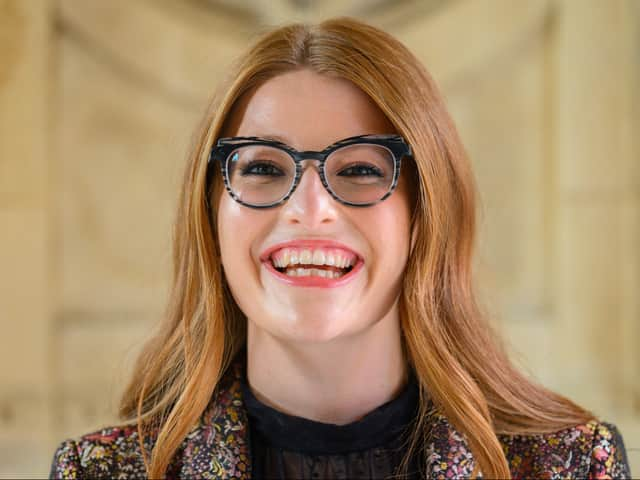 "It's really special to be able to build a relationship with the organisation, rather than just fly in, do a concert and then leave again.
"Being a resident artist is quite fluid, it can be anything that we shape it into. We will be doing a few concert with slightly different programmes this year and it will be nice to really get to know a piece. Hopefully we will discover some new things in it."
How has Manchester shaped Jess as a musician?
She said she grew to love the city then and coming back to it as a successful professional musician has done nothing to dampen her enthusiasm for it.
Jess said: "Manchester was the nearest big city from Cumbria where you could soak up lots of different types of culture.
"It's a very authentic city and there's a real sense of community and togetherness. The people are so warm and friendly as well.
"I had an amazing experience at the Junior Royal Northern, meeting people who are still my best friends now.
"I would be tying it in with seeing something if I could, because there was so much on offer in the city and so many venues, whether it was HOME to watch theatre or the Cornerhouse or the Palace Theatre.
"I try to be interested in seeing as much culture as possible because it's all connected. Everything is a snapshot of humanity and being alive, whether it's through cinema, theatre or sound.
"There are so many different outlets to tell stories and I'm interested in seeing how it's done in other artforms as well as maybe taking inspiration from that sometimes."
Jess also says that Manchester is home to two of her favourite places to perform as a musician.
She said: "I really love the Bridgewater Hall so much and I also love playing at The Stoller Hall. It is a more intimate setting and to have it integrated with Chets is really special.
"The acoustics are great and so are the layouts. The shape of halls makes such a difference as a performer to the atmosphere and both Manchester halls feel really inviting. They feel like it's easier to open up a connection with the audience."
A passionate advocate for music
Jess had a somewhat unusual route into the classical music world, with her earliest experiences of performing being in carnival bands until she first heard a saxophone quartet aged about 11.
She is a passionate advocate for music and fan of attempting to break down barriers and bring new listeners into the fold.
This can be seen in the eclectic selection of music she has recorded and played both in concert and on her two studio albums (perhaps helped by the fact there is not a huge amount of core classical repertoire written for saxophone), in the Virtual Scratch Orchestra project she did over lockdown when she encouraged musicians of any standard to log on and play virtually, and in her BBC Radio 3 show This Classical Life which explores her and her guests' passion for music.
Her commitment was also recognised when she was awarded the MBE for services to music in the Queen's Birthday Honours for 2021 list.
She says this is also an interest she shares with the Camerata.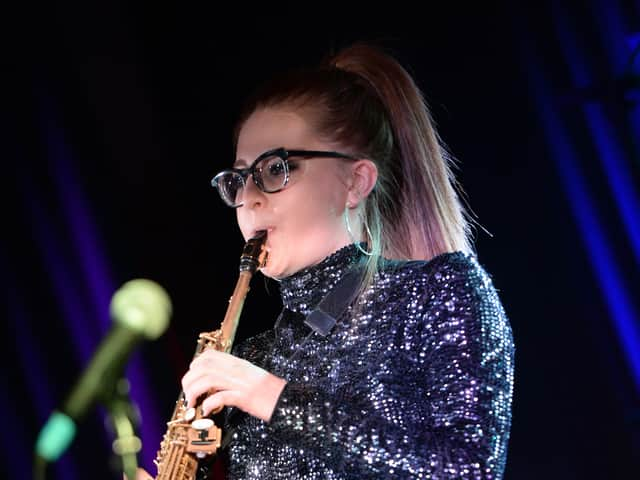 She said: "Hearing a saxophone quartet made me realise there was a whole other sound for the saxophone. However, it's not in traditional orchestras so that gave me this interesting look at the classical world. It opened a lot of different doors.
"For me engaging with as many people as possible with a concert is really important. It's being able to make that opportunity available for anybody to come and watch a concert.
"That's something the Camerata is doing, taking music to different, experimental places and having an orchestra perform in a club.
"It's not about assuming everyone will enjoy Mozart or a Beethoven symphony, but about helping them to find that space where it's something they might enjoy and where everyone is welcome.
"The saxophone can sit in so many different styles, its style is so malleable. It can sit in the horn section of a jazz band, a funk band, an orchestra or an '80s pop track.
"It was only invented in 1846 so wasn't around when some of the great works of the canon were being written. Its history is being written right now and it is an instrument that is on a really exciting journey and trajectory."