A brave new world for the sport of lacrosse is dawning as Great Britain prepares for its debut at the World Games - and two Greater Manchester players in the team are looking forward to it.
Tom Bracegirdle, from Altrincham, will captain the side in July's tournament in Birmingham, Alabama, and says he is dreaming of becoming an Olympian one day.
Lacrosse pioneer Ryan Sweetman, from Sale, is hoping GB's first appearance at the World Games will help to change the sport's image in this country, something he has been trying to do for years.
A tough and physical stick-and-ball sport, men's lacrosse is normally played with 10 on a team but the World Games marks the international debut for a six-a-side version of the sport.
A chance to change minds about lacrosse
Sale star Ryan got his love of lacrosse aged 10 and is now a full-time lacrosse coach in Manchester, working across primary schools, Manchester Metropolitan University (MMU) and local clubs to spread the word.
This, however, means he is also very aware that the sport is sometimes perceived negatively.
"Most people's first impression is posh private girls' school," he says.
"They might have seen the Wild Child movies and American Pie and think it's a bit soft. My job is to get them away from that and get them thinking differently.
"It's a fast game, it's physical, it's fun. I've dedicated myself to saying that for six years and it's been great to see people's opinions change.
"I take equipment into schools, I show them YouTube videos, and they realise what an exciting game it is."
Excitement about the Sixes form of the game
The World Games, held the year after the Summer Olympics, are the biggest single shop window for non-Olympic sports and GB lacrosse captain Tom wants to capitalise on this.
"It's a huge opportunity for the sport and for the Great Britain team," said the 27-year-old, who went to Altrincham Grammar School.
"We've been to European and World Championships representing our home nations but not anything on this scale.
"It's going to have a phenomenal impact in inspiring the next generation and to show the level of skill and athleticism in the sport.
"Lacrosse is a niche sport, people don't really know what it is, so this is a game-changer."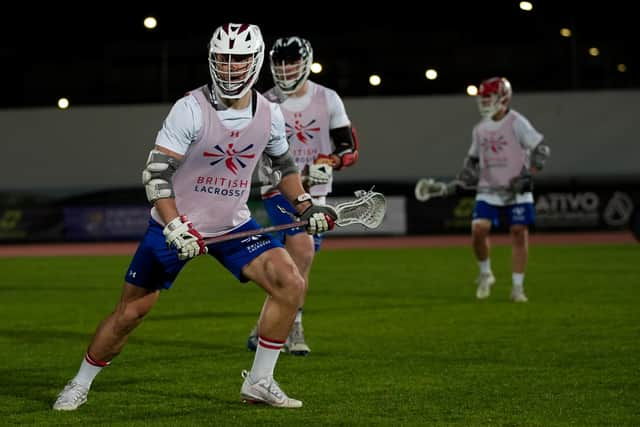 The World Games will see a faster, 'sixes' format played internationally for the first time, rather than the traditional 10-a-side rules.
The lacrosse equivalent of The Hundred in cricket, the new format promises more pace, more space for athleticism to show, more goals and stripped-back laws of the game.
"The traditional format can be hard to grasp," Tom explains. "Flags are used to signal and friends of mine look at that and think, 'what are they?'
"The sixes format streamlines the game and I think it'll be easier to understand. You always get your traditionalists but the sport has been open to change.
"The feedback we've had is that people love to play and people love to watch it."
Ryan is also a huge fan of the Sixes format.
"I love sixes," he said. "It brings all the good things about the sport together and makes it really enjoyable.
"As a coach, I particularly value it for the generation coming through. You need fewer players, it's less specialised and everyone plays in every position.
"There were a few naysayers who want it traditional and don't quite see it for what it is. But a lot of people have changed their minds.
"It's what coaches want to coach and it's the future of the game. Unfortunately, there is a shortage of kids playing so clubs are having to merge.
"If you've got sixes, everyone keeps their own teams, they're learning how to play attack and how to play defence, and everyone's happy."
Players have to juggle sport and jobs
The Great Britain squads are made up of architects, marketing managers, tradespeople and office workers who juggle the sport with full-time careers.
"It's incredibly difficult to manage around work and life and it's been a significant challenge for us to fit in training," said Tom.
You've got to be super dedicated in terms of fitting everything in and ideally, have a supportive employer."
Ryan, who has managed a trampoline park, become the British number two in weightlifting and trained to be a firefighter, is also a key part of the GB squad.
The midfielder, who plays for Brooklands LC, turned to weightlifting to stay active during lockdown. It went so well that he qualified for January's National Championships with a personal best lift of 158kg, finishing seventh.
"Team sports were decimated and I lost a bit of direction with my training," he said. "I wasn't that interested in lacrosse because there wasn't much going on.
"Weightlifting was knocking on the door, I enjoyed it and you're always striving to hit the next weight. I enjoyed training for it and I was on my own.
"It was tough coming back into lacrosse for sure, because I was fit but only for weightlifting. My endurance scores have now shot up four times.
"Staying involved with British Lacrosse kept me interested and I'm fitter, faster and stronger than I've ever been. I'm a more complete athlete now."
What are Great Britain's prospects for the World Games?
Traditionally lacrosse has been dominated by the North American powerhouses of the USA and Canada.
However, England won gold at the 2016 European Championships and finished fifth at the 2018 World Championships, so expectations for GB's World Games debut are being set high.
Tom said:"First and foremost, a medal has got to be what we're striving for.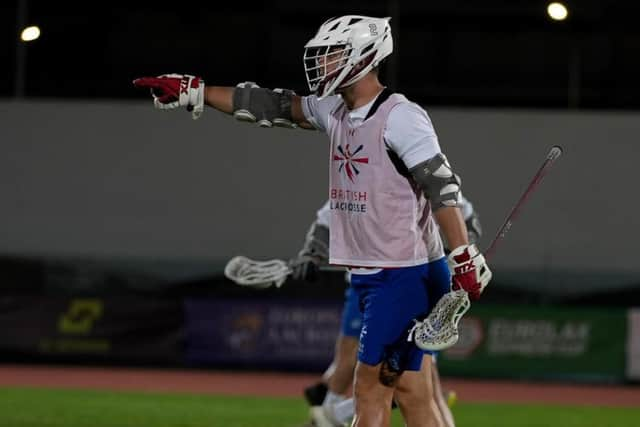 "You can't go thinking it would be great if we managed to finish fourth. The format is a massive leveller of the playing field.
"It's tough to compete with 23 Americans who play full-time and 23 Canadians who play professionally. When we're talking about the top 12 players, the margins are finer."
Olympic dreams for lacrosse
Part of the reasoning behind the launch of the sixes format is World Lacrosse's bid for inclusion in the 2028 Olympic Games in Los Angeles, which offers the biggest possible carrot on the horizon for the current GB team.
Tom said: "Even when I first started playing, it was always on the tips of everyone's tongues, talking about Olympic aspirations.
"LA is realistic - it helps that America are good at it, a chance of a gold medal will help in terms of getting it in. What an opportunity that would be."
Ryan added: "Being in the Olympics in any format would be incredible. Every team has a chance to win in this format. It's fast and thrilling and people are starting to see that."
How do I find out more about lacrosse?
British Lacrosse is the national coordinating body for men's and women's elite lacrosse in Great Britain with a vision to inspire and generate enthusiasm, participation and pride in lacrosse across the country. For more information, visit the organisation's website here.