The Manchester female football trailblazer being celebrated 100 years later thanks to the Census records
Alice Woods played for the most famous team of her time - and many of her descendants went on to represent their country with their sporting prowess too.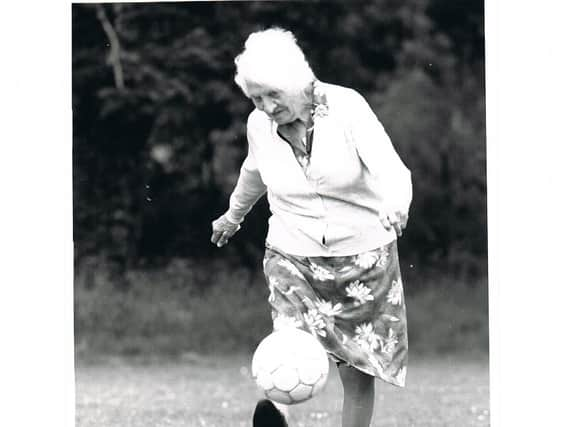 A trailblazing female footballer who played for the top team in the golden era of the women's game over 100 years ago and lived in Greater Manchester has been remembered thanks to the Census records.
Alice, who lived in Stockport, was the first of a number of women in her family whose ability in sport took them to national and international honours.
And Alice's family have been delighted to share her story once more ahead of England staging the UEFA Women's Euro 2022 competition this summer.
Who was Alice Woods and who were the Dick, Kerr Ladies?
Born in 1899, Alice spent her early years in St Helens in Merseyside before she moved to Stockport where she would spend the rest of her life.
Shortly after starting a family she and her husband to Colemso Grove in Heaton Moor where she would live until her death in 1991 and which is just a stone's throw from where her family continues to live now.
She was a midfielder for the Dick, Kerr Ladies, the most famous team from the first era of women's football.
The side was founded during World War One at the Preston-based company and quickly became extremely popular, attracting up to 50,000 spectators to some of its biggest matches.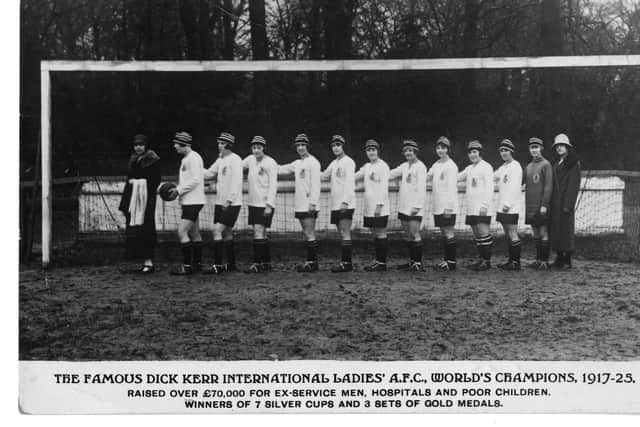 Alice was involved in a number of historic occasions such as when the side played France at Stockport County and won 5-2 in one of the first women's international matches in 1920.
However, like the rest of her Dick, Kerr Ladies team-mates Alice's career in football came to an abrupt end in 1921 when the FA, alarmed by the sheer popularity of the women's game, banned it from any of its grounds.
The move effectively killed off women's football at anything other than recreational level and would remain in place for half a century until the ban was lifted in 1971.
What did Alice's family say about her?
Alice would not be the only notable sportswoman in her family as she passed her talent down through the generations.
Her granddaughters Gaynor, Yvonne and Karen were known as the "Stanley sisters" and were well known for their abilities in the swimming pool in the 1980s.
Gaynor represented Great Britain at the 1984 Los Angeles Olympic Games while Yvonne and Karen both swam internationally as well.
Alice's great-granddaughter Lauren Quigley also followed in the family footsteps by swimming for England at the Commonwealth Games in Glasgow, securing three silver medals.
The family was well aware of Alice's time as a footballing trailblazer but said she was very modest about her achievements.
Yvonne said: "She was an amazing woman. She was very kind, humble and fair.
"You would never have known she would have been a footballer or been very good at athletics. Her house was always open to friends and family and she would make you a cup of tea and offer you flapjacks.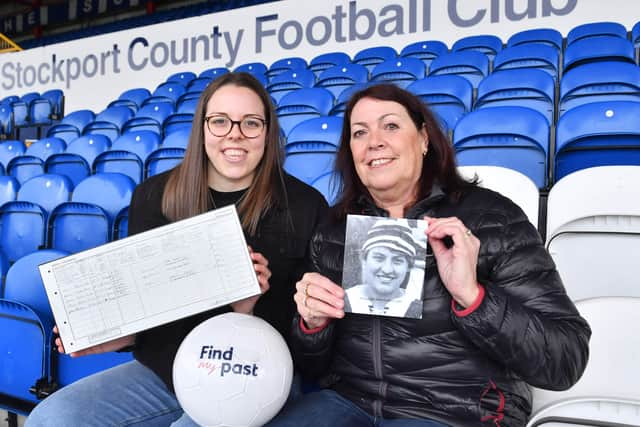 "I used to stay with her a lot and we used to talk about her football. She would never brag and you would have to ask her to find out what she had done.
"She told me stories about her football and then they wrote a book about the Dick, Kerr Ladies and she gave a lot of information there.
"They played one of their most famous games at Everton. They had to shut the gates and there were loads of people outside who couldn't get in. That was one of the biggest crowds they had, they had fifty odd thousand there."
The family are delighted that the Census record has generated more interest in Alice and the Dick, Kerr Ladies' amazing story and Lauren and Yvonne took her picture and a football to Stockport County's Edgeley Park ground, where Alice and her team-mates took on the French national side a century ago.
Yvonne said: "It has brought a lot of memories back. I tell stories about my grandma a lot and it has shown Lauren more about her."
Lauren, who was approached by Findmypast on social media, said: "This is really special. I never met her but my middle name is Alice because of her. I've heard a lot of stories about her but I've seen more about her now from the Census, even her handwriting."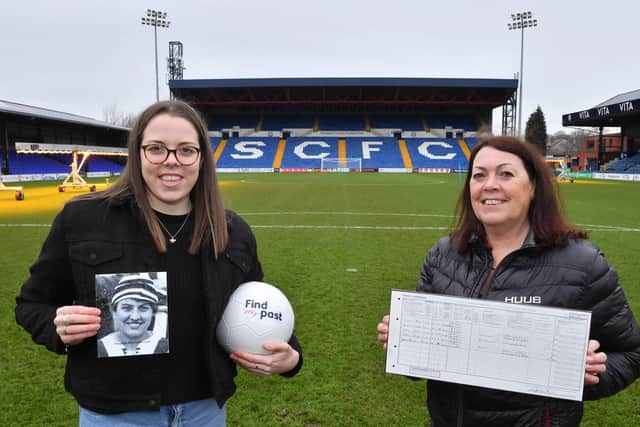 Yvonne said her grandmother was disappointed by the banning of women's football but took it stoically, concentrating on bringing up her family and not acting in a judgemental way towards those responsible for curtailing her sporting career.
The ban also did nothing to dent what would be a lifelong love of sport.
Yvonne said: "She used to come and watch us swim and did that into her 80s. She would be shouting us on and I would be worried she would have a heart attack.
"She loved anything competitive. She used to watch any sport and Lauren's dad would go round and they would do the pink paper quiz on a Saturday."
Alice also played for St Helens Ladies during her career and Yvonne said her grandad used to keep a diary meticulously noting the occasion of each match, how many spectators were there and how much the takings were, with the note-keeping being particularly useful as women's football initially gained popularity as a way of fund-raising for charity during World War One.
A story shared as the country prepares to celebrate women's football
Alice's record in the Census has come to light at a particularly apt time as England is hosting the women's European Championships this summer.
Alice's descendants say she would have loved the high-profile women's game of today, with a professional domestic league and thousands of people flocking to England's international clashes.
Yvonne said: "It is amazing, she would have loved it. There have been waves of interest before: she got invited to an England game at Old Trafford before she died and my sister got involved when they were getting together the museum about women's football after they contacted us.
"This has now brought it all up again and it's lovely to keep seeing it."
Lauren has also recently followed the example of her great-grandmother and got into playing football, joining AFC Stockport.