Ironman UK in Bolton: dates, road closures, course route, results checker & spectator info for triathlon
One of the country's most taxing sporting tests is back - with a new bike course and a weekend-long festival of activities surrounding it.
Watch more of our videos on Shots! 
and live on Freeview channel 276
Visit Shots! now
The Ironman UK triathlon is once again being held in Bolton for the 13th time with a record field of athletes set to line up at the start.
The extraordinary endurance challenge is the centrepiece of a weekend-long festival of triathlon and fitness in Bolton.
There is also a new bike course for the intrepid athletes to tackle and organisers are looking forward to seeing the public come out once again to cheer on the competitors.
What is Ironman UK and when does it take place?
An Ironman triathlon consists of a 2.4-mile swim, a 112-mile bike ride and a full marathon run of 26.2 miles.
Bolton is hosting the 13th edition of Ironman UK on Sunday 3 July with several Greater Manchester boroughs hosting parts of the enormous course the athletes will have to tackle.
A record field of 2,300 athletes will assemble in Bolton for the event, with triathletes aged between 18 and 74 coming from 51 countries to compete.
In addition to the chance of being crowned Ironman UK champion, 45 of the top finishing athletes across the various age categories will secure places in the Ironman World Championship in Kona, Hawaii, in early October.
In addition to the main race on the Sunday, organisers are laying on a full weekend of activities.
There is a family-friendly 5km night run on the pedestrianised streets of Bolton on Friday 1 July and the Ironkids event for young competitors in Bolton town centre on Saturday 2 July.
Where is Ironman UK taking place?
After that comes the bike course, which has gained a fearsome reputation for its difficulty among competitors while acting as a magnet for spectators who get to see the athletes pushing themselves to their limits.
This year there are changes to the bike course, which heads from Leigh towards Bolton town centre before snaking through the area's rural villages and along the picturesque but challenging moorland roads.
Athletes will take on three loops of an anti-clockwise circuit going through Bury and north Bolton, with parts of Horwich, Ainsworth, Ramsbottom, Edgworth, Egerton and Belmont all included on the course.
The cycling odyssey comes to an end at Queen's Park, where the second transition zone is located.
The marathon course then travels around Bolton town centre before ascending through the Queen's Park to Chorley New Road on a four-loop course.
Finally the exhausted triathletes will be back in Bolton town centre where they will see the end of their immense physical quest - the red carpet leading up to the finish line in Victoria Square.
Where are the road closures?
Unsurprisingly a large number of road closures will be in place all over the boroughs of Wigan, Bolton and Bury on the day of Ironman UK, which starts at 6am and has a final cut off time of midnight.
Full details of the road closures with maps are available online, with the one for the cycling course here and the one for Bolton town centre here.
Roads in Leigh, Hag Fold and Westhoughton will be closed from 6am until 10am, while the section from Westhoughton to Lostock will be shut until 10.30am.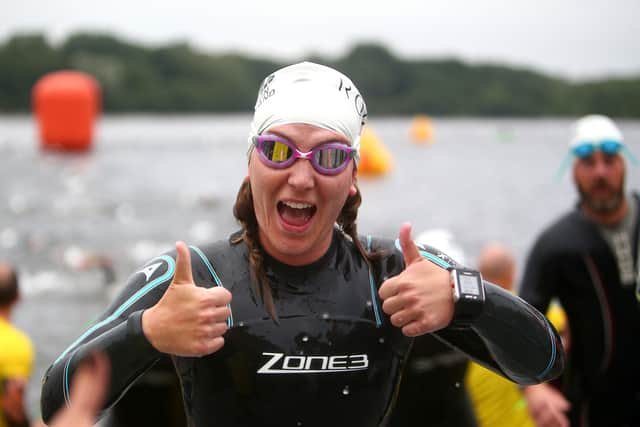 Bike course road closures will begin around Bolton at 6.30am, with the more rural parts of the course shutting to vehicles from 7am or 7.30am depending on how far around the loop it is.
The cycling roads will be reopened to traffic between 3.30pm and 5.30pm as the final athletes complete those sections of the course.
Chorley New Road will be closed between 6am and 10.30pm as it features on both the cycling and running legs of the triathlon.
And roads beside Queen's Park will be shut for the entire duration of the event for the same reason.
Road closures will be in place in Bolton town centre throughout the event.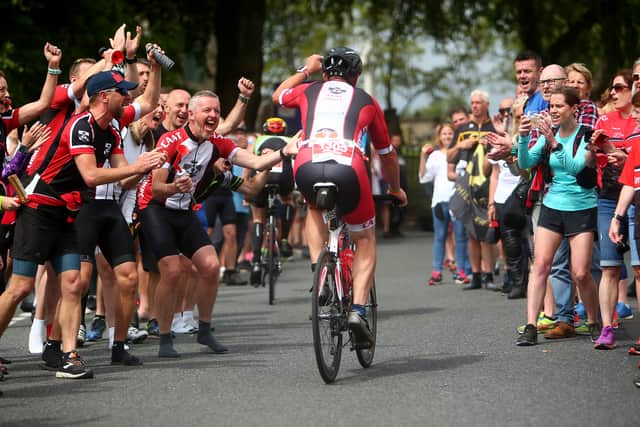 There will also be some limited road closures in the area around Queen's Park in Bolton on Friday between 4pm and 9pm for the family evening run.
And Deansgate and Knowsley Street will be shut on Saturday between 6am and 3pm for the junior event.
A list of 14 crossing points where people can get from one side of the cycling course to the other if it is safe to do so has also been drawn up. These are:
1. A577 Wigan Rd / A579 Atherleigh Way - crossing on A577 in both directions, 2. A6 Manchester Rd / Bolton Rd traffic signals - crossing on A6 eastbound only, 3. A673 Chorley New Rd / Regent Rd - crossing on A673 westbound only, 4. A673 Chorley New Rd / A58 Victoria Rd - residential access northbound only, 5. St. George's Rd / Bridge St - crossing St. George's northbound only, 6. A676 Tonge Moor Rd / Thicketford Rd - crossing on A676 southbound only, 7. Winchester Way / Blair Lane - crossing in to and out of Blair Lane westbound only, 8. Bury Old Rd / Arthur Lane - crossing northbound only on to Arthur Lane, 9. Tottington Rd / Watling St - crossing on Tottington Rd northbound only, 10. Ramsbottom Rd / Bury Rd - crossing on Ramsbottom Rd eastbound only, 11. Wellington Rd / High St - crossing on Wellington Rd northbound only, 12. A666 Blackburn Rd / Green Arms Rd - crossing on A666 southbound only, 13. A675 Belmont Rd / Scout Rd - crossing on A675 northbound only, 14. Chorley Old Rd / Old Kiln Lane - crossing on Chorley Old Rd in both directions.
Ironman UK organisers suggest drivers should use the M61 to avoid any road closures and delays, particularly around Bolton and Horwich, on the day of the event.
The maps on the website also contain colour-coded alternative routes for residents living near the closed-off roads to use.
Where can I go to spectate?
The triathlon's organisers have suggested several points where people can congregate if they wish to watch all the action unfold.
Spectators at Le Mans Crescent and Queen's Park will see competitors as they complete each loop of the town centre run course, while spectators wanting to watch the bike leg have been advised to head for Smithills Dean Road or Egerton.
Big crowds are also expected to gather in Victoria Square to see the athletes crossing the finish line under the Ironman gantry, with organisers hoping for a festival atmosphere in the town centre once more.
Festival zones will pop up for the duration of the Ironman UK weekend in Bolton town centre, with food and drink vendors and free activities for children including face painting, a climbing wall, caving bus, football cage, fairground games and arts and crafts.
The festival zones and family activities will be open on Friday from 5pm until 10pm, Saturday from 10am until 5pm, and Sunday from noon to 4pm.
Can I check the results afterwards?
Results from the 2022 triathlon will appear on the Ironman UK website here.
The web page currently shows results from the race going back to 2012 and can be filtered by age category or nationality of triathletes. There is also a search function.
What has been said about Ironman UK coming back to Bolton?
Dean Smith, Ironman UK race director, said: "We're excited to be back in Bolton for what will surely be another memorable year of racing.
"Ironman UK is the pinnacle of our sport in England and a cornerstone of the British triathlon community. The event wouldn't be possible without the incredible,unwavering support of Bolton Council and the warm welcome we receive from the town year on year."
Coun Martyn Cox, leader of Bolton Council, said: "We're thrilled the Ironman events will be back in Bolton once more this summer. These sporting occasions always bring a great sense of fun, excitement, and community spirit to our town, and it's excellent to see athletes of all ages and abilities taking part throughout the weekend.
"With a new cycling route announced to the Ironman UK course this year, there will be an opportunity for more residents to enjoy the spectacle in their local area.
"We look forward to enjoying the races and cheering on the athletes on this weekend of sporting action."