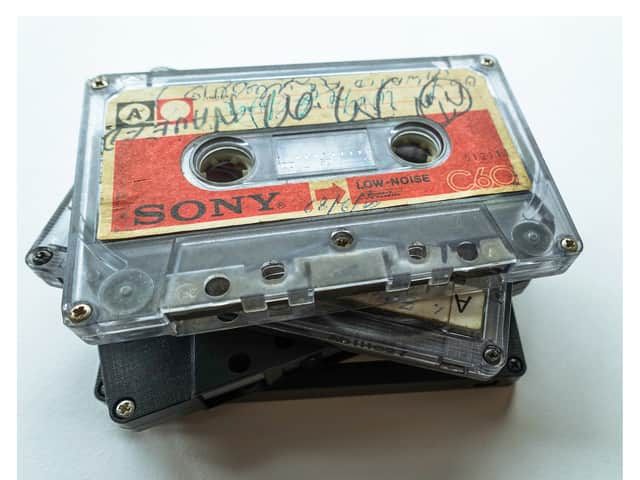 A stack of the Tape Letters cassettes bearing messages British-Pakistani families prepared for their relatives
When Wajid Yaseen wanted to hear his late father's celebrated singing voice once more, he stumbled across a cassette that would form the start of an extraordinary project uncovering a hidden history of the experiences of migration.
Wajid, who was brought up in Oldham and Ashton-under-Lyne, found a tape on which his mum would record messages to be sent to relatives back in Pakistan.
He became curious if other British Asian families did the same thing and the result was Tape Letters, a project which now has dozens of interviews and cassettes from families across the country.
The project, which has been running for four years, has also put on exhibitions and secured a major photography award, while there are plans to further expand it.
How did Tape Letters start?
Around five years ago, Wajid was searching at the home of his mum Halima Jabeen for recordings of his father Mohammed Yaseen.
Mohammed had been celebrated in the local British-Pakistani community for his ability to sing naats, a kind of devotional hymn.
Halima Jabeen . Photo: Wajid Yaseen
Wajid remembered people coming to their house when he was a child to hear his father sing and knew that after receiving a number of requests he had made cassette tapes for people to listen to at home.
As well as a tape of naats, though, he found a second cassette which would become the basis of Tape Letters.
He said: "As soon as I picked up the second tape I remembered as a kid being pulled in to send these messages to families in Pakistan. My mum would say to me to say hello to my grandma, auntie or uncle.
"I realised there was something significant on these tapes. They were historical artefacts recording individual lives and what people went through as early migrants.
"I started asking around if anybody else had any more of these things because I knew that if my mum recorded these them other people must have done the same thing."
How did Tape Letters develop after the initial cassettes were discovered?
Wajid put together a pilot project which involved around 20 cassettes and 50 or so interviews.
It uncovered some remarkable stories, including a couple who now live in Bradford who fell in love corresponding by tape.
Wajid said: "One of them was in Bradford and the other in Pakistan. They were arranged to be married but sent tapes to each other for about three years and spent quite a bit of time trying to figure it out.
"They spoke to each other over these tapes every two or three weeks and you can hear them falling in love. These were extraordinarily private messages and it was amazing, because young people falling in love is always desperate and dramatic.
Aziza Din holding one of the Tape Letters cassettes. Photo: Maryam Wahid
"It was really great that they trusted us to give us that material."
However, creating an archive out of the tapes was not straightforward. Much of it was recorded in Potwari, a language in Pakistan which only exists in oral form.
Wajid and his team had to use the phonetics of Urdu, the national language of Pakistan, to create a written form of the messages before then translating the recordings into English.
Tape Letters was then expanded thanks to some National Lottery Heritage Fund money and went England-wide, amassing tapes from places including Birmingham, London, Leeds and Halifax.
Wajid now has around 60 cassettes and has done more than 100 interviews with the people who recorded them.
What else has the project discovered?
Wajid says the tapes have thrown up a lot of fascinating information about what it was like to be in the first wave of people who came over from Pakistan to build a new life in the UK.
He said: "It's an interesting insight into what migration is. A lot of the people using these cassettes were the older generation and they were still quite isolated. They hadn't really integrated into the society properly because they are the first wave of people that came over.
"They had memories of the Partition, and all of that makes a really interesting framing."
An exhibition the project did at the People's History Museum in Manchester. Photo: Ana Godinho De Matos
Prior to the Covid-19 pandemic the team behind Tape Letters were able to hold a number of public events and exhibitions, including a major show at the People's History Museum in Manchester in which people could stand in a circle of speakers for an immersive experience.
Tape Letters also brought in photographer Maryam Wahid and one of her images of Wajid's mum secured the Portrait of Britain 2021 award by the British Journal of Photography and was featured on the electronic billboard in Piccadilly Gardens in Manchester city centre.
There have also been online exhibitions during the pandemic and you can hear excerpts from the cassettes, listen to interviews and access information and context about the recordings on the website.
The Tape Letters project on a billboard in Piccadilly Gardens in Manchester
What did Wajid do before setting up the Tape Letters project?
Wajid left Greater Manchester aged 18 to head for the bright lights of London and still lives in the capital city.
He got a job working as a book-keeper for a record label and embarked on a career which combined label work with DJing, getting into the experimental music scene, playing in a band and setting up his own project 2nd Gen.
Wajid Yaseen, who founded Modus Arts and the Tape Letters project
He spent a year in Sweden, built his own studio to become a record producer and worked on everything from the contemporary dance scene to music for films.
He set up his company Modus Arts around 10 years ago after becoming fascinated by the possibilities of sound and sonic arts and the firm has done things ranging from deep listening exercises for children to collaborations between poets and other creatives.
What does Wajid make of Tape Letters' success and what is next for the project?
Wajid is delighted by how much interest there has been in Tape Letters and the high profile the project has attained.
He is currently working on securing funding for the next phase of the scheme which will involve working with Scottish, Welsh and Irish-Pakistani communities.
And he has more fascinating questions of identity and belonging which he hopes finding tapes in the Celtic countries will help to answer.
He said: "We have uncovered a crazy amount of stuff and it is very gratifying to us to see it grow from quite a hidden thing to something that is so interesting for people to talk about.
"Going to Scotland, Wales and Ireland it is interesting because Pakistani communities in England tend to be very reluctant to call themselves English, they call themselves British, but Scottish-Pakistani communities are really comfortable with calling themselves Scottish.
"I want to look into that and consider the quality of these national identities."