Macfest: the massive Manchester-based festival using art and culture to tackle Islamophobia
The celebration of culture founded by acclaimed Manchester novelist Qaisra Shahraz MBE is putting on more than 70 events this year.
Watch more of our videos on Shots!
and live on Freeview channel 276
Visit Shots! now
A colossal cultural celebration based in Manchester is once again preparing a packed programme of art and culture which will tackle Islamophobia and bring communities together.
More than 70 individual events are on the schedule with a combination of live and digital.
Muslims will be taking part from around the world explaining what their religions and cultures mean to them while there will be events tackling everything from negative stereotypes of Islam and the people who follow the faith to art exhibitions, poetry readings, film discussions and music concerts.
What is Macfest and why is it held?
She said: "This is no ordinary festival, it was given birth due to division in society and hatred as a way of getting rid of it.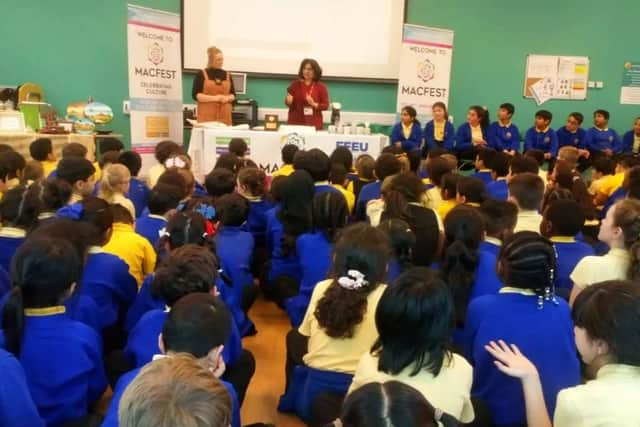 "It particularly challenges some of the myths about Muslims and Islam, brings Muslims and non-Muslims together and uses multiple art forms to do that."
Qaisra says the festival has inclusion, connectivity and diversity at its heart, drawing on her experiences working in education and organising interfaith activities.
Accessibility is also important, with many of the events being free.
The festival has two slogans; "Celebrating art and connecting community" and also: "Spread honey not hate", which stems from a banner Qaisra used to take around with her which called on people to spread hummus not hate.
However, after realising people on the Indian subcontinent did not know what hummus was she took up a suggestion to change it to honey, saying spreading sweetness was appropriate for the festival and it also draws on the key Manchester symbol of the worker bee.
It has grown quickly, from a local event in Manchester in its first year to the 2021 Macfest which took in an incredible 73 events spread over eight months.
The festival is deliberately international in aim as Qaisra says it is important to celebrate the diversity of people who follow Islam and bring them together as one large community.
What is on the programme for the 2022 Macfest?
The massive Macfest programme is divided into different themes, with certain months focusing on specific topics, people or communities.
The whole thing kicks off on 5 February with the opening ceremony, which includes a recitation from the Qu'ran, art exhibitions, presentations, an Indonesian dance and puppet show, music from the Muslim Choral Ensemble and a celebration of Islamic gardens.
There will then be an event on the same day celebrating the Muslim community in Scotland and looking at research into Asian and Muslim men who fought in the world wars.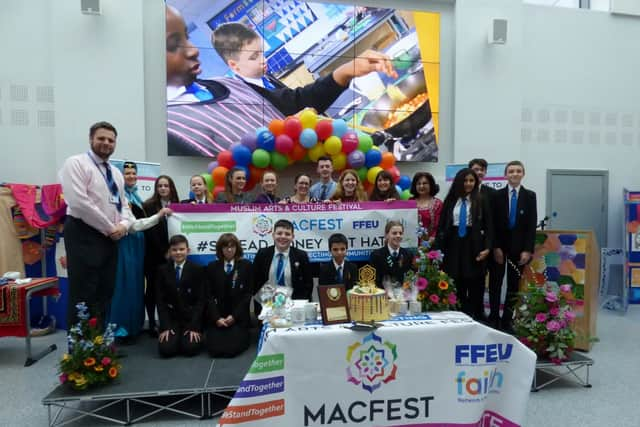 The following day there will be a discussion about Islamophobia, which takes place every year during the festival, with a high-profile panel including Conservative peer Baroness Sayeeda Warsi and Professor Akbar S Ahmed, an author, scholar, film-maker and poet.
The Greater Manchester Festival also includes a celebration of Britain's Yemeni community on 24 February and a look at the John Rylands Library's spectacular collection of beautiful manuscripts and miniature paintings from the Muslim world on 2 April.
Drawing on her years in education, going into schools and colleges and involving young people is a key part of Macfest for Qaisra as she wants to end bullying and Islamophobia and teach young people about Muslim heritage, history and culture.
Students from Greater Manchester and across the UK will talk about climate change on 9 February, following last year's event in which young people reflected on the Black Lives Matter movement, and there will be celebrations of diversity in schools including Levenshulme High School and Newman RC College which will include poetry readings and pupils learning about different countries from the Muslim world.
March is the Muslim Women's Art Festival, the first time this has been staged and connecting to the establishment of the Muslim Women's Art Foundation.
Celebrating Muslim women is a topic particularly close to Qaisra's heart.
She said: "I feel passionate about challenging negative stereotypes of Muslim women. Women in hijab have been targeted and vilified, and it is just a piece of cloth. Leave Muslim women alone, let us dress how we want.
"I wanted to do more for women with the festival so this is the first year we are celebrating women on a grand scale."
The festival-within-a-festival opens at the Whitworth Art Gallery on 5 March with cultural hubs presenting different countries by local women, a silk painting workshop, henna painting, hijab styling, art exhibitions showcasing the creativity of women from across Greater Manchester, a documentary film screening, a poetry recital and music involving the Anamika group and a Turkish folk dance group.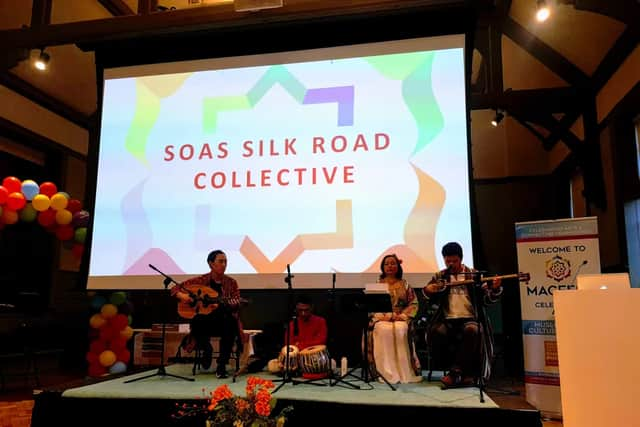 The rest of the celebration of women includes events such as a look at Pakistani rural crafts, an event with Muslim women writers and a discussion of what it is like to follow Islam and work in the fashion industry.
There will also be a digital event from Azerbaijan, an evening with stereotype-smashing comedian Fatiha El-Ghorri and a panel of women from Egypt and the UK including a pioneering ballerina.
In April the Muslim world celebrates the holy month of Ramadan and there will be iftar (the meal eaten after the sun has gone down to end the day's fasting) celebrations from Algeria and Pakistan as well as one which people can attend at the Khizra Mosque in Cheetham Hill.
At the end of Ramadan the festival of Eid-ul-Fitr will be celebrated with a walk and a meal on 29 May from Central Victoria Mosque to the Whitworth Art Gallery.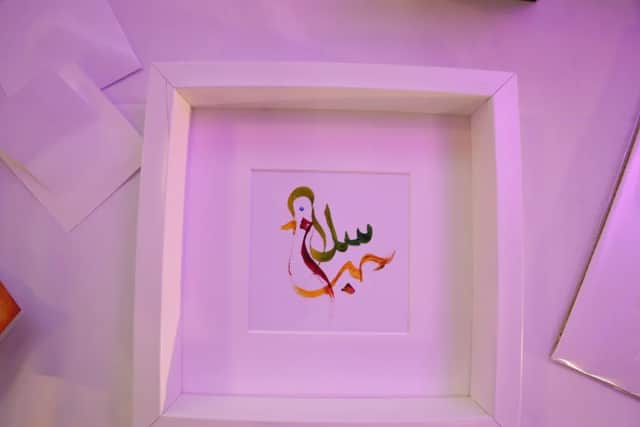 A week later Indonesia, which this year is the "country of honour" Macfest is focusing on, will introduce people to its Eid-ul-Fitr celebrations.
July puts the spotlight on African heritage with events from countries including Sudan and a celebration of Egyptian cuisine, while in keeping with the international ethos there will be events linking up with North and Latin America too during 2022.
In September there will then be a week-long celebration of Arab heritage.
What have the organisers said about Macfest 2022?
Qaisra said that while putting on such an ambitious project is a massive ask for her and the comparatively-small Macfest team the results are worth it.
She said: "It's a big festival but I always say there is no choice. You can't do a festival like this in a week or a month. It is meeting the needs of the Muslim community and reflects the culture.
"I am particularly heartened by how schools have welcomed us with open arms.
"It's such hard work and my writing career has lost out but I don't mind because I feel I've done a service to the public. This is really needed.
"It's a project of love and Manchester is the perfect place to do it because all the world's communities are here."
The efforts of Qaisra and her team have also been recognised with accolades including the prestigious Queen's Award For Voluntary Service.