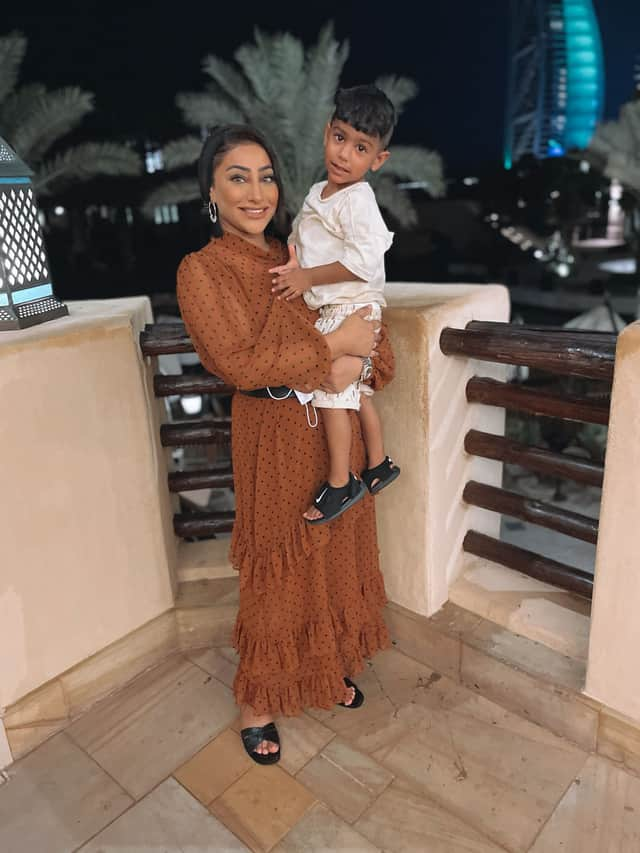 Heera Muslam with son Adam
A single mum and blogger from Manchester who juggles her job as an optometrist with running her own beauty salon says she's on a mission to help women struggling with body confidence.
Heera Muslam, 30, opened her business Adeera Aesthetics in Ancoats in April this year, just after lockdown eased.
The mum of three-year-old Adam works as an optometrist, while working four days a week at the clinic.
After being through a journey of self-acceptance, she says she is striving to help other women look and feel their best.
Heera at her Adeera clinic in Ancoats
Heera told ManchesterWorld: "I suffered a lot with my body confidence. Being a mum, I know your body changes and there is a big pressure to 'bounce back'.
"We see images on social media of celebrities going back to how they used to look, but that's not the case for most women.
"Social media can make you feel like you have to be perfect. When girls see me they feel good about themselves and they realise it's a fake life on social media."
Most of her clients are mums that are struggling with body image and are still trying to get used to the changes to their body, she says.
Heera at her Adeera clinic in Ancoats
Heera said: "A lot of people feel stuck and when clients come to see me they feel a sense of relief.
"My motto at the clinic is it is about feeling good and your mental well-being.
"It's nice to see mothers having a break at my clinic because everyone needs that me time for their mental health."
She explained: "I do the blogging to show the ups and downs of life to motivate other women and show them it is possible to achieve your dreams.
"I talk about being a single mother and things no one really talks about on my Instagram and people find it really inspiring."
Heera studied optometry at The University of Manchester after moving from Bolton three years ago.
The entrepreneur began her beauty training and exams in April last year during lockdown. Lockdown helped her to focus on her studies while her son was in nursery.
She said: "Before lockdown I was a workaholic, not taking days off when I needed to and I became accustomed to be that way.
"Lockdown helped me to slow down and think about the things that really matter and now I have a good work-life balance."
According to a report from analyst Mintel last year home skincare sales rose during lockdown while make-up sales declined, with 55% of British women reducing how frequently they wear make-up.
Heera said: "I have definitely noticed that there has been a shift to people caring more about skincare than make-up now and people are really starting to take care of their skin."
Adeera offers a range of different treatments including weight loss treatments, facials and laser hair removal. She also launched a line of luxury vegan and cruelty free lipsticks and lip glosses, lashes, and lip liners.
She revealed that setting up and running a business as a single mother has not always been smooth sailing but believes that her passion, determination and positivity have paid off.
The businesswoman said: "Starting a business is stressful and my life revolved around prepping for the clinic.
"Due to Covid, deliveries were delayed and I had to change the formula of my lipsticks to make sure they were moisturising.
"Becoming a mother is the most overwhelming experience and having to do that alone was the most challenging thing for me but I have the most amazing family.
"Your mind-set is everything. It's one of those things that can bring you down or make you stronger and for my son's sake it made me a better person.
"I wanted to give him a good life and my son is my motivation. It is easy to go into a dark place.
"I'll have days where I am drained or my mood is low but the main thing is knowing that isn't going to last. I am a positive and forward-looking person.
"I don't want negative energy to be reflected on to my son because children feel that from parents and it was the biggest push to change my ways.
"Time is so precious and I don't want to waste it."
Adeera is a mixture of Adam's and Heera's names. She said: "The name I chose is really fitting. The reason I built this brand is for me and my son so that I can give him a better quality of life.
"When I am at work, it is a constant reminder for me as to why I started my business."