Tyson Fury has blasted Joe Rogan after he claimed he would have a 'zero per cent chance' of beating MMA star Jon Jones. Speaking on a recent episode of his own podcast, The Joe Rogan Experience, the American commentator said he would put all his money on Jones to win in a hypothetical super-fight, despite The Gypsy King being an "amazing boxer". He explained that the only way Fury could beat Jones is if he caught him "immediately with one punch", however, he added that he doesn't "see that happening".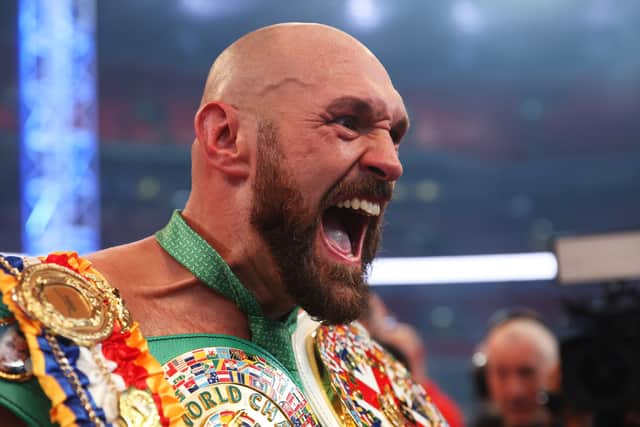 "If Jon Jones and Tyson Fury are locked into a room, I'll push all of my chips on black," Rogan said on his podcast. "Nobody thinks Tyson Fury could beat Jon Jones in a fight. No one thinks that. Even Tyson doesn't think that. You want to talk about who's the baddest man on the planet?
"Tyson Fury is an amazing boxer, but he doesn't have a f****ng chance in hell of making it out of that room. Zero chance. He'd have to catch Jon immediately with one punch, and I just don't see that happening. The threat of the takedown looms so large, and that shot will come so unexpectedly. When he gets his hands around you, you'll be so stunned," he added.
The Gypsy King, 34, has been inactive on social media in recent weeks after heading away on holiday. However, he took to Instagram on Thursday (May 19) to fire back at the American UFC pundit and podcaster in an x-rated tirade. In the video, he branded Rogan a "bald-headed midget" and suggested he'd be walking out of the room in a good condition if a fight between him and Jones arose.
"I heard Joe Rogan say something about me, and I've been off all the social medias and didn't reply to that little p****, little f****** midget, bald-headed midget,' Fury said. "I heard him say that Jon Jones could f*** me up if we were in the room together. I don't think so. Not a man born from a mother could f*** me up, in a room, on our own. Whatever happens in that room, I'd be walking out. Not a f****** problem."
Fury has previously expressed an interest in the world of MMA and once teased a potential boxing match with former UFC heavyweight champion Francis Ngannou. Fury has also trained with British MMA star Darren Till and American champion Nick Diaz.