Oleksandr Usyk has accused Tyson Fury of being "afraid" to fight him as he took a pop at the heavyweight boxer from Manchester. The Gypsy King, 34, who holds the WBC title, was set to face off with Usyk in April, but talks with the Ukrainian heavyweight collapsed.
It was reported that the Ukrainian side ended the talks after disagreements over finances and compensation. However, Oleksandr Usyk's team claimed it was down to unacceptable demands from Fury's end. Usyk previously admitted he was "very happy" when talks with Fury collapsed so he could return to his home country.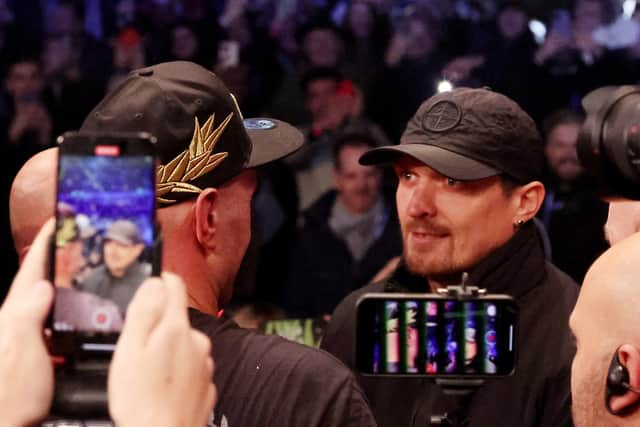 The fight could still be staged this year as Skills Challenge Entertainment is reportedly planning to organise a four-man heavyweight tournament in Saudi Arabia this year, which would see Fury and Usyk fight on the same night as Joshua and Deontay Wilder. Usyk has claimed that talks have reached an impasse but is hopeful a deal can still be made.
"I can't say anything about the fight with Tyson Fury yet, but at the moment, the fight is not planned. Since the negotiations, let's say, are at an impasse," Usyk told Vringe. "For Fury, boxing is not only a sport but also a show. And there is another factor - money. He talks about them all the time and voices some incredible amounts that he wants to receive for the fight."
Despite praising Tyson's ability in the ring, Usyk hit out at The Gypsy King for being "very afraid of losing". He added: "I believe that all his loud statements are the intensity of passions. Without it, nowhere. So what is he afraid of? He is a professional athlete. And even if he loses, he will take his own. It's no secret that fees are prescribed for both parties. If he wants to draw intrigue, he has the right, but no one will run after him or make concessions. The fight will take place sooner or later. And everything will be decided in the ring. A big man who has very good abilities in boxing and life, but this big man is very afraid of losing."
Tyson recently reopened the door for a potential fight with Usyk but believes the heavyweight is avoiding him. He remains keen for the undisputed bout to take place this year. The 34-year-old is also rumoured to be in talks with Zhilei Zhang for a bout in July, but negotiations are still said to be ongoing between the two.