Tyson Fury's co-promoter has revealed when the heavyweight could be back in action after casting doubt on a fight this summer. The Gypsy King, 34, who holds the WBC title, was set to face off with Oleksandr Usyk in April, but talks with the Ukrainian heavyweight collapsed. Fury later turned his attention to China's Zhilei Zhang, who defeated Joe Joyce last month, for a ringside return in July.
However, Bob Arum now expects Tyson to wait until the end of the year to take on Usyk in a highly anticipated heavyweight world title clash. It could take place in Saudi Arabia in December and form part of a four-man heavyweight tournament that would see Fury and Usyk fight on the same night as Joshua and Deontay Wilder.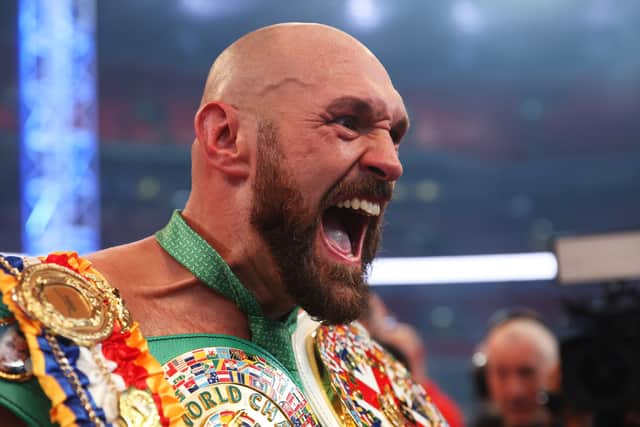 "I really think any of the money that anybody's talking about for that fight pales in comparison to what they could make in the middle east," Arum, who promotes Fury in the United States, told Pro Box TV. "They're waiting now, both fighters, for the end of the year, to fight each other in the middle east because that's where the big money is. Right now, I think he's going to wait [to fight], but with Tyson Fury, it depends on how he wakes up in the morning."
Earlier this week, Usyk claimed that talks have reached an impasse but is hopeful a deal can still be made. Tyson recently reopened the door for a fight with Usyk, and his focus remains on fighting this year. Speaking at an event in Tenerife, Tyson said: "I'd love it to happen, love it to happen. I'd love to fight Oleksandr Usyk and AJ, but I just don't think they want to fight me," he told a press conference.
"There's a lot of stuff going on in Saudi Arabia with all these massive amounts of money being talked about, and I think that got the better of him [Usyk], the temptation of a hundred million or 75 million down the line rather than doing it now [in the UK]. I don't think anybody's scared of anybody in a boxing match. The fight's got to happen; it's got to happen this year," Fury continued about Usyk. "I just think it's an easy job. I'll hit him; he'll hit the floor, then I'll go out and get drunk in the town centre."