Tyson Fury calls Deontay Wilder 'slimy' as he reacts to barrage of insults after meeting in Saudi Arabia
The Gypsy King fought the American boxer in a trilogy bout in October 2021.
Tyson Fury came face-to-face with Deontay Wilder earlier this year in Saudi Arabia for the first time since their heavyweight trilogy in 2021. The pair appeared to be on good terms and shared a hug, with Fury also shouting "Bomb Squad" - the Bronze Bomber's signature catchphrase.
However, things soon turned sour between the two heavyweight fighters, and a week later, Wilder began throwing insults at Fury. He called Fury a "*************" and a "cheat" and suggested things might have ended differently if they met in another environment. The Gypsy King, 34, who holds the WBC title, fought the American boxer for the third time in a bout on October 9, 2021, and won via eleventh-round knockout.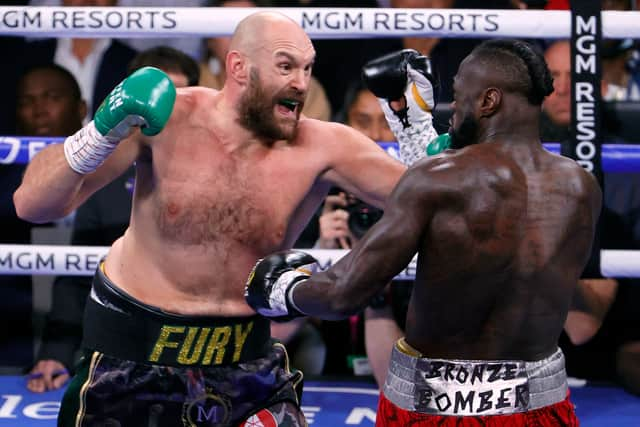 Fury responded to the comments at a press conference earlier this week and has branded Wilder "slimy". Speaking to Boxing Social, Fury said: "When I met him man to man, his ******** fell out. He came over and cuddled me, like the little ***** that he is. It was like, all right. It must be done. He's given me the cuddle. Forget about it."
He continued: "Then a week later he goes 'Tyson's still a piece of ****' this that and the other. I thought you little slimy… Deontay Wilder is Deontay Wilder, and that's it. I've beat him three times. I've absolutely done his record right in. Give him two knockout losses and a draw which I won anyway. It is what it is. I don't hate the guy. He's just a bit of a ******."
It was recently reported that Tyson Fury could be part of a four-man heavyweight tournament in Saudi Arabia this year. The tournament could feature heavyweights Anthony Joshua, Deontay Wilder and Oleksandr Usyk. It would aim to end debates among fans and crown an undisputed world heavyweight champion between the four boxers this December.
Tyson Fury is also expected to put his gloves on this summer, with a heavily rumoured match against the 6 '6 Zhilei Zhang anticipated to take place in July. Negotiations are still ongoing between the two.