Tyson Fury says Oleksandr Usyk fight must happen this year and reopens door to Anthony Joshua bout
It was recently reported that talks are ongoing for a four-man heavyweight tournament in Saudi Arabia this year.
Tyson Fury has insisted he remains open to fighting heavyweights Oleksandr Usyk and British rival Anthony Joshua, but believes the pair are avoiding a fight with him. The Gypsy King, 34, who holds the WBC title, is currently searching for an opponent after talks with Ukrainian heavyweight Usyk collapsed due to a disagreement over demands. Usyk previously admitted he was "very happy" when talks with Fury collapsed so he could return to his home country.
Fury was also rumoured to be in talks with Zhilei Zhang for a bout in July, but negotiations are still said to be ongoing between the two. Tyson was previously set to face Anthony Joshua, with the Watford-born fighter agreeing to terms, but the fight was called off after the deadline was missed to sign contracts.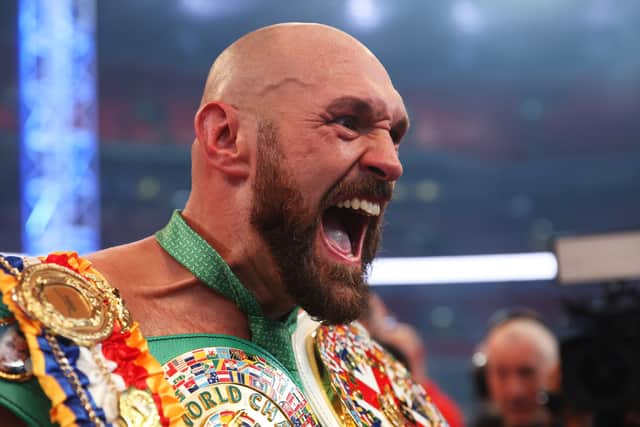 However, speaking at an event in Tenerife, Tyson reopened the door for a potential fight with Usyk or Joshua. "I'd love it to happen, love it to happen. I'd love to fight Oleksandr Usyk and AJ, but I just don't think they want to fight me," he told a press conference.
"There's a lot of stuff going on in Saudi Arabia with all these massive amounts of money being talked about, and I think that got the better of him [Usyk], the temptation of a hundred million or 75 million down the line rather than doing it now [in the UK]."
"I don't think anybody's scared of anybody in a boxing match. The fight's got to happen; it's got to happen this year," Fury continued about Usyk. "I just think it's an easy job. I'll hit him; he'll hit the floor, then I'll go out and get drunk in the town centre."
The heavyweight will have to celebrate the proposed victory at home if he plans to get drunk as alcohol is prohibited in Saudi Arabia. Saudi law states that drinking alcohol is punishable by public flogging, fines, or lengthy imprisonment, accompanied by deportation in some cases.
It was recently reported that talks are ongoing for a four-man heavyweight tournament in Saudi Arabia this year. It would see Fury and Usyk fight on the same night as Joshua and Deontay Wilder and could end debates among fans whilst crowning an undisputed world heavyweight champion.
Tyson recently revealed he would like to see fellow Brit Anthony Joshua stop Deontay Wilder after he was asked who would win the fight. Fury said: "Do you need me to answer that? I think we all know what happens. I'd love for AJ to knock him out because Wilder's a little b****, but I just see him getting chinned."