Molly-Mae has revealed her brand new smile after undergoing a complete teeth transformation. The Love Island star took to her YouTube vlog to share the stunning results after promising to share her makeover journey with her followers. The vlog, titled A Much Needed Glow Up, showed Molly-Mae reclining in a dentist chair having composite bonding applied so that each tooth looked perfect. Each tooth was then cleaned and buffed leaving the star with a Hollywood smile.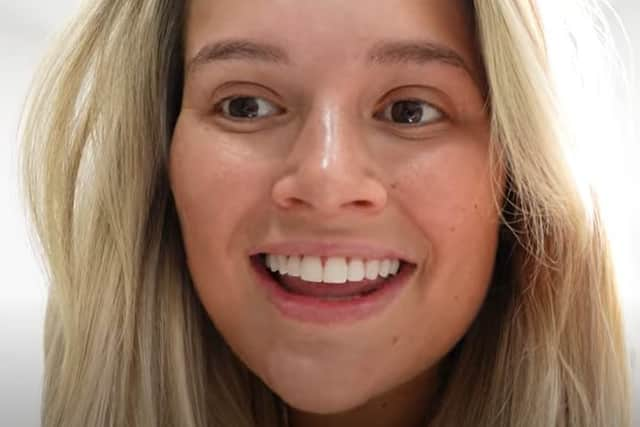 Tommy joined the star with daughter Bambi to see the results and although impressed added: "You are lucky you are not in my position" hinting that being a professional boxer does not bode well when it comes to teeth. When handed the mirror, Molly-Mae was left open-mouthed whispering: "Oh my god they look so much better."
Whilst Molly-Mae gazed at her sparkling new teeth, Tommy examined the before and after snaps and asked the all important question: "How long before she can eat?"
After returning home Molly-Mae spoke about her teeth transformation in more detail and commented that she was pleased that a lot of people hadn't noticed the change.
She said: "I am still getting used to them and there are still a few things I want to change about them to make them look even more natural."
However the star, who admits she is a perfectionist, added: "I was editing this vlog and I was looking at my teeth and as much as I absolutely love them, it looks obvious that I've had my teeth done and I don't want that."
It appears the transformation is not complete as Molly-Mae admitted: "I want the changes to be minor and there are a few tiny, tiny changes I want to make."
"I think I am going to just get the front two a little bit more natural looking" but added that she already feels so much more confident when she smiles. The PrettyLittleThing creative director is famed for being honest about the procedures she has undergone and is always happy to share her journey with her followers. After yesterday's hair transformation and today's new teeth it is clear that Operation Glow Up is well underway.
The mum of one has just returned from a photoshoot in Spain for her new PrettyLittleThing line, French Riviera, and will soon be jetting off again shortly.
Having already enjoyed a mixture of work and family holidays the star will be taking flight at the end of May as she, Tommy and Bambi head to the Caribbean to celebrate the wedding of Molly-Mae's manager, Fran Britton.