During an appearance on Loose Men, Tommy Fury has admitted he sometimes prefers: "a kiss, a cuddle and a movie" to sex with his long-term love, Molly-May Hague. The Love Island 2019 runner-up appeared for the first time as a panellist on ITV one-off special alongside Vernon Kaye, Martin Kemp and The Chase's Paul Sinha. The all-male version of the ITV lunchtime chat show is being aired to mark Mental Health Awareness Week.
The Love Island star and boxer waded in on the topic of intimacy and shared: "No one wants to get hot and sweaty every night do they? A good kiss and a cuddle and sometimes a film in bed. Sometimes that's the better way". Spandau Ballet's Martin Kemp agreed saying: "I don't think the sex is the be all and end all of all relationships".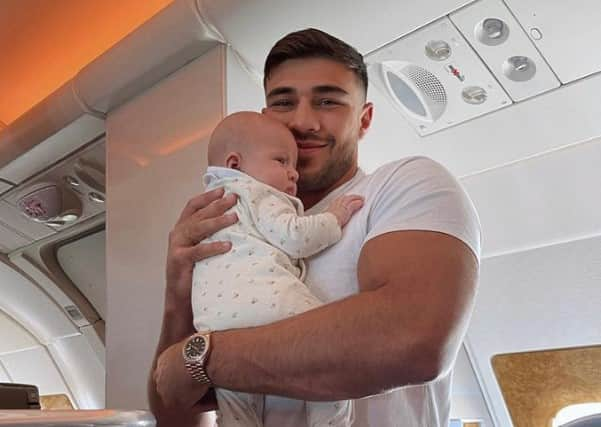 The special episode of the afternoon talk show was packed with questions up for debate and Tommy didn't hold back on taking part in the discussions. When asked when is the right time to start talking about having kids with your partner he admitted that he and Molly-Mae were only one or two weeks into their relationship when they shared their hopes for a family. Tommy said: "We were on the same page. We both wanted children at quite a young age and the rest is history".
When the question of what age to have children arose Tommy was quick to comment saying: "Obviously I had a baby very young, at 23, and it is a challenge". He added that being a good dad and also having a successful sporting career can be tricky. "It is a challenge and I've already experienced it with the arrival of the baby and my last fight being very close together," he said. "I feel like as a fighter, having a baby gives me more motivation. Something to fight for. She's what I am fighting for now so it has definitely spurred me on."
Whilst Tommy, younger brother of heavyweight boxer Tyson Fury, admitted baby Bambi was causing them "a lot of sleepless nights" but assured the audience it was all worth it.
Vernon Kaye announced the average waiting time for a proposal is two years, seven months before looking pointedly at Tommy. When pushed for information on when he plans to propose to Love Island beauty, Molly-Mae, a bashful Tommy held his hands up and said: "I'm going to do it soon guys, honestly but it just takes a bit of time". He admitted his actual plan was to do it a lot sooner but admitted "being a boxer, when you are in a training camp you have got to shut yourself off and just focus on the fight".