Molly-Mae Hague shows off her incredible post-baby figure as she poses for her first Pretty Little Thing photoshoot since welcoming her daughter Bambi. The former Love Island star, 23, who lives in Cheshire, gave birth to her baby girl in January, and recently jetted off to Nice, in France to model for her 2023 summer edit.
In the new PLT photoshoot Molly Mae can be seen showing off her impressive abs in various styles of dresses and tops. From a criss-cross style top and matching skirt, to a halter neck style cut-away jumpsuit, the collection was showcased in front of a picturesque mediterranean backdrop.
The Summer edit, which is called Molly-Mae French Riviera, is also showcased in a Pretty Little Thing video on their official Instagram page. It shows Molly Mae exploring the French riviera, whether it's relaxing by the pool, going for a stroll, enjoying a drink near the harbour or generally posing up a storm in a beautiful French villa.
Pretty Little Thing captioned the post: "💘🏝️ PrettyLittleThing ft. Molly-Mae French Riviera 🏝️💘 Our girl @mollymae is back as she leads us into summer 🔥 This edit is all about exuding that timeless glamour and elegance of the essential pieces for any summer escape ✈️."
Molly-Mae's latest collection features an abundance of muted pieces, including a white shirt co-ord and a plunging nude waistcoat. It also offers pieces that would be perfect for both casual occasions and dressy nights out.
The Love Island star recently revealed she had a "meltdown" whilst shooting for the campaign. She has been candid with her experiences with motherhood since having her baby, and has returned to work after just four months.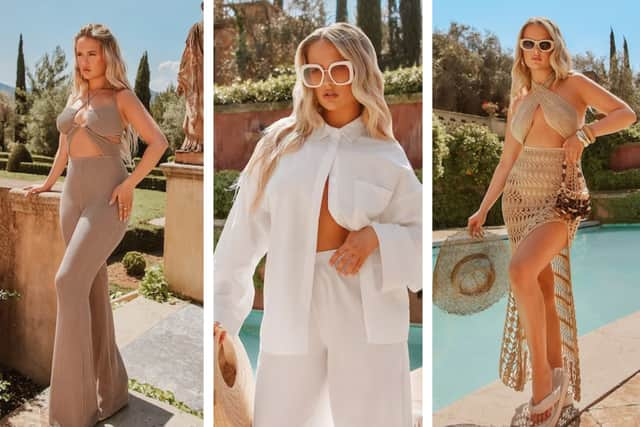 Molly-Mae was a keen YouTuber before becoming more well-known through the fifth series of Love Island. Prior to entering the villa, she already boasted more than 10,000 subscribers. Although she is busy with other projects now she still makes videos for her channel to keep her 1.79 million subscribers up-to-date.
There she opened up in a vlog entitled, "My first shoot post baby," where she said: "I did, in the afternoon, have a bit of a meltdown just because it was a lot to take in. That was my second day without Bambi and I think I keep forgetting that I am still only three months postpartum.
"I had not really prepared myself for how I might feel on a photoshoot. I think I had kinda not prepared myself fully for how I might feel on a photoshoot, three months after having a baby." She added: "I know I keep going on about it, but my body it's just so different now and I had a baby three months ago."
Although it was a struggle, she still admitted the shoot was one of the best she'd ever done. Molly-Mae confessed: "I felt a million dollars like [puts hands at chest] from here upwards. Obviously my body has just grown a child and I definitely forget that and I am definitely way too hard on myself."
She went on to reflect on her body image before and after giving birth, she said: "Every single outfit I was in, I was looking at myself like 'oh my gosh'. One way to describe it is that it makes me so sad, as to how I looked at my body before I had Bambi."
"I always used to pick apart my body then and now I would do anything to have my old body," she added.
Molly-Mae was recently praised for posting an unedited snap to her Instagram, which showed her wearing a white bikini top, whilst on a family holiday, to Dubai. With one fan writing: "Molly I am here for the unedited photo, you are beautiful ❤️" whilst another wrote: "Motherhood just looks so natural on you 😍"