Molly-Mae took to her YouTube vlog to reveal her glow up makeover plans with her followers. The Love Island star has just returned from a trip to Spain where she was shooting her PrettyLittleThing line, French Riviera, and revealed to her followers she is going to embark on a complete makeover starting with a hair transformation.
The star was filming her vlog whilst driving to a shoot for her brand 'Filter by Molly-Mae' wearing a khaki bomber jacket, a grey hoodie, gold hoops and had her blonde locks pulled back into a chic ponytail. Molly-Mae said: "I've got a few appointments over the next few days. I've got my hair, my teeth, my nails and a laser hair removal appointment booked too."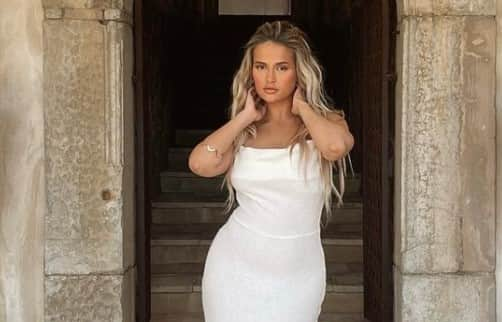 The PrettyLittleThing creative director wrapped up the shoot and headed straight for Emily Rose Monk Hairdressing in Wilmslow who is responsible for Molly-Mae's glowing locks. Pre-transformation Molly-Mae showed her roots to the camera and exclaimed loudly: "I'm giving brunette vibes". She went on to discuss the impact that pregnancy has had on her hair: "Everyone says like pregnancy and birth, and having a baby makes your hair fall out."
"I think it is going to happen at some point, but it hasn't happened yet. So far my hair has literally flourished from pregnancy and like it's grown so much," she added.
Molly-Mae then had a full head of white blonde highlights and extensions added whilst chewing on a pack of fizzy Marks and Spencer Percy Pigs. She emerged from the salon looking radiant with blonde locks and a bouncy blowdry and said: "I'm absolutely over the moon. Now I'm a mum I needed to switch it up a little so I've got some bangs."
After racing home to relieve Tommy from childcare duties, Molly-Mae went on to share with her followers stage two of the makeover which will be getting her teeth fixed.
Molly-Mae revealed that: "I am going to Rüh Dental to have my edge bonding redone. These are my natural teeth apart from my two side teeth next to my front teeth. I had them slightly extended to make them more level."
"I am having a few tweakments tomorrow. Some edge bonding and maybe even some full bonding on others."
The new mum is clearly on a mission to ensure she looks stunning despite the fact that she is running around after four month old daughter, Bambi. Molly-Mae has been very open with her followers about the ups and downs of being a new mum on her Instagram account. Molly-Mae said: "Being a mum consists of great days, bad days, normal days, overwhelming days, perfect days, sad days… a lot of days of just making it to the end of the day! But through it all, a crazy amount of love."