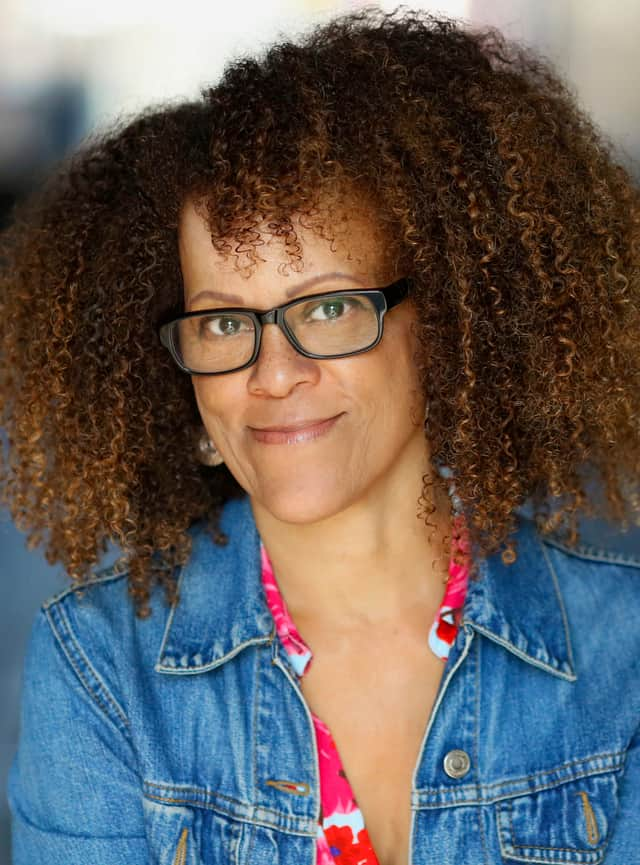 Bernardine Evaristo Credit Jennie Scott
Now in its 16th year, the event runs from Saturday (9 October) to Sunday 17 October and features celebrated talent from the worlds of the novel, poetry and non-fiction alongside activists, politicians and musicians.
With a huge programme to pick from it can be somewhat daunting to decide which events you might want to attend.
To help out, Manchester World has gone through the packed schedule and picked out seven brilliant writers coming to Manchester over the next 10 days.
Paul Morley
The writer, broadcaster and cultural critic kicks the festival off on Saturday afternoon in conversation about his biography of a Manchester music legend.
Paul Morley and the sleeve of his new book
From Manchester with Love, The Life and Opinions of Tony Wilson explores the extraordinary figurehead of the city's modern music scene through his founding of The Hacienda and Factory Records and his role in the Madchester movement around bands such as Joy Division, New Order and The Happy Mondays.
Paul was one of his closest friends and the person appointed by Tony Wilson to write the book.
He will be in conversation in the theatre at HOME with Julie Campbell, a.k.a Lone Lady, a musician, songwriter, singer and producer from Manchester.
Jeanette Winterson
The author of Oranges Are Not The Only Fruit and the bestselling memoir Why Be Happy When You Could Be Normal?, Jeanette Winterson has become one of the best-known names in modern British writing.
She teams up with Mark O'Connell on Saturday 9 October at Manchester Central Library for an event considering the question of what humanity might do next.
Jeanette Winterson. Photo: Sam Churchill
Her latest book 12 Bytes explores our relationship with artificial intelligence (AI) and how that might develop.
O'Connell, meanwhile, has written Notes from an Apocalypse which meets people with dramatic visions of the future including preppers, rewilders and those with an ambition to colonise Mars.
Anita Sethi
Manchester journalist and writer Anita Sethi has attracted plenty of critical praise and attention for her book I Belong Here, which recounts a journey she made on foot across Britain after she was subjected to a race hate crime.
The book plots the progress in her turning a cruel and ugly experience into one of kindness and compassion, intertwined with her thoughts and ideas on home and belonging.
Anita Sethi. Photo: Tobias Alexander
On Sunday 10 October she will be at Manchester Museum in conversation with director Esme Ward.
Before that, 15 lucky people will get to take part in a two-hour workshop with her about nature writing, which is particularly open to people of colour and those from low-income backgrounds.
Alan Johnson
The former Labour MP who has gained a large readership for his series of memoirs returns to the festival on Sunday 10 October at Central Library.
He has now turned his hand to fiction and will be discussing his debut novel The Late Train to Gipsy Hill.
The book features a Ukrainian waitress mixed up in a poisoning plot and an administrator who finds himself on the run from Russian secret agents and the Met.
He will be discussing his passions for politics and plot twists for the Manchester audience.
Bernardine Evaristo
Anglo-Nigerian author Bernardine Evaristo made history when she became the first Black British author and first Black woman to win the Booker Prize for her novel Girl, Woman, Other.
She is now coming to Manchester to discuss her new book Manifesto: On Never Giving Up in HOME's theatre on Monday 11 October.
Bernardine Evaristo. Photo: Jennie Scott
She has spent three decades as a trailblazing writer, mentor and activist and Manifesto is her intimate and inspirational, no-holds-barred account of how she did it.
She will be discussing her fiction, poetry and play writing with fellow award-winning writer and Manchester Literature Festival patron Jackie Kay.
She will also be taking part in the event Black Britain Writing Back at Central Library on Tuesday 12 October, which aims to reintroduce lost or hard-to-find works by Black writers from the 20th century.
Colm Tóibín
The Irish writer has become one of the most respected and successful names in literature with a string of brilliant novels, short story collections and non-fiction works.
His career has also included a stint at the University of Manchester as a professor of creative writing.
He is back in the city for an event at Central Library on Thursday 14 October to discuss his new novel The Magician.
Set against the backdrop of two world wars, the book charts the life of the famous German writer Thomas Mann, looking at his rise to fame, the story of his family life, his deep-seated feelings about his homeland and his attraction to young men.
Lemn Sissay
The poet who came to Manchester as a teenager and went on to become a university chancellor in the city while carving out a career as one of Britain's best-loved verse writers is also taking part in this year's festival.
He will be in conversation with acclaimed biographer Rachel Holmes about her work on Sylvia Pankhurst.
She has brought Sylvia Pankhurst out of the shadows of her family to show her lifelong commitment to human rights and activism, her global adventures and internationalism, her strong connections to Ethiopia, and her determination to fight the evils of racism, fascism and imperialism.
This is also a subject dear to Lemn's heart as when he appeared on TV quiz show Mastermind his specialist subject was Sylvia Pankhurst in Ethiopia.
They will be talking at Manchester Museum on Friday 15 October.
Lemn Sissay. Photo: Hamish Brown
How can I get tickets?
Due to the ongoing situation with Covid-19 the live events will be running at reduced capacities and the wearing of masks and use of hand sanitiser will be encouraged.
Audience guidelines are continuously being updated in line with Government advice.
There will also be a digital festival for anyone not able to attend this month's in-person events in November.