Electric cars: how is take-up going in Greater Manchester and is there enough infrastructure?
Manchester World has been looking at the data as national evidence of a stark north-south divide emerges.
Watch more of our videos on Shots! 
and live on Freeview channel 276
Visit Shots! now
Statistics suggest that while the number of greener vehicles registered in the city-region is higher than average, the number of charging points is below the UK average.
Transport chiefs in Greater Manchester have said they recognise a lack of infrastructure is a big barrier to the further uptake of electric vehicles and are committed to rolling out more charging points.
What do the figures for low-emission vehicles show for Greater Manchester?
The Government data refers to ultra low emission vehicles (ULEVs), which give off less than 75g of carbon dioxide (CO2) from the exhaust for every kilometre travelled.
This includes battery electric cars, plug-in hybrids and fuel cell electric vehicles.
In Greater Manchester there were 47,736 such vehicles registered in July 2021, of which 6,040 were registered to private owners rather than being used as fleet cars.
That means 2.89% of the vehicles registered in the city-region were ULEVs.
This is higher than the UK average of 1.42%.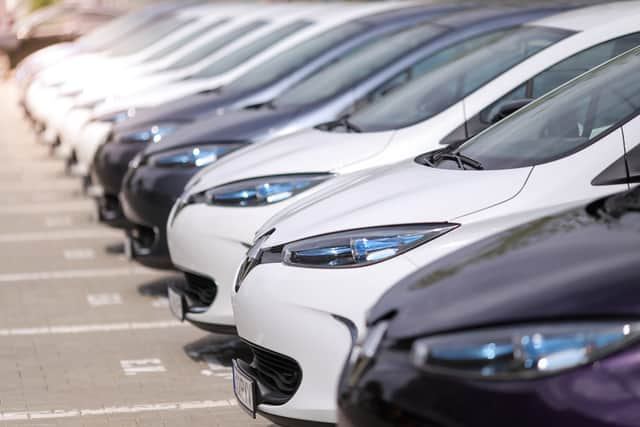 However, this does not necessarily mean that all the registered vehicles are being driven on Greater Manchester's roads.
There are a number of geographical hotspots for ULEVs where companies which rent them out as fleet cars are based.
And it has been suggested to Manchester World that there is a firm of this type in the city-region which could slightly distort the data.
What about charging infrastructure for electric cars?
This is slightly less good news for Greater Manchester.
This gives 15 charging points per 100,000 residents.
This is below the 36.3 per 100,000 people which is the UK average.
It is also fewer than the rates of public charging locations in areas such as Merseyside, Tyne and Wear and the West Midlands,
And It is way below how much public infrastructure there is for electric vehicles in the capital city.
The data shows there are more than 4,700 public charging points for electric cars in Inner London, and a further 2,749 in Outer London.
What have transport bosses said?
A spokesperson for TfGM said: "Supporting the switch to electric vehicles (EVs) is a crucial part of Greater Manchester's ambition to be carbon-neutral by 2038.
"Access to charging infrastructure is one of the critical barriers for residents and businesses to adopting EVs, however, our recently approved Electric Vehicle Charging Infrastructure Strategy sets out a clear expansion plan to accelerate the roll out of charging points across the city-region.
"The demand for EV charging infrastructure is even more pressing, given the Government's commitment to phasing out the sale of new petrol and diesel vehicles by 2030.
"With interest and investment from the private sector increasing, TfGM and GM authorities are committed to supporting and strengthening this activity, with additional public EV charging points opening each month.
"There are now around 391 charge points providing around 750 connectors across Greater Manchester and we're committed to collaborating and working with the commercial and private sector to enable more people to transition to cleaner, less polluting vehicles."
What has been said nationally?
The IPPR North think-tank said this would "unlock economic opportunity and help close the UK's stark region divides".
The Department for Transport said local councils have a "crucial role to play" to encourage uptake of the vehicles.
And Labour accused ministers of creating a postcode lottery through a "laissez faire" approach to charging infrastructure.