Manchester arts venue Contact announces its spring season - here are five shows you won't want to miss
The centrepiece of the venue's start to 2022 is its Queer Contact festival in February to celebrate LGBT History Month.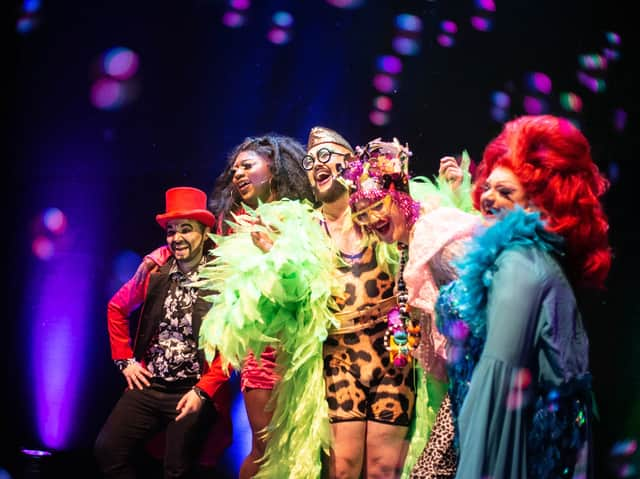 Palaver Party is being put on at Queer Contact. Photo: Emma Jones
A Manchester arts venue which takes pride in doing things differently has unveiled its exciting programme for spring 2022.
Oxford Road theatre Contact's latest season is led by its Queer Contact festival, which each year puts on a wealth of shows in February to celebrate LGBT History Month.
The programme brings together UK and international talent in everything from performance and music to spoken word, dance and theatre.

Most Popular
Pecs: Kings of the North
Pecs Drag Kings are making their Manchester debut on 11 February with a cabaret extravaganza also featuring local guest act Kings.
The all-women and non-binary theatre and cabaret company will bring a mixture of slick dance routines, lip-synching and raucous comedy to Contact.
Pecs Drag Kings are making their Manchester debut with a cabaret extravaganza
Pecs Drag Kings formed in 2013 and their shows featuring drag kings and theatre exploring issues of gender identities, politics and sexuality have been highly acclaimed by the LGBTQ+ community.
Palaver Party
Fatt Projects' contribution to the 2022 Queer Contact festival is family show Palaver Party, a space where anyone is free to be exactly who they want to be.
Suitable for ages three to eight and promising a fabulous time for the grown-ups too, host Fatt Butcher and a line-up of drag and cabaret performers will bring an inclusive family disco to Manchester on 13 February.
Expect music, performances, DIY costume-making, party games, sing-a-longs, glitter, and a rainbow disco.
Glamrou
Muslim drag sensation Glamrou will be at Contact on 15 February for an exhilarating solo show which moves from the depths of hell to the zenith of Islamic paradise.
Amrou Al-Kadhi is a drag queen, actor, screenwriter and author whose memoir Life as a Unicorn: A Journey from Shame to Pride and Everything In Between has been highly acclaimed and won awards.
Their screenwriting work includes the final episode of Apple's Little America, BBC America show The Watch and episodes of Channel 4 soap Hollyoaks.
Their show for Queer Contact promises to say the things that no one else dares to while exploring what it means to live in a state of harmonious contradiction.
Phoebe Frances Brown: The Glad Game
Actor Phoebe Frances Brown brings her show The Glad Game, which is about finding herself in the bleakest of times, to Contact on 16 and 17 March.
In November 2018 she was diagnosed with an incurable form of cancer in the area of her brain that controls speech, language and memory.
The Glad Game, which Phoebe has written and performs, is about locating gladness in the saddest of circumstances and discovering how love can pull you through.
Jinkx Monsoon and Major Scales: Together Again, Again
The show tells the story of a long-endured cabaret duo who haven't been on stage together for 45 years reuniting to tread the boards one last time.
Jinkx Monsoon won season five of RuPaul's Drag Race and has toured the world performing her original cabaret shows with her music partner Major Scales, with the duo also releasing two albums.
Major Scales is the alter ego of Richard Andriessen, a musician, writer and performer based in Seattle.