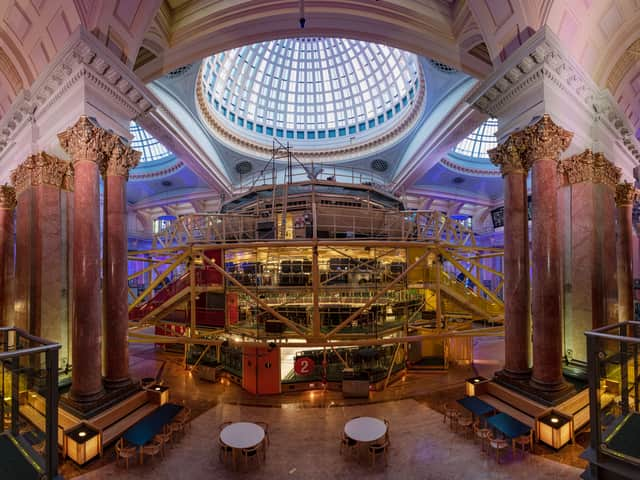 The Royal Exchange Theatre. Photo: Andrew Brooks
From classic plays to bold contemporary works and brand-new pieces, the Royal Exchange Theatre's 2022 programme looks to have something for everyone.
For the first time the theatre has also announced its programme for the entire year.
Manchester World has taken a look through the packed schedule and picked out five shows you won't want to miss.
A fresh look at a classic play to open the season
The Royal Exchange Theatre's joint artistic director Bryony Shanahan opens the programme with a brand-new production of Stef Smith's Nora: A Doll's House.
Royal Exchange Theatre artistic director Bryony Shanahan. Photo: Benji Reid
This work casts a fresh eye over Henrik Ibsen's classic 1879 play The Doll's House and combines a powerful domestic drama with a look at 100 years of women's liberation from voting rights to contraception and modern-day life.
The play was first seen at the Citizens Theatre in 2019 and the new show marks the first time Stef Smith's work has been performed at the Royal Exchange.
Nora: A Doll's House runs from 4 March to 2 April 2022.
A comedic and award-winning play featuring robot nuns
Tim Foley's Electric Rosary is a funny and moving exploration of faith and humanity.
The Sisters of St Grace are dwindling in numbers, divine inspiration is at an all-time low and a council-funded robot-nun has just been invited to join their convent.
Winner of the 2017 Bruntwood Prize Judges' Award, the play explores how AI can shape our ideas and beliefs.
Directed by Jaz Woodcock-Stuart, Electric Rosary will hit the Royal Exchange's boards between 23 April and 14 May 2022.
A play exploring race and going back to the roots of culture in Manchester
A portrait of celebrated actor Ira Aldridge was the very first art work purchased by Manchester Art Gallery in 1827.
Now, the Royal Exchange Theatre's joint artistic director Roy Alexander Wiese is bringing his story to the city's stage with a production of Lolita Chakrabarti's Red Velvet.
The play explores the African-American actor's extraordinary performance on the London boards as Othello in Shakespeare's great tragedy, when he stepped into the shoes of celebrated performer Edmund Kean at a time riots were taking place on the capital city's streets over the abolition of slavery.
A new stage adaptation of a chilling cult classic
Jack Thorne has been widely celebrated for his adaptation of His Dark Materials by Philip Pullman for television and his stage show Harry Potter and the Cursed Child.
Now his stage adaptation of cult vampire tale Let The Right One In is coming to Manchester.
In a world where adults are failing them, two teenage outsiders are drawn to each other. One is a bullied, isolated teenage boy, the other a feral, lonely and dangerous vampire.
That is the beginning of a chilling and unlikely friendship as two people separated by centuries and rejected by society find salvation in each other.
Directed by Royal Exchange joint artistic director Bryony Shanahan, it runs from 22 October to 19 November 2022.
A sort-of musical
Betty! A Sort Of Musical is a new work created by well-known actor Maxine Peake and Seiriol Davies.
In a small village hall, The Dewsbury Players (Yorkshire's most passionate, dedicated and inventive amateur-dramatics society) have come together to celebrate their most eminent local hero, Dewsbury-born Betty Boothroyd, the first female Speaker of the House of Commons.
They prepare to create a musical about Betty's trailblazing life and emboldened by their subject prove themselves to be extraordinary women both on and off the stage.
This joyful, uplifting celebration of the human spirit will run in Manchester from 3 December 2022 to 14 January 2023.
What has the theatre said about the 2022 programme?
Artistic directors Bryony Shanahan and Roy Alexander Weise said: "What we love about this programme of work is that it's hard to stick it in a box.
"We wanted to shape a year that really did have something for everyone, to create as many opportunities as possible for audiences across Greater Manchester to come and experience incredible plays.
"These productions are a celebration of how expansive and universal theatre can be, how joy and laughter sit right next to gut-wrenching emotion – and the fact that we all get to share this rollercoaster of a journey together can never be underestimated again after the last 18 months.
The Royal Exchange Theatre in Manchester. Photo: Andrew Brooks
We are thrilled to bring a brilliant team of artists together to work on huge, time-honoured stories and to see what fresh perspectives contemporary artists can find for today in these epic plays.
"At the Exchange we have always championed new writing so we cannot wait to bring Tim Foley's Bruntwood play about robots and nuns to the stage, along with a truly original new sort-of musical inspired by Betty Boothroyd.
"This programme is about everyone finding something for themselves, it smashes together the old and the new so that we make something fresh that is reflective and relevant to our world today.
"It is an opportunity for us all to share stories, perspectives and just experience something incredibly special, together. What we all need is a little entertainment, and we hope that the next 12 months at the Exchange will bring just that."