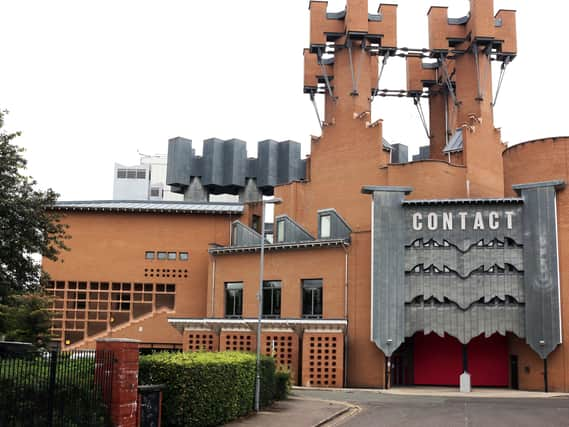 It looks something like a castle sculpted in Lego bricks, with a huge grey portcullis and two striking towers which provide the ventilation chimneys.
And what goes on inside the building as just as distinctive as the impression it makes from the outside.
Contact Theatre, several decades after the first productions were put on at the site, remains a place with developing young talent at the centre of its vision and one which has ambitious ideas of reshaping the UK's cultural scene.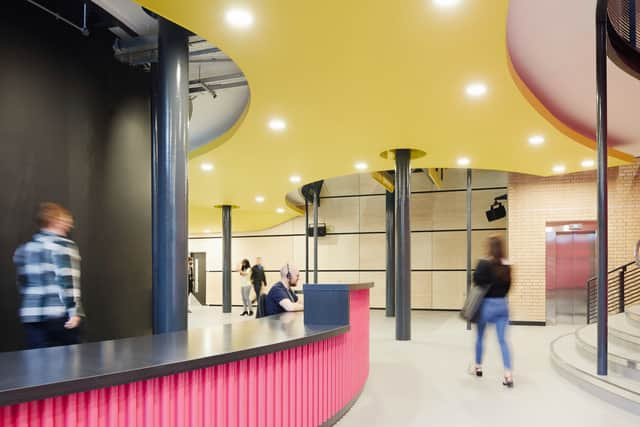 The history of Contact Theatre
The story of culture being celebrated at Contact's location begins in 1972, when the Manchester Young People's Theatre was founded by the general manager of the Manchester University theatre and a drama academic.
It was envisaged as a place where young people could be in control and change their lives through the arts.
They were placed at the heart of everything to do with the theatre, from the repertoire that appeared on the stage to staff appointments.
By the end of the 1990s the building, which originally went up in the early 1960s, was distinctly ageing and architects firm Alan Short and Associates was brought in to give it a new lease of life.
With the help of £5m of Arts Council England money, the place was given a complete transformation into the astonishing and distinctive castle-like structure that is there today.
The theatre has more recently had the builders in too, with the venue returning to reopen the doors earlier this year for the first time since December 2017 due to a combination of renovation work and the Covid-19 pandemic.
This latest upgrade included creating new and improved performance spaces, a purpose-built recording studio for young people's music projects, a health and science development space created in partnership with Wellcome Trust, new offices for artists and cultural organisations to hire and work alongside Contact staff, a new and improved public bar and free work and social spaces.
What impact has Contact made?
Since 1999, Contact has been functioning as a multi-disciplinary creative space specialising in producing work with, and providing opportunities for, young people aged 13 to 30.
It is recognised both nationally and abroad for its youth leadership and creativity.
Contact seeks to develop new talent, foster ambition and build young people's artistic talents, and does so by working with youngsters from across Greater Manchester and with renowned artists to come up with new ways of engaging the upcoming generations in the arts.
Its model of having young people work alongside staff in deciding the artistic programme, making staff appointments and acting as full board members has been recognised as a national exemplar of best practice in relation to young people and diversity.
And as Matt Fenton, who has been artistic director for eight years, says, its unusual approach makes itself felt on a daily basis.
He said: "Theatres can struggle to attract younger audiences but Contact's is 70% under-30.
"The themes, topics and issues in our public programme reflect the things young people think are important and want to talk about.
"Many of the shows were selected by young people and that's the heart of how Contact works.
"I find it really exciting. Sometimes I'm seeing shows at Contact I've not been involved in directing, and I'm more like a member of the audience going to see a performance.
"Before I got this job I was an audience member at Contact, and I remember how exciting it was to feel the youthful energy and buzz you got in the building. That was one of the reasons I applied."
What kind of work is Contact making?
The reopening programme for autumn 2021 shows clearly Contact's priorities and ambitions for the work it produces.
It teamed up with Black Gold Arts during Black History Month to deliver a line-up of Black-led art, performance and film, including the live world premiere of mandla rae's 'as british as a watermelon' and films from Chanje Kunda and Mele Broomes.
It also responded to climate change and the COP26 summit in Glasgow by presenting The Wicked Problem, where the audience acted as the jury in a trial for ecocide, or destruction of the planet.
Nathaniel Hall, who starred in Channel 4's ground-breaking and highly-acclaimed drama It's A Sin, teamed up with Dibby Theatre to present First Time, an autobiographical piece about growing up positive in a negative world.
Nathaniel said: "Contact is where my journey as an artist really began. Their Young Company nurtured my talent and having access to the diverse creatives with a passion for community-led arts that inhabit the building made me into the artist I am today."
Contact and House of Ghetto also presented The Black Pride Manchester Vogue Ball in December.
Looking ahead into 2022 Contact is putting on the ambitious Queer Contact festival, which has been built from workshops with young LGBTQ+ people to enable it to meet their needs and requirements.
Jinkx Monsoon and Major Scales, known for their appearances on Ru Paul's Drag Race, are also coming to the theatre for a much-anticipated show.
Aiming to change the face of UK culture
It says it wants to empower young people from all different backgrounds to become cultural leaders and to use their talents to drive social change, while also bringing through new generations of artists.
It also wants to put stories and experiences on stage for audiences that would not be shown elsewhere and which reflects Greater Manchester's communities and the realities of life in the 21st century.
Its vision is for a city and a world where all young people are fired up by the possibilities of the arts and culture is open to everyone.
One person who came through the Contact Youth Company was Sophie Willan, who has just picked up a Bafta and much critical acclaim for her sitcom Alma's Not Normal.
Matt says that without somewhere like Contact even those who have achieved fame and fortune after starting out there would have found it very difficult to break into the arts.
He said: "The barriers are significant and are getting more so.
"That's because of the loss of creative subjects in the curriculum in schools, the loss of affordable creative music, drama and dance provision after school and the impact on youth services of many years of austerity and years of reductions of arts budgets generally.
"At Contact someone from a lower-income background or from a family who haven't maybe engaged with the arts can access for free high-quality creative activity.
"It's real and valuable, more so than ever given the broader challenges."
Putting the environment centre stage
Indeed the extraordinary look of the building is partly driven by its green ambitions, as it is part of its efforts to drive down its carbon emissions by making it completely naturally ventilated.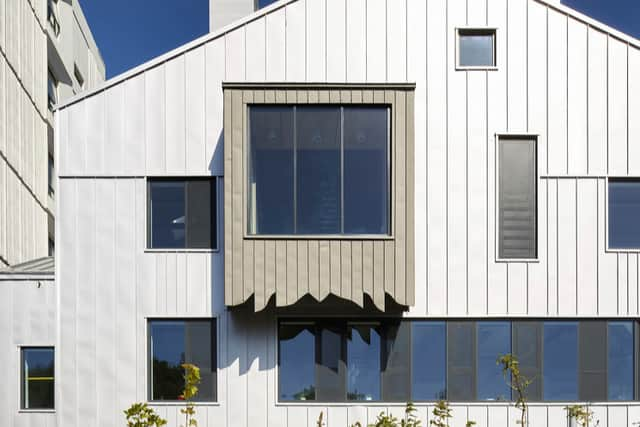 The theatre recycles 100% of its waste, has an electric van and charging station and gets its electricity from renewable sources, among a raft of other engagement schemes and work.
Matt, who is bowing out from his role next spring and heading to Belgium, says the five years he has dedicated to getting Contact back into the renovated building has been his biggest achievement and the highlight of his time at Contact.
Considering also the effects of the Covid-19 pandemic, he said: "I'm very proud of where we are."
Matt also expressed delight that the youth company has gone from strength to strength, performing around the country.
He said: "Once the building was open I planned to create space for a new artistic director and hopefully a new generation of leadership at Contact.
"I'm really looking forward to passing the torch on."