Wayne Rooney's son Kai aims to be playing with Man Utd in Premier League in next 10 years
Wayne Rooney had a successful career at Manchester United in the Premier League and now his son wants to follow suit.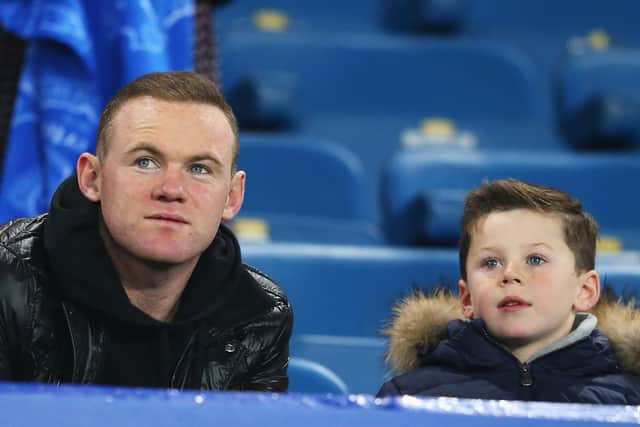 Being the child of a professional football player comes with a lot of pressure, but Wayne Rooney's son Kai is already off to a flying start.
Kai, who plays as an attacking midfielder, is currently enrolled in the Red Devils' academy and has already netted 56 goals for his side.
Speaking to The Mirror about his ambitions, he said: "In ten years, hopefully, I will be playing in the Premier League for Man United …that's where I see myself, but I've got to make it happen with the hard work and everything behind the scenes."
The teen is the eldest of four boys from Wayne Rooney and his wife Coleen and has been blessed with his father's footballing abilities.
Kai revealed the best moment in his career to date was when he scored an overhead kick against the club's cross-town rivals Manchester City while playing for the Under-12s.
"My favourite moment was when I scored four against Liverpool …even though we lost, I was the main man and was running past defenders. But my best moment was when I scored an overhead kick against City, for the under 12s," he said
Kai claims dad Wayne plays a big part in his life and is his biggest inspiration.
He said: "He's helped me through some of the hard times and taught me a lot about the game, even just being in the car listening to him as a manager talking to all the players."
Kai joined Manchester United in December 2020, having previously played for Manchester City's youth teams and Bethesda SC Washington.
"I'm a proud dad," Rooney Sr told reporters when his eldest son joined United. "He's been working hard. He obviously came over to the States with us to continue with his football.
"He went on trial with Manchester United, and he's impressed the coaches. He signed his forms yesterday, so I'm delighted for him.
"He did have other options, other clubs to go to, but he decided he wants to sign for Manchester United, so it was his decision and not mine."
Wayne scored 214 goals for United in 10 years at Old Trafford and is currently third on the club's all-time list of goalscorers list.