Tyson Fury has called out the majority of the heavyweight division in a social media rant as he pleads for someone to fight him. The Gypsy King, 34, holds the WBC title, and is currently searching for an opponent to fight this summer.
He was set to face Oleksandr Usyk in April, but talks with the Ukrainian heavyweight collapsed due to a disagreement over demands. Usyk previously admitted he was "very happy" when talks with Fury collapsed so he could return to his home country.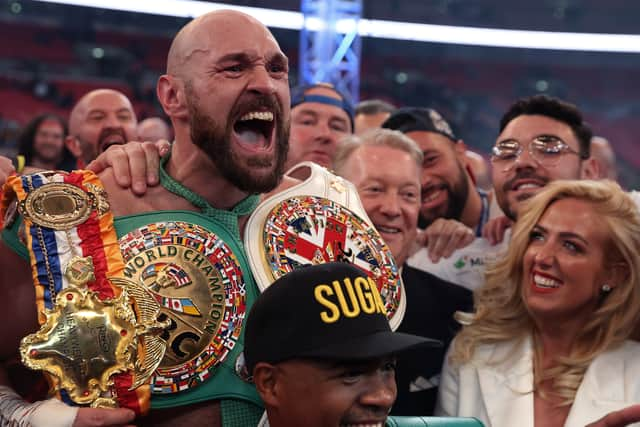 Fury later turned his attention to China's Zhilei Zhang, who defeated Joe Joyce last month, for a ringside return in July. However, Zhang will face Joyce again after the Brit activated his rematch clause, ruling out a bout with Fury. The 34-year-old was previously set to face Anthony Joshua, with the Watford-born fighter agreeing to terms, but the fight was called off after the deadline was missed to sign contracts.
In a new social media outburst, Fury, who has not fought since December, blamed his rivals for a lack of activity and continued his feud with Usyk. He first wrote: "Can't wait to KO this little rat b*****d. Cowardly, yellow, ugly, bogeyed bum! Keep running rabbit and I have heard nothing from your team. I'm ready anytime."
In a video uploaded to Instagram, Fury later said: "I've been off Instagram for a while, I've been on holiday, I've been chilling, I've been eating, I've been doing all sorts of s***. But I just wanted to say to everybody that I want to knock out all these m***** out and I'm ready to rumble.
"I've not fought since December through no fault of my own. I've tried to fight some little midget Usyk, and he's not wanted anything. I've tried to fight AJ, he don't want no smoke.
"I've tried to fight everyone. Andy Ruiz Jr has asked for 20 million, silly little b***** don't know where he's got that from. Who's out there? Who's available?
"Zhang, he was a good little fight, but Joyce wants his rematch, so that's not happening now. So, I'm looking to fight anybody, any place, anytime, anywhere. I cannot wait to fight Usyk, AJ, whoever is out there, I'm f***ing you up because I'm the baddest m***** on the planet."
Earlier this week, Fury's promoter Bob Arum said he expects Fury will wait until the end of the year to take on Usyk in a highly anticipated heavyweight world title clash. It could take place in Saudi Arabia in December, and form part of a four-man heavyweight tournament that would see Fury and Usyk fight on the same night as Joshua and Deontay Wilder.