A Manchester musician who has spent decades playing and teaching a traditional Russian instrument is urging people not to tar Russia's culture with the brush of its politics and its invasion of Ukraine.
Brian Hulme, from Chorlton, plays the balalaika, the Russian string instrument with its distinctive triangular-shaped body, and leads the Kalinka Balalaika Orchestra, the only ensemble dedicated to the instrument in the UK.
However, since Russian president Vladimir Putin ordered the invasion of Ukraine at the start of this year and the country was hit by massive international sanctions amid a wave of disgust and condemnation, interest in the instrument and the group has dwindled, Brian says.
He is urging people to separate Russia's arts and music from its politics and acts of aggression towards its neighbours ahead of his ensemble's appearance at the Góbéfest celebration of Eastern European culture in the middle of Manchester.
What is the balalaika and how long has Brian played it?
The balalaika has a long neck, three strings and a triangular-shaped body and makes a very distinctive sound.
It can currently be heard at the top of the charts as one features in Kate Bush's song Running Up That Hill, while some readers may remember it from the soundtrack to the film Doctor Zhivago.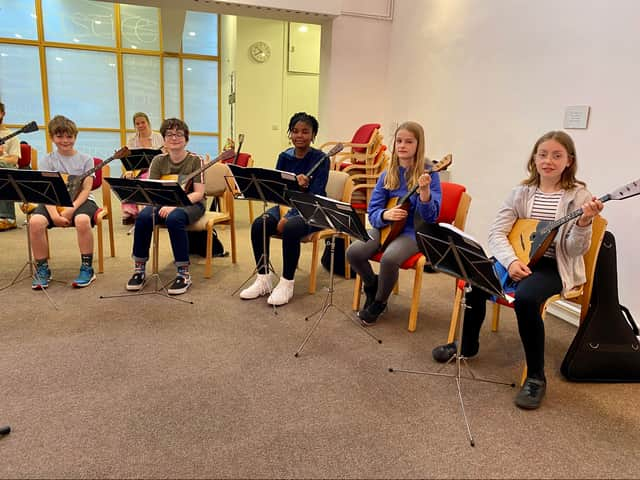 Brian has been playing the instrument for more than 60 years after falling in love with it while studying Russian at university.
Brian is also a balalaika teacher and has passed on his love of the instrument to many other people during his decades of doing lessons.
What issues are the balalaika orchestra facing and what does Brian say about it?
Brian says that Vladimir Putin's invasion of Ukraine has led to a notable drop in interest in the Kalinka ensemble and the balalaika in general.
He said that the ensemble has even had a booking scrapped due to worries about a general anti-Russian backlash.
Russian sportsmen and women, cultural figures and artists have all faced major restrictions on travelling abroad and working as attempts have been made to internationally isolate Putin and his associates, while some orchestras have even pulled works by Russian composers from programmes.
That approach was recently criticised by a member of Pussy Riot, the punk band whose music and members are strongly anti-Putin.
For his part Brian is keen to disentangle Russia's rich cultural heritage and traditions from the militaristic actions of those currently in charge in the Kremlin.
He says the balalaika's sound is enjoyed across a large swathe of Eastern Europe, including Ukraine, and any worries about associations with war are unfounded.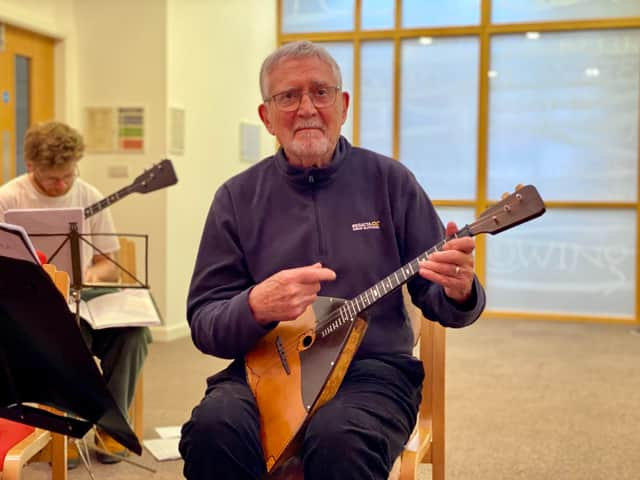 Brian said: "Since Putin's hostilities against Ukraine, we've struggled to recruit new members. We even had one event cancelled because the organisers couldn't predict the audience reaction.
"Not too long ago there were balalaika lessons in 10 to 12 schools around Greater Manchester every week. Now there are only two schools who still want the lessons.
"Unfortunately, people simply don't want to learn this beautiful instrument because of its connections with Russia.
"As an orchestra, we abhor the invasion of Ukraine. We support the people of Ukraine, and those courageous Russians who dare to voice their opposition to the war and risk a long prison sentence.
"We want to share the spirit of solidarity the best way we can – through our music."
Brian says Kalinka is looking to develop a partnership with a music school in Kharkiv in Ukraine, having been unable for some time to pursue the links it previously had with musicians and teachers in St Petersburg.
Góbéfest will be a special gig for the ensemble
Manchester's major celebration of music, dance, food and culture from Eastern Europe, Góbéfest, takes place between Friday 24 June and Sunday 26 June and the Kalinka Balalaika Orchestra is taking part.
The orchestra will perform on the main stage at Cathedral Gardens on Saturday 25 June, from 11am until noon. Six children aged between 10 and 15 will perform on the day, along with their teachers and some of the adults in the group.
Brian says it will be something of a comeback public performance for the group following the Covid-19 pandemic.
Brian said: "What makes this performance all the more special is that it's the first time the players have been able to share their music for well over two years.
"They're all very enthusiastic, and we would love people to come and support them. We want people to see just how evocative and unique this beautiful instrument is, and separate the country from the music."
A plea to potential new players to give the balalaika a go
Brian is also keen to urge anyone thinking about picking up a musical instrument to consider giving the balalaika a go, saying the ranks of Kalinka are currently filled with musicians aged from 10 to their 70s who are all from Manchester.
He said: "We play the balalaika because it's a beautiful instrument and quite unlike anything else. It's a stringed instrument belonging to the lute family and its sounds range from percussive strumming to gentle tremolo and vibrato.
"Beginners can quickly produce satisfying sounds out of the balalaika because of its simplicity."