The conflict in Ukraine has shocked the world and dominated its news agenda, with images of Russian forces invading and Ukrainian people either caught up in the violence or desperately trying to defend their homeland.
The war has also left many Greater Manchester residents wondering if there is anything they can do to help.
Ukrainian communities across the city-region have been arranging for donations to be sent to their troubled homeland, setting up a network of collection points and letting kind-hearted Mancunians what would be useful to donate.
So if you have been horrified by the images on the news and want to do something to assist the victims of brutality, here's what you need to know.
Where are collections being organised in Greater Manchester?
Members of the Ukrainian community and Greater Manchester's branches of the Association of Ukrainians in Great Britain (AUGB) have been organising donations.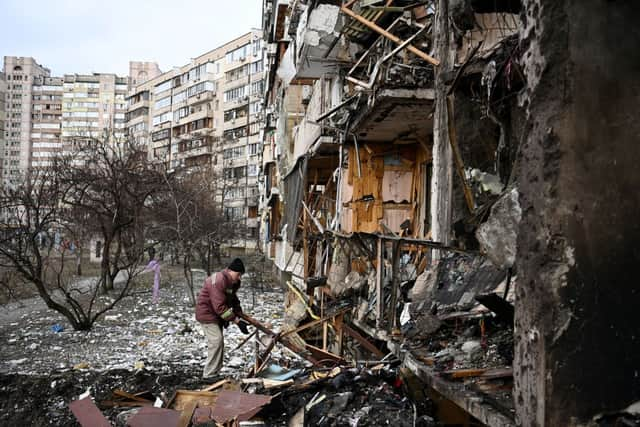 The centre also began accepting donations again on Monday 28 March between 11am and 7pm. It is also running a welcome cafe and a free shop for Ukrainian refugees.
Salford charity Foundation 92 has also set up a number of drop-off points and also has an Amazon wishlist. Information is available on its website here.
What items are being requested?
Due to the sheer amount that has been donated many organisations say there is currently no need for some items to be given.
However, items which have still been requested include toiletries, baby wipes and disposable nappies, sanitary products and toys for children.
Stockport Ukrainian Club also put out a call for items including foil survival blankets, metal cups, towels, first aid kits and bandages and hairbrushes.
The Ukrainian Cultural Centre in Manchester has requested tourniquets, long-range walkie-talkies in-date pain relief medications, formula food for babies, USB and micro USB Powerbanks for laptops and phones, lightning charges for iPhones, micro USB, flash drives, micro SD memory cards and new car batteries.
Other needed items include tools and food and drink such as protein bars, three-in-one coffee sachets, small packets of nuts and raisins, peanut butter in plastic jars and cupasoups, Super Noodles and packet soups.
Specific clothes are also needed. These include new thermal vests or pants, balaclavas, shoe inserts, hand and feet warmers, opaque tights for warmth for men and women in large sizes, snoods (although people are asked to take care with the colour of them) and fingerless mittens.
Are there other ways to donate?
There are also a number of online fund-raisers that people can donate to and those wanting to help are being encouraged to show their support in the form of money.
The Ukrainian cultural centre in Manchester is also appealing for money to be used to buy equipment for those on the front line defending Ukraine.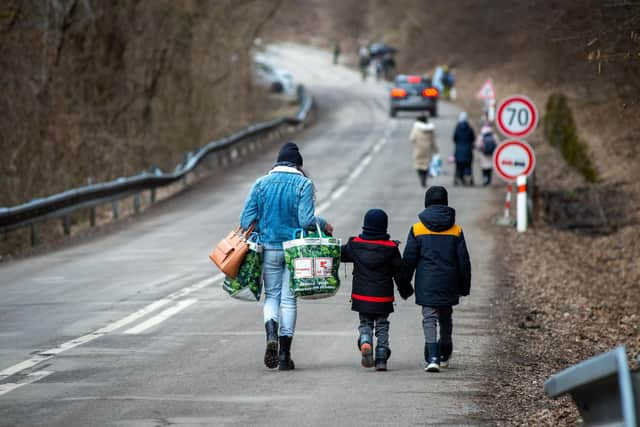 Mr Burnham, who wrote to a number of Ukrainian mayors offering support last week, said Greater Manchester was hoping and praying for the safety of the country's people.
The UK-Med appeal is also being supported by Greater Manchester Fire and Rescue Service (GMFRS).
Fire crews, support staff and volunteers spent a weekend washing cars to raise thousands of pounds for the appeal at stations across the city-region.
What has the Ukrainian community said about the appeal for aid?
Ukrainian communities across Greater Manchester have spoken of their gratitude to the city-region's residents for stepping up to help in their country's darkest hour.
They also shared their shock at the devastating events that have unfolded.
AUGB Bury branch chair Stefan Harhaj said: "We were at the donation point on Monday and the amount of stuff they have got there was amazing.
"There is going to be a desperate humanitarian crisis.
"It's just unbelievable that this is allowed to happen in the 21st century in a European capital city. It is heartbreaking and really worrying. I've got three cousins in Kyiv and I don't know what's happened to them, I can't get in touch.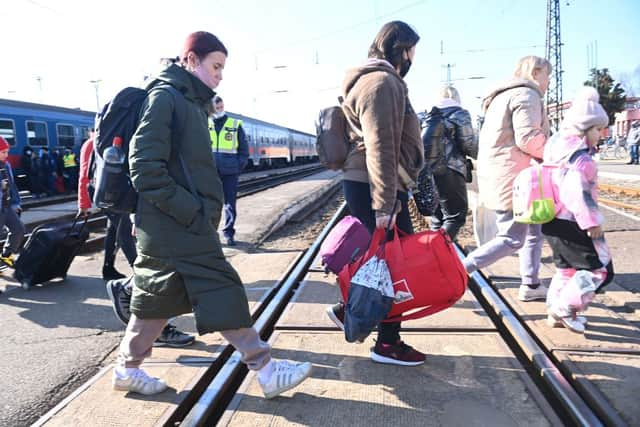 "It's difficult not to get choked up, for us this is so sensitive and painful.
"There is a human side to this tragedy. It's not just something happening 1,500 miles away, there are connections with Ukrainians here having family over there.
"It's difficult for ordinary people to know what they can do other than provide donations for the funds and give items which will be required by the refugees.
"I'm getting a lot of calls every day from people wanting to know how they can help and show their support for the humanitarian effort. We've been getting a lot of offers of help.
Bolton AUGB branch chair Yaroslaw Tymchyshyn said: "The response has been unbelievable. This is a mirror image in some respects of what happened when my father's generation came over after the Second World War.
"The generosity of this country holds no bounds, it is just incredible."
Both Mr Harhaj and Mr Tymchyshyn said they were grateful for the support of the Polish communities in their hometowns.
Mr Harhaj also said the Ukrainian community had been lobbying MPs for the toughest-possible sanctions on Russia and for more military hardware to be sent to Ukraine to help them defend the country.