Healthcare workers on the frontline in Ukraine with a Manchester-based medical charity have spoken about working in the shadow of war and helping the Ukrainian people following Russia's invasion of their homeland.
David Anderson, an emergency department nurse, described working on the ground in the conflict zone and explained what UK-Med is doing to support the Ukrainian people.
He also thanked Greater Manchester residents for their generous donations to Ukraine, saying the help was much appreciated in the country.
However, he said it was important for people to keep remembering the conflict in the weeks and months ahead.
What work is UK-Med doing in Ukraine?
David has been in Ukraine for several weeks and is involved in carrying out health needs assessments in the central areas of the country and delivering training to ambulance drivers on the frontline.
The charity is also carrying out health needs assessments in Western Ukraine and setting up health clinics south of the city of Lviv, which has seen a large influx of refugees from other parts of the country since the war started.
UK-Med is focusing much of its attention on the many people who have fled their homes because of the fighting and are now internally displaced in other parts of Ukraine.
David described the work UK-Med's teams are doing and the warm reception they have received from the Ukrainian people since arriving.
He said: "The movement of people around the country is putting pressure and strain on different parts of the healthcare system.
"The people here are just mind-blowingly generous. They have been so accommodating. They need quite a bit of help.
"There are quite a lot of refugees who have moved from the east of the country heading west. In the main they are women and children and the elderly population. Their primary healthcare needs have been the main focus recently.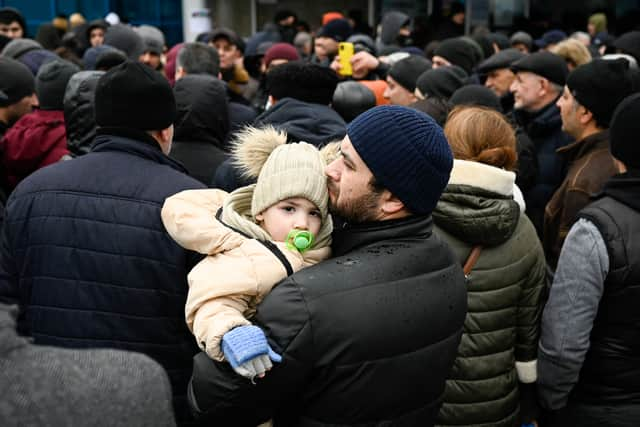 "If you've not got anti-hypertensive drugs with you and need them your chance of a stroke is really high. We've been making sure all their basic healthcare needs are covered. We are also dealing with minor illnesses and injuries.
"A lot of them have been moving with very little. Ukraine is also massive, so moving from one city to another can be a 10-hour drive.
"In some of the bigger hospitals they have been taking people who have been more severely affected by the conflict and unfortunately have been left with fairly bad injuries.
"We have been doing assessments on the outskirts of the higher conflict zones. We've also been running mobile clinics which are like GP practices multiple times a day."
David said the clinics have been helping anyone who turns up, with local people getting help as well as those who have been internally displaced.
What is it like to work in Ukraine?
David spoke movingly about the situation on the ground as the war continues and the awful circumstances the Ukrainian people face as they attempt to protect the future of their country in the face of aggression and the military onslaught ordered by Vladimir Putin.
He said: "When you talk to the refugees and to our local drivers they have friends, colleagues and family who are part of the Ukrainian forces and are working hard to defend their country against the aggression happening to them.
"One of our drivers is from Kyiv and has family there. You mention it to him and you can see he looks like he's going to cry when he talks about them. It's very sad.
"When you are driving around there is a lot of military about, both armed forces and special police. There are a lot of checkpoints.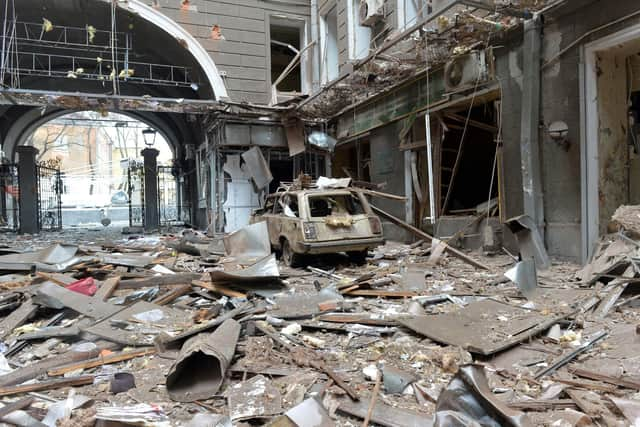 "The main problem is that nowhere is absolutely safe. Sirens are going off very frequently to give people warning that something has been identified as a risk in the area.
"If you head further east there are areas with a lot of destruction but others where people are managing to carry on as best they can.
"These are pretty horrendous conditions and it's not even necessarily the fact that somewhere has been bombed, it's living with that constant fear that you just don't know what's going to happen and where the next strike may be.
"Living with that is a very difficult thing for the people of Ukraine."
A huge response to calls for donations but an ongoing need for aid
He said the British people's generosity was being very warmly welcomed in Ukraine.
However, he said that as the weeks of the conflict go on and attention potentially starts to move away from the country it was vital that people remember what the Ukrainians are going through and continue to offer support.
David said: "We want to say thank you to everyone who has offered support. Britain is mentioned all the time by people here for the aid that has come from the country.
"The people of Greater Manchester have been phenomenal and the amount of money and everything else that has been given towards the people of Ukraine is absolutely appreciated both by us and the people in the country.
"However, even if this war is stopped tomorrow it will have a massive impact on the Ukrainian people's health and their lives for quite some time to come.
"I would hope the people of Manchester don't forget about this horrific conflict and continue to support what is very much needed work to help these poor people."