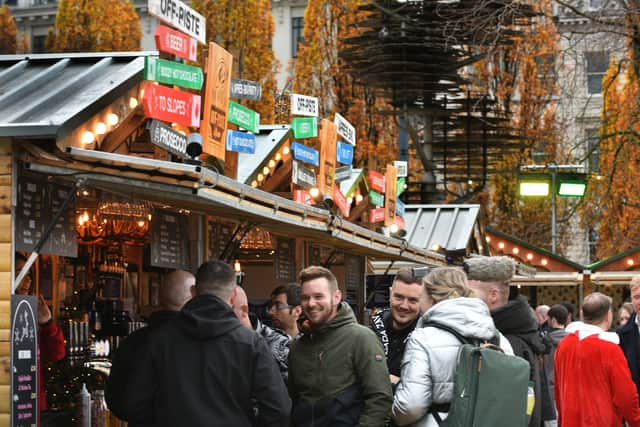 Every year enormous numbers of people head into Manchester city centre to enjoy the popular Christmas markets - and this is all down to Arnd Baggen.
Arnd was the driving force behind bringing the continental events so popular across parts of Europe to Manchester and giving Brits a taste for spending December evenings outside sipping gluhwein and munching German delicacies.
However, Arnd has now lost his business Bavarian Beer House after it became a casualty of the Covid-19 pandemic and he has now joined community food organisation The Bread and Butter Thing which gives out bags of groceries for a set price.
Arnd talked to ManchesterWorld about the rise and fall of his business in the city and confessed that he has concerns about the future of Christmas markets in the UK due to Brexit.
How did Arnd bring Christmas markets to Manchester?
Arnd grew up in the town of Regensburg in Bavaria in south west Germany, about 90 miles or so from Munich. In Germany Christmas markets are a hugely-popular tradition going back hundreds of years.
Their arrival on British shores, though, is a far more recent phenomenon.
At the start of the 1990s European Union rule changes made it far easier for traders to work across borders, cutting down considerably on customs checks, paperwork and other barriers to travelling and doing business.
Arnd had become involved in the German market traders' federation and a European organisation bringing traders from different countries together to stage events. He also spent five years selling German beer in Italy.
In 1993 he came to Manchester for the first time when a European market was held on Deansgate. Unfortunately, due to the state of the city at that time it was not a success.
He said: "There were few people living in the city centre, old mills were falling down, there were destroyed buildings."
However, in 1999 when the European traders, including Arnd, put on an event in Huddersfield a delegation from Manchester City Council headed across the Pennines to check it out as they thought a continental-style market would be a good fit for a city centre on which considerable sums of money had been spent in the wake of the IRA bombing of the Manchester Arndale in 1996.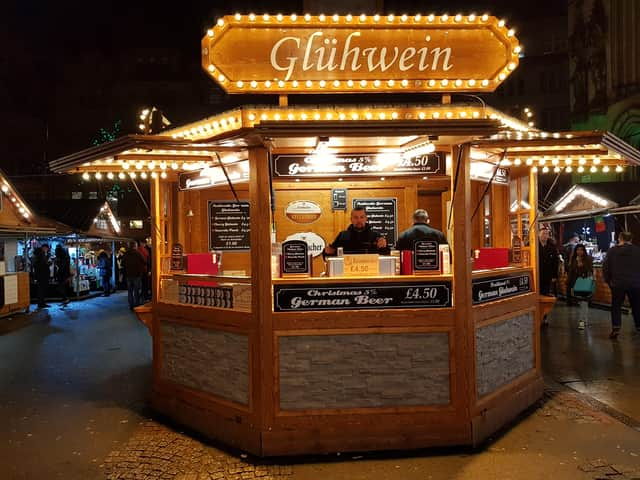 When the two groups simply couldn't find a date that they could agree would work, it was suggested that the only free spot in the calendar was at the end of the year to try and run a German-style Christmas market in Manchester.
Arnd said: "I wasn't really expecting an answer to that but Manchester said that might be a good idea. I organised the traders to come over from Europe for the first time to Manchester."
The idea didn't catch on instantly but enough people came to keep it going and there were some memorable moments during the process of bringing the concept to the city.
Arnd said: "At that time it still wasn't allowed to drink alcohol outside, and it's a big part of the Christmas markets to have beer and gluhwein. Manchester City Council declared Albert Square a pub so people could walk round it with an alcoholic drink.
"It was very hard for the first two or three years for people to get used to the idea, but Manchester quickly learned."
Bringing market traders to Manchester and calling the city home
Prior to Covid Arnd's Bavarian Beer House was a regular fixture of the Manchester markets during the festive season (it was the traditional German-looking building which was usually located to the left of the statue of Albert as you looked towards the town hall).
Arnd said when he first visited the UK he realised the Christmas markets weren't a thing and while German traders had specialist equipment enabling them to work outside in winter English traders didn't really see it as a business opportunity.
The downside of the long-standing popularity of the festive markets in Germany, though, was that new traders couldn't get a place as every town and city had a market and the stalls were mostly taken.
That meant the introduction of the markets to the UK opened up new business opportunities, and Arnd himself decided to make Manchester his home in 2003.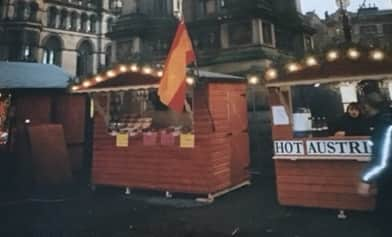 What happened to Arnd's business?
The Covid-19 pandemic marked a dramatic change of fortunes for Arnd as his business model, which involved paying himself at the end of the year rather than a regular monthly salary, made him ineligible for support under the government's furlough scheme.
He said this was an issue many people in his industry faced.
He said: "The government said that if you couldn't present regular monthly income it was impossible to work anything out, so a lot of my colleagues in the events business had big problems.
"When you are involved in Christmas markets your income is very much concentrated on two months of the year. For three months, from January to March, you normally don't work as there's nothing worth doing. Then at the end of the year you see how business has worked out and if you have enough money to start the new season."
At the same time Arnd still had the running costs associated with the business to pay and he was also experiencing some health difficulties involving his legs which led to him struggling to stand for long periods, an essential requirement in his line of work.
In the end he decided to close the Bavarian Beer House.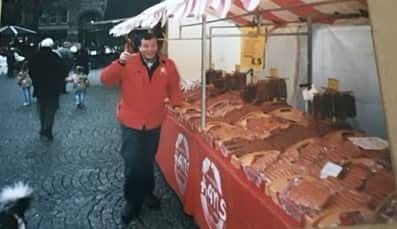 How did Arnd become involved with The Bread and Butter Thing?
Arnd, who now lives in Clifton in Swinton, first came across The Bread and Butter Thing, which now provides bags of groceries to people for a set fee which is much cheaper than going to the supermarket to thousands of households across Greater Manchester, due to his health issues.
He said: "I had medical treatment three times a week at Swinton Gateway and that is near the church where The Bread and Butter Thing's van was parking.
"I saw the van and the queue of people and wondered what was going on. I asked what they were doing and it was explained to me and I thought it was a good idea."
Arnd has now been a member of the organisation for several months and said that initially it was the way the project was cutting down on food waste that was most appealing to him.
He said: "Food waste is a real problem, not only in the UK but generally in our richer European countries. People are starving with hunger and we are throwing food away."
However, as Arnd is now living on his pensions at the age of 66 and the cost of living crisis means energy bills and other costs are spiralling he admits it is also useful to be able to save money on shopping.
He said: "I feel very lucky to have taken membership, it's really helped me out. It means I can live in the moment without fear for tomorrow or how I am going to warm my place when everything has become more expensive. The food is exceptionally good value.
"It's also had a positive effect on me. As you get older you become more and more fixed on special foods, and what you like very much ends up on the table every day.
"Through The Bread and Butter Thing I have come back to all the other foods I've not eaten for a long time or have never eaten. I started to eat things I've never really eaten much before because they were in the bags, such as fish and cornflakes. It's added more variety to my diet."
What does Arnd think the future holds for the markets he founded?
On the surface Manchester's Christmas Markets continue to be a hugely-popular addition to the city's calendar, bringing in millions of people to enjoy the atmosphere and stalls every year.
Arnd, though, admitted that even had Covid and his health not intervened, he would not be entirely comfortable with the future prospects of trading in European food and drink in the UK - and this is down to Brexit.
He said: "I would now have problems running my business because of Brexit. Before, when I was running out of sausages for my grill I got on the telephone, rang my producer in Germany and the next day or within two days at the latst I had my sausages in England. The same went for my beer or whatever I needed.
"That's not possible now. That's the reason why hardly any European traders were at the last Christmas market.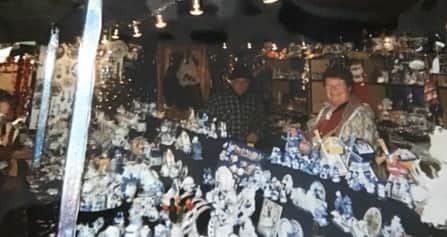 "It's the same with staff. When you have staff from the continent you have to go through all the paperwork and pay the visas and you start thinking you might look for a market on the continent.
"If my health hadn't meant I couldn't work I would go back to the continent to do a Christmas market."
Arnd also says he is concerned about Britain's ability to deal with major issues like the consequences of leaving the EU and the cost of living crisis due to the difference between the country's political system and the ones used in Europe.
He said he is worried that the first past the post constituency system used to elect MPs to the House of Commons means there is a lack of fresh thinking coming in due to how dominant the Conservatives and Labour are.
He contrasted this to the German system where a party that gets more than 5% of the national vote is guaranteed seats in parliament.
Ultimately Arnd admits that he is concerned for the future of the Manchester institution which he got up and running.
He said: "It's the same for all Christmas markets in the UK. The numbers of European traders will run dry very quickly and their places will have to be taken by English traders.
"That's not a bad thing but the special attraction of the Christmas markets is that you can get different things to the usual English events.
"There's an immense cost involved in putting these things on, with security, generators and diesel for the electricity the traders need, so the Christmas market is not a cheap shopping place. Why go to the Christmas market if it's the same as you've got round the corner?
"When the attraction level of the markets goes down, I fear the number of visitors will go down too."