An organisation which runs dozens of food clubs across Greater Manchester has been using surveys to lay bare the stark choices facing residents on the breadline due to the cost of living crisis.
The Bread and Butter Thing runs more than 35 food clubs across six boroughs in the city-region where for a set price members can pick up bags of food each week as well as access other services.
Mark Game, who founded the concern with his partner Jane Partington, says people are already at the stage where there is nothing left to cut back on and no financial cushion as the costs of energy, food and fuel all spiral.
And he says the Government simply has to act to put more money in people's pockets and reduce the burden on residents.
What has The Bread and Butter Thing found about people struggling to afford food?
The Bread and Butter Thing said it carried out a huge survey to put some numbers to the anecdotal experiences people were bringing to its food hubs in Greater Manchester and in the North East.
More than 2,000 people in the city-region were quizzed about the cost of living out of more than 5,000 who took part across the country.
The findings are stark, with growing numbers of people skipping meals to feed their children, 75% saying they are worse or a lot worse off than this time last year and two out of three saying things are now 30% more expensive than 12 months ago, noting the difficulty of finding value ranges at supermarkets due to spiralling costs of ingredients.
And beyond the figures Mark shared some of the harrowing personal tales people are bringing to the food clubs with them.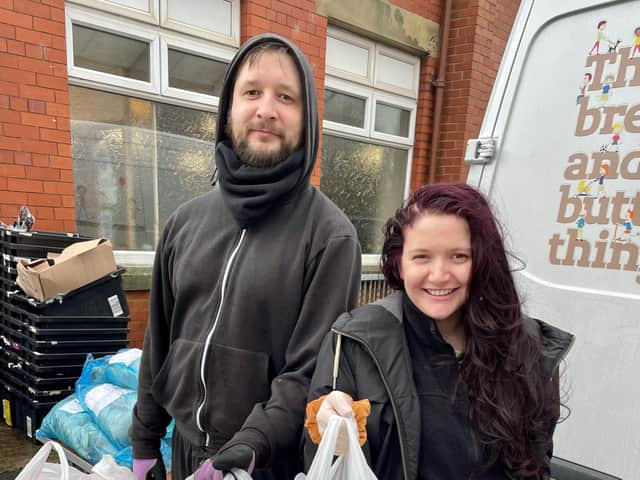 He said: "We've spoken to a woman who's cashing in her laptop and phone already at Cash Converters. She's already talking to her dad, leaning on her friends and family just to be able to pay the energy bills.
"There's a man from Tameside who lives on his own and he's struggling to work for health reasons. He's having to make difficult decisions for himself about heating or eating."
Mark says people are also at risk of social isolation if they can't afford to go out to meet friends or do anything and this can be extremely harmful.
He also says a major issue for The Bread and Butter Thing's members are pre-payment meters, which are being used by 40% of those signed up to the organisation and which end up costing money for energy than other tariffs.
Mark said: "I'm an accountant by trade and for someone paying cash upfront for a service we know they are constantly going to use and don't have a choice about using paying more than people paying in arrears makes no logical sense to me whatsoever.
"It perplexes me that with all the disruptions of technology nobody has fixed this yet."
How else is the cost of living affecting people in Greater Manchester?
Mark spoke about other ways that the rising costs are causing people to cut back, and says he fears that things will get much worse during the winter months.
He said: "We deal with a lot of people who are just about managing, on the cusp of crisis. One bill, one accident or surprise will knock them over the edge. They have no savings and are budgeting on a day-to-day basis.
"They are what we call the 'hidden poor'. They are not presenting at foodbanks but they are really stretched and stressed, struggling to get by.
"Mums and dads are skipping meals to keep food on the table for the kids. People are not washing their clothes as often. People are also cancelling things like subscription services and you can see why but once you've done that what are you going to do in the winter?
"People say they are using less, but you've got to get under that to understand what they mean. They literally use less of the living space they have. One family with five kids in Levenshulme last winter lived in one bedroom, with coats going over the quilts to keep them warm.
"It starts to shrink everybody's lives into struggling in a way you wouldn't believe would be necessary in the UK."
What is The Bread and Butter Thing saying now having done its survey?
Mark says he hopes the survey of thousands of people struggling to afford groceries and pay the bills will be a wake-up call for the national Government and will allow local authorities to plan and appreciate the scale of the issue if measures to address the cost of living crisis are pushed onto councils to administer.
He says the Government is now the only source of hope for providing enough funding to tackle the crisis. He also criticised decisions such as taking away the £20 uplift in Universal Credit, saying this dwarfed the amount ministers are now trying to provide those on low incomes.
Mark said: "This cost of living crisis has to have Government intervention. Martin Lewis said five or six weeks ago that he was out of options, and that's exactly what we hear on a daily basis from our members.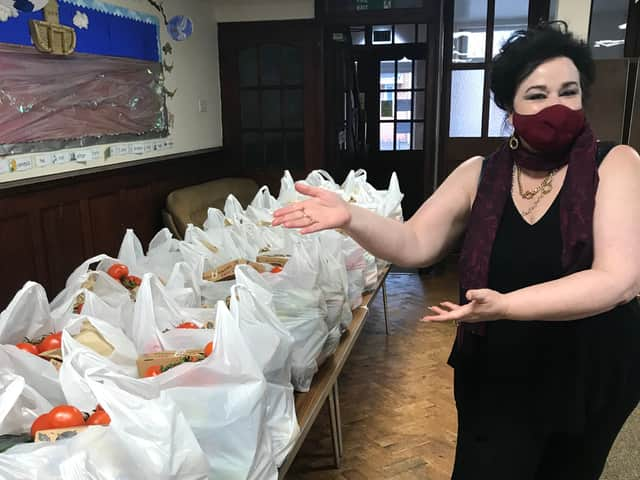 "All the reserves everybody had for a rainy day have gone. People are anxious and people are scared.
"The only way we are going to be able to fix this, just like the Covid pandemic, is through funding from Government. There's the Household Support Fund but that doesn't even touch the sides.
"It sounds like they're putting in a big number when it's all put together but it's nothing compared to what was taken away from the welfare state when they took away the Universal Credit £20 uplift.
"One of those is measured in millions, the other in billions."
'We are completely overwhelmed'
The Bread and Butter Thing runs food clubs at existing community projects and now has nearly 40 of them across six of Greater Manchester's 10 local authorities.
Members pay £7.50 and for that are offered three bags of fruit and veg, chilled goods for the fridge and cupboard staples. Mark says that means those who sign up save around £25 compared to going to the supermarket for their groceries.
All the bags are exactly the same to ensure fairness and the organisation is currently supporting about 4,500 families each week.
And Mark admits there are more people struggling to buy food who would like to benefit from the food clubs if The Bread and Butter Thing had the capacity to be able to help them.
He said: "Right now we are completely overwhelmed. We are over-subscribed everywhere and are having to put people off for the following week."
As well as providing groceries the food clubs provide somewhere The Bread and Butter Thing's members can access support such as debt counselling, mental health help, housing advice and grant applications.
Families can use their NHS Healthy Start vouchers and low cost period products are also available.
What has the Government said in response to the organisation's criticism?
A Government spokesperson said: "We recognise people are struggling with rising prices which is why we are protecting millions of the most vulnerable families with at least £1,200 of direct payments, starting with the £326 cost of living payment, which has already been issued to more than seven million low income households.
"Through our £37bn support package we are saving the typical employee over £330 a year through a tax cut, allowing people on Universal Credit to keep £1,000 more of what they earn, while all households will receive £400 energy payments.
"Vulnerable families in England are also being supported by the Government's Household Support Fund - which was boosted by £500million - to help pay for essentials."