'Why can't we take bikes on trams in Manchester?' GM leaders address transport issues at Green Summit
A panel discussion talked about making major changes in the city-region as the world counts down to the COP26 climate talks in Glasgow
Watch more of our videos on Shots!
and live on Freeview channel 276
Visit Shots! now
A major climate change and environmental event in Greater Manchester has heard about the city-region's eco position on the Road to COP 26.
GM mayor Andy Burnham led a discussion as part of the fourth Greater Manchester Green Summit setting out where the region is on green issues ahead of the global climate talks in Glasgow next month.
He was joined on stage at The Lowry in Salford by Greater Manchester transport commissioner Chris Boardman and Emma Howard Boyd, the chair of the Environment Agency (EA).
They discussed the importance of world leaders meeting to discuss green issues in Scotland, the major changes which are on the way over the coming years in Greater Manchester and how to ensure they improve people's lives as well as enjoy public support.
Making active and public transport attractive
One of the areas focused on during the session was transport, with Mr Boardman saying driving is responsible for around a third of Greater Manchester's pollution.
However, he said that this alone would not be enough to shift people onto active or public transport and it was up to the authorities to invest in high-quality infrastructure.
He said: "We have got to make the alternative to driving attractive. It has got to be easy, cheap, take a similar amount of time and fit together.
"We've got to paint the picture so people quite fancy using what they can see out of their car window. If it doesn't look attractive why would anyone get out of the car?
"It's got to be sustainable and robust."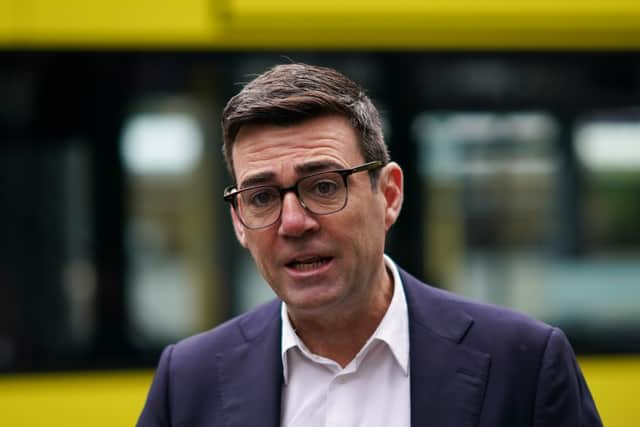 Mr Boardman told the audience that he had travelled to The Lowry by tram, having been unsure where he would be able to leave his bike if he rode.
There was then a round of applause when Mr Burnham said that invited discussion of why cycles currently cannot be taken on the Metrolink.
The panel also talked about how getting transport right could help with other issues, particularly health.
Mr Boardman said riding a bike to work or an event was effectively an hour's exercise as well as a means of getting from A to B.
A 'pivotal' moment in the fight against climate change
The discussion, which opened the afternoon session of the 2021 green summit, said the following weeks were crucial with a global investment summit and the Government's spending review, as well as COP 26.
Mr Burnham said these all fitted together, suggesting that a reluctance in the review to commit to green spending would badly damage Britain's credibility as hosts of the climate talks.
The panel agreed that this was a significant moment to move green issues along.
Mr Boardman said: "I'm quite excited. I think we will look back at this as a pivotal moment in history.
"We have to change. It's about how we do this, rather than shall we. That has shifted massively."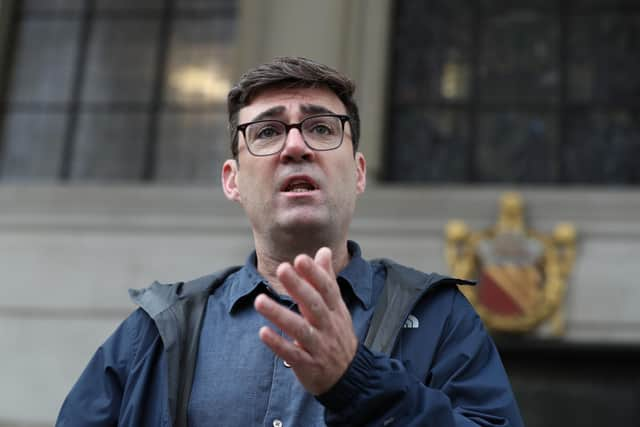 Ms Howard Boyd said: "The momentum is already building for COP among non-state actors: that's you and me, businesses, investors, cities, local governments, individuals.
"We're beginning to move in the right direction."
However, Ms Howard Boyd also warned that the effects of climate change were already visible in Manchester, with reservoirs a few weeks ago at around a third of the level they would be expected to be at.
Mr Burnham struck a largely upbeat tone, though he did have to agree with a comment from the floor that changes were still not happening fast enough.
He said: "I'm hopeful about COP. I can feel the mood that's building and I do have a sense that 100 years from now people will say that this was the change point when it really accelerated."
Low traffic neighbourhoods and public opinion
The discussion also returned a few times to the issue of engagement with the public on green issues. Mr Burnham said he encounters negativity around green issues online and one summit delegate told the panel about opposition to the low traffic neighbourhood (LTN) scheme in Levenshulme.
Mr Boardman said: "Language is critical here. Finding the right questions and statements makes people pause and connect to the issue.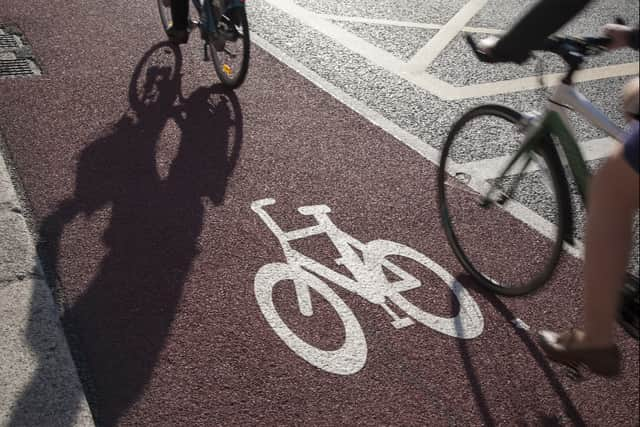 "For example, it costs £3.75bn to travel as we are now. Asking for £1.3bn then starts to look very reasonable, reducing that bill.
"We can repackage this into a language people are more comfortable with. You could save up for a family holiday within a year by going to work on a bike. That's something tangible.
"We're instinctive creatures and it's about how we can connect with that instinct. We have to have small, winnable things."
Mr Burnham said it was vital to "take communities with us".
However, Ms Howard Boyd said she also encountered a real passion for the environment among the public as well as criticism of some schemes.
She said: "I see in my inbox and on my Twitter feed that people are very interested in issues like water quality and we need to harness that."
Mr Boardman said the Covid-19 pandemic had ignited conversations about issues around cars, public transport and the streets, and said there was a danger of the lessons from that period being discarded.
He said: "We turned off global traffic in the pandemic. We started a global consultation on how we use streets, and everybody liked it. My fear is that we will forget because we adapt so fast."
A better as well as a greener future?
Mr Burnham said his vision was that decarbonising now would enable Greater Manchester to create jobs, reduce the cost of living and produce benefits in homes, transport and health.
He also repeated his desire to bring London bus fares to the city-region.
Ms Howard Boyd also spoke of the importance of being able to deliver social justice as well as action on climate change.
Mr Burnham then drew a round of applause from the floor when he asked if he should insist anyone pouring money into a greener Greater Manchester should also share the social vision for the city-region.
Are there roles for businesses and other investors?
Ms Howard Boyd particularly spoke about attracting investors to Greater Manchester's green agenda, saying there were potentially large amounts of money out there to be spent on climate change and related issues.
She praised the IGNITION Living Lab at Salford University, which researches ways of building resilience to climate change, and spoke of her desire to bring influential business leaders to see the work being done.
However, she also spoke of how the EA often worked with marginalised communities on issues like floods or droughts, and it was vital their voices were also heard.
She also said more attention could be focused on how nature and natural recovery can also help in the future.