Greater Manchester mayor to demand 'levelling-up deal' from Government
Andy Burnham told a major conference in Manchester he will be demanding funding and powers from ministers.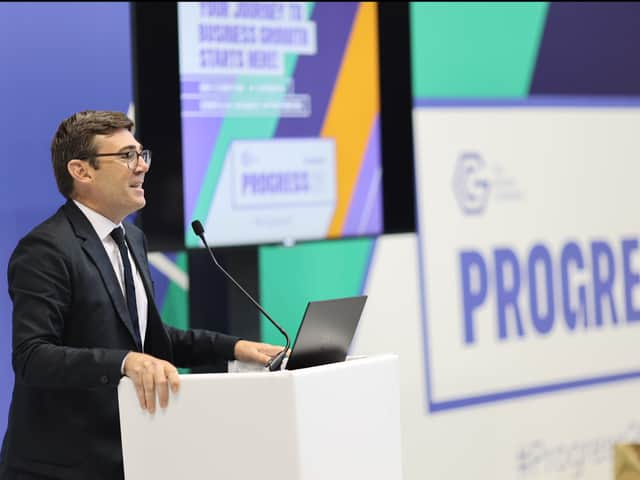 Greater Manchester Mayor Andy Burnham speaking at PROGRESS21. Photo: Wambam Photography
Greater Manchester mayor Andy Burnham has told a conference he will demand a "levelling-up deal" for the city-region from the Government.
Mr Burnham told delegates at Progress21 at Manchester Central today (Thursday 23 September) he will demand resources, funding and powers to make the Government's oft-repeated slogan a reality.
He said this would revolve around "zero-carbon homes" and "zero-carbon public transport".
What will Mr Burnham demand from ministers?
Mr Burnham told the large event dedicated to the city-region's recovery after Covid-19 that ministers will soon be travelling to Manchester.
And he said he would be making demands to bring into being a phrase that has been regularly repeated by those at the top level of British politics.
He said: "I will be putting a big positive offer to the Government, a levelling-up deal for Greater Manchester.
"I will be asking for the resources and powers we need to make levelling-up a reality for our 2.8 million residents.
One of the conference halls at PROGRESS21
"We want it, the Government wants it, and here's a vision for it."
Mr Burnham said he would be looking to start a fresh chapter in relations with the Government after last year's high profile public rows over Covid-19 measures and support packages.
He said: "We're going to put 2020 behind us. That was then and this is now.
"Let's look at where we are and where we are going from here."
'Zero-carbon public transport linked to zero-carbon homes'
Mr Burnham said public transport and housing were the two biggest priorities within his levelling-up deal and it was vital that both were green.
He promised to keep pushing for a London-style transport system with integrated services, low fares and a daily cap on how much passengers could be charged.
He said: "We can build a London-style public transport system here by 2024.
"It will involve buses and trams operating as one in an integrated system.
"Metrolink already runs on renewable energy, and we will take a huge step towards electrifying our bus fleet.
"We have taken control of the buses and hopefully what this means for people is a London experience with London-level fares.
"It would mean £1.55 for a single journey, instead of the £3, £4 or £5 it is now. A daily cap on how much people can spend. That will be a game changer.
"The vision is for zero-carbon public transport linked to zero-carbon homes."
Mr Burnham said there were major economic opportunities in industries such as retrofitting to make the city-region's housing more environmentally friendly, and suggested it could create thousands of jobs.
He said it was vital to begin shifting people in traditional construction industries towards getting the skills to do greener building.
'We've been building for cars, and it shows'
Mr Burnham spoke on Thursday afternoon at a session dedicated to Greater Manchester's global vision and also at a panel event about business growth.
He said he made no apologies for referring multiple times to the public transport system, saying it was a key focus for him.
The panel at one of the PROGRESS21 sessions
Mr Burnham said: "I have to keep coming back to public transport because it critically links everything together.
"We are not as connected as we need to be, it is too expensive to move around our city-region and it is too unreliable.
"We have been building for cars for 30, 40 or 50 years, and it shows.
"It's a moment to rethink all of that."
What is PROGRESS21?
PROGRESS21 is a massive event being held at the events and convention centre in the former railway station bringing together businesses, residents and not-for-profit organisations.
It was organised by The Growth Company, a large social enterprise which works on creating jobs, enabling growth and improving lives.
The event was divided into three parts: PROGRESS21 Careers, a large jobs fair, PROGRESS21 Business which was dedicated to get companies support and discussion opportunities around post-Covid growth and challenges, and PROGRESS21 Global looking at building up Manchester's international reputation.
There were a number of high-profile speakers including Government ministers and leading Greater Manchester politicians.