They also expressed some doubts about aspects of the Clean Air Zone as it is currently going ahead.
What did the MPs say in their letter to Mr Eustice?
The MPs said that while they supported efforts to reduce air pollution and recognised that a Clean Air Zone was being brought in to bring emissions of nitrogen dioxide (NO2) down to legal levels they were concerned both about the model chosen for Greater Manchester and the levels of support allocated.
They said "localised solutions" were required to improve air quality rather than a "one-size-fits-all" approach.
They also wrote about the effect Covid-19 has had on businesses and suggested that meant a pause in the roll-out is needed.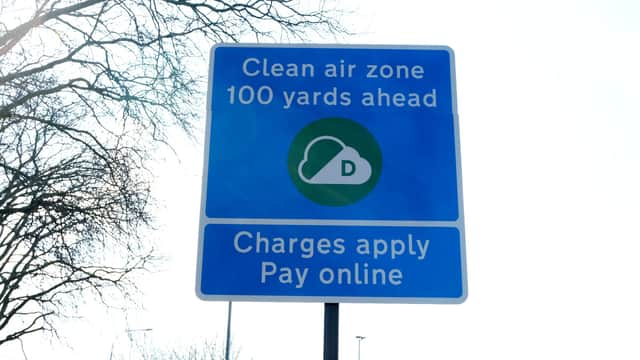 They said "limited financial support" has been provided, members of the Road Haulage Association are finding buying compliant vehicles difficult and manufacturers are unable to produce enough new vehicles which will meet the Clean Air Zone's standards.
They also said businesses emerging from the pandemic are in a "precarious position" and fear additional costs will tip some "over the edge".
What have the MPs said about their letter?
Commenting on the plans, Bolton West MP Chris Green said: "As the date for implementation of the clean air zone approaches, businesses and other organisations are becoming increasingly concerned with inherent problems in this scheme as well as insufficient funding to cover business costs of replacing fleets of vehicles.
"These existing problems are obviously compounded by the economic fallout of the coronavirus pandemic."
Who are the MPs who have written the letter?
The letter has been signed by Bolton West MP Chris Green, Bolton North East MP Mark Logan, Bury North MP James Daly, Leigh MP James Grundy, Cheadle MP Mary Robinson, Altrincham and Sale West MP Graham Brady, Hazel Grove MP William Wragg and Heywood and Middleton MP Chris Clarkson.
While it has been sent to Mr Eustice the writers have copied in Greater Manchester Mayor Andy Burnham, two parliamentary under-secretaries of state and the leaders of the 10 Greater Manchester local authorities.
What have the authorities behind the GM Clean Air Zone said?
In a joint statement on Thursday, Mr Burnham and the combined authority's lead on the Clean Air Zone Coun Andrew Western said the concerns raised by the public and businesses had been noted.
They said work was commissioned on how Covid-19 might affect the roll-out of the scheme and they will be considering that carefully before taking the next steps.
The city-region's leaders have faced considerable fire in recent days from angry businesses and residents who say the scheme should be much smaller in size and there should be adequate compensation for all those who are affected.
Mr Burnham has said on social media that he believed reducing the size of the Clean Air Zone would be unworkable.