From next year some types of older and more polluting vehicles will have to pay a charge to drive within the Zone.
The FSB says too many people who will be affected by it still have no idea about the CAZ's introduction and need to start preparing for it.
Transport bosses in the city-region say they are working with stakeholders and companies ahead of the launch of the Zone.
What is the Greater Manchester Clean Air Zone?
Light goods vehicles (LGVs) and minibuses, heavy goods vehicles (HGVs), taxis and private hire vehicles and buses and coaches are all included and will have to pay daily charges to use any of Greater Manchester's roads which are not motorways or trunk routes operated by Highways England.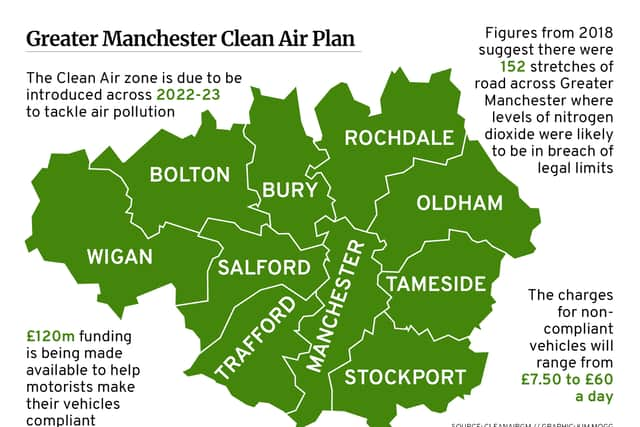 Automatic number plate recognition technology will be used and the charges will vary from £7.50 for hackney carriages and private hire vehicles to £60 for buses and HGVs.
There is also a sliding scale for when the charges will be introduced for each type of vehicle, ranging from next May to June 2023.
Private cars are not included in the scheme.
What is the FSB's new campaign?
The FSB is aiming to boost awareness among some of the firms and traders who will have to pay the charges of the scheme.
It says that in particular tradesmen driving LGVs have poor knowledge of the CAZ and many other firms do not know how the scheme will impact them or what financial help is available to upgrade to cleaner vehicles.
To help combat this it has produced a leaflet highlighting what the CAZ is, who it will effect and when business owners will have to start paying if their vehicles are not compliant.
It will be travelling around trading estates over the next few weeks to distribute the leaflets.
The FSB says people who live outside Greater Manchester but then drive into the city-region for work need to understand that they will also have to pay if their vehicles are not suitably green.
What has the FSB said?
FSB's North West regional chair, Chris Manka, said: "The message we are desperately trying to get across is that the Clean Air Zone is definitely happening, it's on the way, what are you doing to prepare for it?
"Far too many businesses, especially in the trades – so that's your painters, decorators, plumbers, carpet fitters, and so on – don't have the foggiest about the CAZ, and that's just in Greater Manchester.
"If you speak to businesses over the border in Cheshire, Lancashire or any of the places outside of GM from where the trades travel to do business here they're even more in the dark and they'll still be affected.
"This is a real problem that needs addressing now."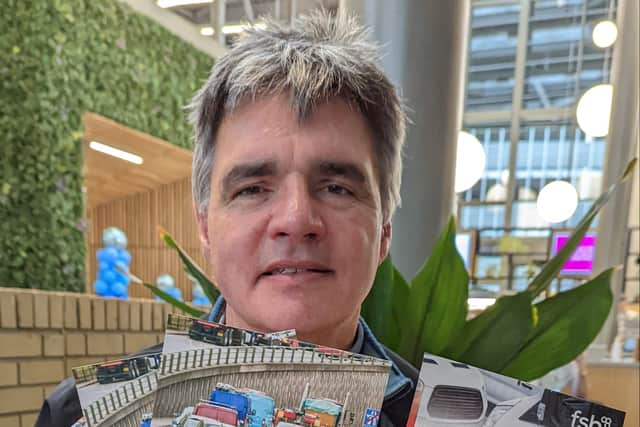 The FSB wants politicians to get involved.
Mr Manka said: "We know this is a widespread issue. It's why we've been lobbying local MPs to push the DVLA to write to all affected businesses in GM, which would really help.
"In the mean time we've had a leaflet made up to help get the message out, and we're busy getting this in front of as many affected business owners as possible who use trade counters.
"If any trade counter in GM – or elsewhere for that matter – would like some leaflets they should contact us and we can supply.
"We'll also be visiting trade counters across GM where we'll be handing these out through November."
What is the timescale for businesses needing to act?
Clean Air GM, a partnership between the 10 local authorities in the city-region, the Greater Manchester Combined Authority (GMCA) and Transport for Greater Manchester (TfGM), said the owners of HGVs registered in the city-region have until 30 November to put in their applications to the Financial Support Scheme.
Anyone owning other types of vehicles which would incur the charges will be able to apply for funding support from end of January 2022, along with applications for discounts and exemptions.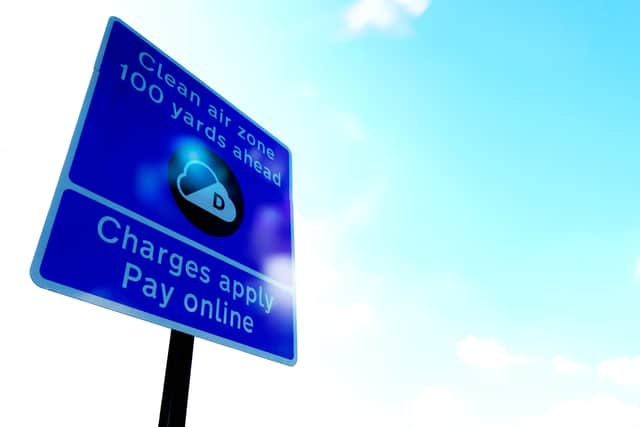 The timetable for bringing in the charges says that vans, which are the type of vehicle the FSB is currently most concerned with, will have to pay £10 a day from 1 June 2023.
Petrol vehicles older than Euro 4 are included as well as diesel ones.
What has Clean Air GM said?
Clean Air GM has said it is continuing to work to make sure those who will incur the charges when the CAZ goes live know what their position is.
A spokesperson said: "Our 10 local authorities are under a ministerial direction to ensure that the plan is implemented and enables compliance with legal limits for nitrogen dioxide (NO2) to be achieved in the shortest possible time and by 2024 at the latest.
"The modelling undertaken shows that, without including non-compliant LGVs in the Clean Air Zone from 1 June 2023, compliance would not be met in the shortest possible time.
"We have engaged extensively with many stakeholders, businesses and individuals since 2019 and are working hard to support affected vehicle owners in moving to cleaner vehicles so that they don't have to pay a charge.
"We continue to work with the Federation of Small Businesses and others as part of an extensive communications and engagement campaign to promote awareness and understanding of the Clean Air Zone and financial support which will be available soon.
"People are encouraged to use the online checker tool to see if they are impacted and if they might be eligible for an exemption or funding support."