BBC Philharmonic centenary: meet members of the Salford-based orchestra celebrating 100 years of music
Classical musicians who have been sharing their stories to help mark the milestone occasion include married couples and the ensemble's longest-serving player.
Watch more of our videos on Shots! 
and live on Freeview channel 276
Visit Shots! now
An orchestra based in Greater Manchester is celebrating its centenary with a special concert in Manchester - and members of the ensemble have been sharing stories about a life in classical music.
The BBC Philharmonic, which is based at MediaCity UK in Salford, will take to the stage at The Bridgewater Hall this weekend as it marks 100 years of music-making with a concert including new music and a perennial favourite by Beethoven.
Ahead of the milestone occasion ManchesterWorld spoke to some of the musicians about what it is like to work in an orchestra and hear their stories from their lives in classical music.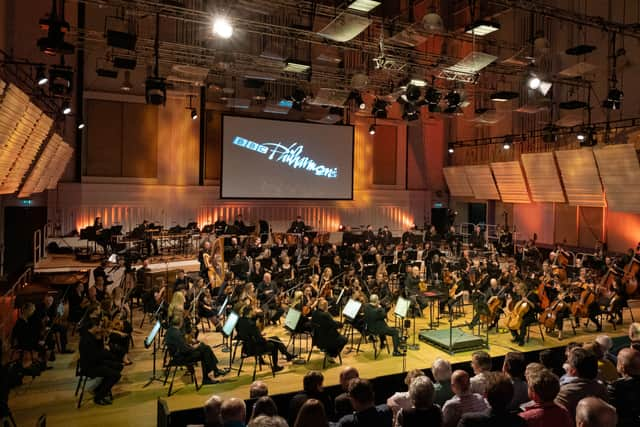 The longest-serving member of the orchestra
Double bass player Peter Willmott is the longest-serving member of the BBC Philharmonic and has been performing in the orchestra for half a century since joining in 1972. His role has taken him around the world playing classical music.
His family association with the orchestra dates back further than that, though, as his father was a violinist in the ensemble before him, joining in the 1950s. Father and son did overlap their stints and played together in the orchestra for a year.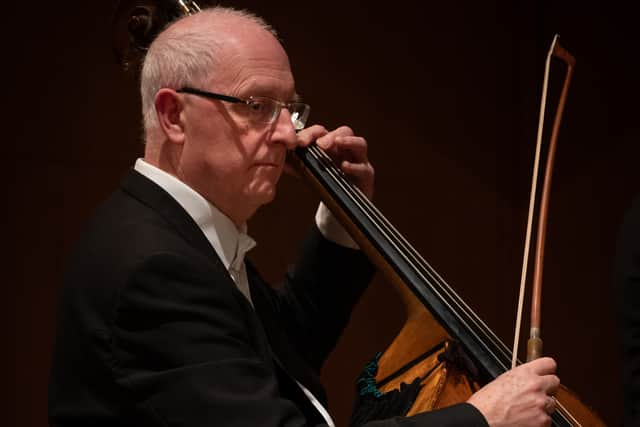 As well as playing in the orchestra, Peter also arranges and orchestrates music and has prepared the classical instruments' arrangements when the BBC Philharmonic has done crossover concerts involving the likes of pop acts S Club 7 and Mis-Teeq.
Peter and the rest of the double bass section of the orchestra have also formed a rock band called Cover All Basses and play charity gigs for good causes around the North West.
The married couple who get to share their 'dream job'
Kevin and Lucy Flynn can both be found among the orchestra's violin desks and their professional and personal lives have been closely intertwined. The married couple met around 20 years ago in the pub after a concert their college orchestra had performed and their careers brought them both to Manchester.
Kevin, who plays in the first violins, joined the BBC Philharmonic 17 and a half years ago and was quickly joined by wife Lucy, who is in the second violins and herself has a 15-year stint in the ensemble under her belt.
Lucy was born and bred in Greater Manchester, hailing originally from Stockport, and has early memories of going to watch the orchestra perform as her dad Paul Dintinger was the principal clarinettist.
Lucy said: "It's my dream job and I think it's Kevin's as well. We both love playing in the orchestra, especially concerts like the ones at The Bridgewater Hall and at the Proms. They're highlights for us."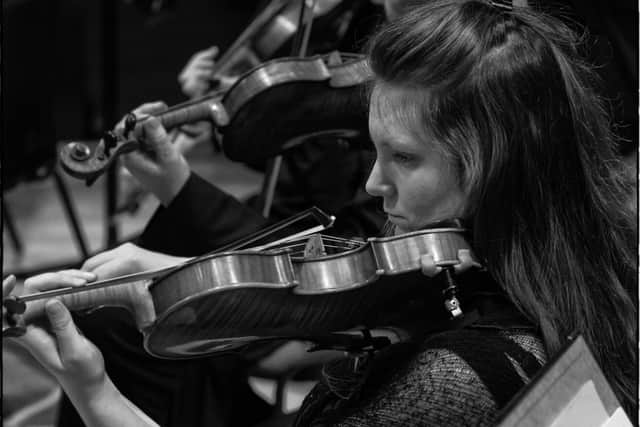 The couple say there are many positives to working together in the orchestra, including getting to commute by bicycle most days from their home in Sale. However, they admit that childcare and the unusual working hours can be quite a challenge, with Lucy now working on a reduced contract since they had their two children and the two having to take it in turns to go on tours abroad.
Kevin said: "Before kids we would be happy to be away on tour for as long as possible but now they're a bit of a pain. Being away from home overnight is not ideal."
One tour that lingers in the memory for very different reasons, though, was when the orchestra was in Japan in 2011 and there was a powerful earthquake in the country. As Kevin recalled it: "We were on a bridge on the way to the concert hall for rehearsal and the concert and the bridge started swaying.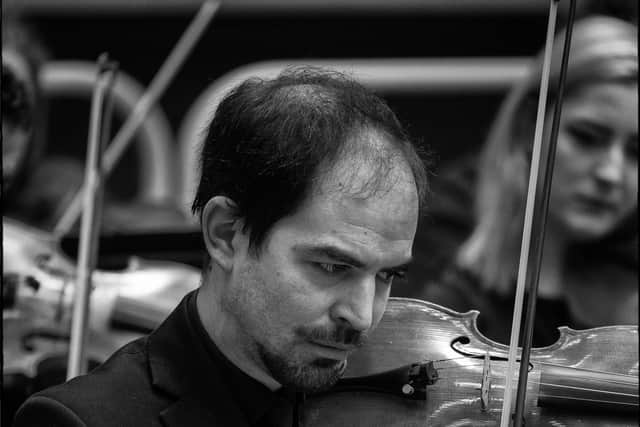 "We had all the aftershocks with pictures falling off the walls and cracks in the walls. We didn't do any more concerts on that tour but we did go back to play the music we were supposed to which was quite nice."
Lucy says that other highlights of her time in the orchestra include performing concert versions of operas including Il Tabarro by Puccini and Francesca da Rimini by Rachmaninov and also a concert this year in which she was part of the audience rather than taking part.
She said: "I brought the children to their first Prom this summer. Kevin was playing and I wasn't working. That was a real highlight for us, for them to hear and see the orchestra in such an amazing venue."
'We're now some of the older members of the orchestra having been some of the younger'
A couple whose relationship began in the orchestra's ranks are cellist Steven Callow and principal cor anglais player Gill Callow, who joined the BBC Philharmonic about six months apart and got together on a tour of France in the early 1990s.
Gill said; "Tours are often a place where people can meet up. You can get chatting sitting next to each other on the coach. Steven started hanging around me and the rest is history, I suppose!"
The couple got married in 1996 and reflected on their time in the orchestra which has seen them go from some of the youngest members of the ensemble to some of its more experienced players.
They also spoke about some of the advantages of being married to someone else who is in an orchestra.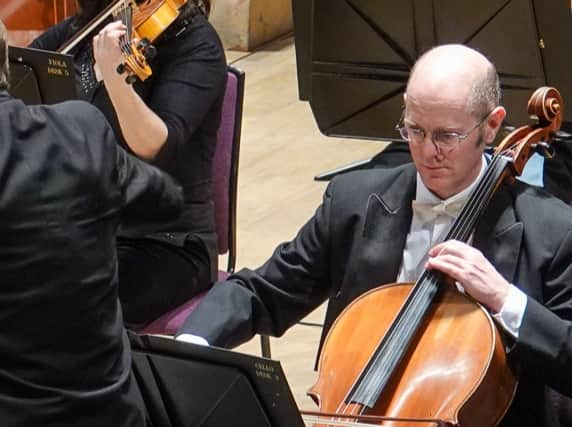 Steven said: "It can be very hard to explain to non-musicians what the pressures and frustrations of being in an orchestra can be like. With a partner in the orchestra you can share that.
"It's a great privilege to be in this orchestra, it has been part of our lives for over 30 years. We're very lucky to be in such a friendly orchestra which has such an enthusiasm and passion for music. We don't like to take it easy or coast, we always go for it which is demanding but exciting.
"I often think looking back that there are around eight people who were here when we joined and yet it feels like exactly the same orchestra it was 30 years ago. The way we approach music is exactly the same. It's like each orchestra has its own character regardless of the people in it."
Gill said: "It's amazing to have been part of that journey through the generations. People you looked up to start to retire or leave and you find yourself staying. You like it and then you settle down and have no reason to go anywhere else. It's a long time to be part of something special like this."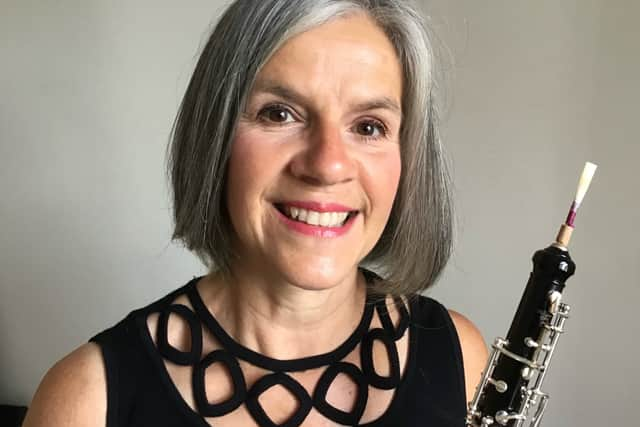 Steven and Gill have also passed their love of all things musical onto their daughter Emily, who is now a singer and has just graduated from Cambridge. The couple say they treasure particularly the moment when Emily was in the Kinder Children's Choir and joined the BBC Philharmonic as part of a concert, so far the only time all three members of the Callow family have performed professionally on stage together.
The couple also spoke of how they were able to get started in classical music when studying at state school thanks to peripatetic services providing lessons and amateur music-making, in Norfolk in Gill's case and in Cheltenham and then Worcester for Steven.
Steven also said that one of the aspects of being in the BBC Philharmonic he enjoys is performing in towns and cities around the north and Midlands.
How is the BBC Philharmonic celebrating its centenary?
As part of its centenary year the BBC Philharmonic is playing a concert at The Bridgewater Hall on Saturday 15 October, starting at 7.30pm. The programme is made up of a world premiere by Erland Cooper called Window over Rackwick, Ruth Gipps' Overture Chanticleer and Beethoven's Ninth Symphony.
The concert reflects the orchestra's long-standing association with the music of the 19th and 20th centuries, ranging from Romantic cornerstones of the repertoire such as Beethoven's orchestral pieces to championing rarely-performed composers and contemporary works.