Maisie Smith: former EastEnders star strips naked for racy bathtub snap during Dubai holiday with Max George
Maisie Smith shocks followers with a cheeky naked bathtub snap whilst on holiday in Dubai with The Wanted's Max
Watch more of our videos on Shots! 
and live on Freeview channel 276
Visit Shots! now
Maisie Smith has shocked her Instagram followers by posting a naked picture of herself bathing whilst on holiday in Dubai with boyfriend Max George, 34.
The actress, 21, from Essex, can be seen relaxing in the bath, with nothing on but a carefully positioned flute of Mimosa to cover her dignity. Luxury products surround her in the picture captioned 'Relax'.
The star is definitely due a relaxing break after making her musical theatre debut in Strictly Ballroom: The Musical, playing Fran.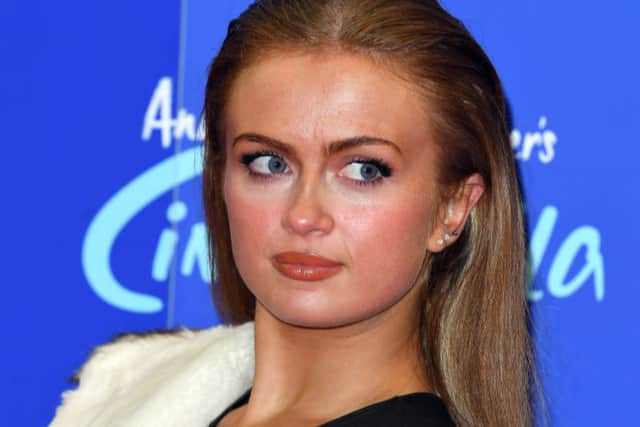 The former Eastenders star has been keeping her followers entertained whilst on holiday. One hilarious post shows The Wanted singer Max trying to encourage her into the sea. However, after dipping her toes in the water and realising how cold it is, the bikini-clad star turns on her heel and runs back up to the safety of a deckchair and a cocktail.
Max, from Manchester captioned the picture 'My girl doesn't like cold water' and she replied in the comments saying 'Can't say I didn't try'.
The couple look deeply in love as they frolic on the beach but the past few weeks haven't been smooth sailing. The couple have had to face harsh criticism from fans who disapprove of their 13-year age gap.
Maisie has been forced to defend their relationship and said in an interview with Fabulous magazine: "I really don't care what a random person thinks of my relationship when everyone I do care about is incredibly supportive." She said that friends and family "didn't notice" the age gap.
She quipped: "People don't understand what goes on behind closed doors in a relationship, and I think they also forget that I'm a consenting 21-year-old woman who's actually been working longer than Max."
The former EastEnders actress, 21, started dating The Wanted singer, 34, after meeting on Strictly Come Dancing and quickly becoming friends. The couple saw their romance blossom during a cast and crew holiday to Portugal after performing on the 2022 Strictly tour.
After just four months of dating the pair took their relationship a step further with Maisie's mum, Julia Smith, who acts as her manager, posting on Instagram that her daughter was moving out of the family home to live with Max.
Always the showman, Max took to TikTok to share the moment he asked Maisie to move in with him.
Max is seen nervously putting a set of house keys in a bag of pick 'n' mix sweets at the cinema, before leaning it towards Maisie for her to pull out the bunch of keys. Maise, who was going for a fizzy chew pulled out something a lot more exciting a bunch of keys labelled 'Maisie's keys 2A 🖤'
Maise agreed instantly and fans took to TikTok to comment:
One person wrote: "She looks so unbelievably happy, this is beautiful 💗"
Another commented: "🥰🥰 This is so cute!! Congratulations 🥳 so happy for you both," a third said.
However Max admitted to followers that although a success, his romantic gesture had not gone quite to plan as every time he tried to get her to pick the keys, she'd opted for a sweet instead.
It all ended 'sweetly' for the couple who are now living together happily in love.