Max George and Maisie Smith have decided to take the next step in their relationship with a decision to start living together.
The Wanted singer, 34, from Manchester, first met the EastEnders actress, 21, from Westcliff-on-Sea, on BBC's Strictly Come Dancing back in 2020, but they waited until after the show's tour ended to express romantic feelings for eachother.
The sweet post has racked up over 71,000 likes with many fans gushing about their heartwarming relationship.
Max is seen nervously putting a set of house keys in a bag of pick 'n' mix sweets at the cinema, before leaning it towards Maisie for her to pull out the bunch of keys.
The former EastEnders actress dons a puffy black jacket and ear muffs as she holds a regular Cineworld popcorn in one hand and reaches in Max's bag with the other.
She laughs hysterically as she pulls out the keys labelled 'Maisie's keys 2A 🖤', then hugs The Wanted singer and nods her head to agree to moving in his home.
Max explained to his 137,000 followers that Maisie was laughing because he had tried the gesture numerous times but she kept pulling out sweets instead of the keys.
He captioned the video, writing: "Anyway it was the wrong key and she got locked out. @Maisie Smith ❤️🏡🗝️"
A stream of his followers were moved by the gesture and took to the comment section to congratulate the couple.
One person wrote: "She looks so unbelievably happy, this is beautiful 💗"
Another commented: "🥰🥰🥰🥰awww wishing u all the happiness in the world guys, 🥰🥰🥰🥰🥰"
"🥰🥰 This is so cute!! Congratulations 🥳 so happy for you both," a third said.
Another added: "You two are perfect for each other 🥰"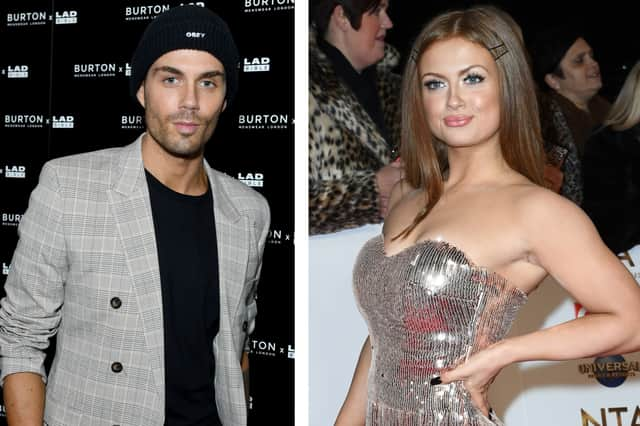 The sweet video comes a few months after Max told Hello! Magazine that the couple have a shared base in London but want to get a place together in Manchester.
Max said: "We live together now, but we're constantly travelling around the country, with Maisie touring. We want to get a place together and have a base in London – and maybe somewhere in Manchester too."
Maisie added: "With my job I've had for the last 20-ish years, I haven't travelled very much, so it will be lovely to get to travel the world with my bestie."