Gemma Atkinson has joked that she "could leave" her Spanish fiancé Gorka Marquez if he continues to stay on his laptop at "stupid hours".
The Hits Radio host, 38, revealed to her co-host Mike Toolan that "people who get eight hours sleep are 35% more productive".
The Bury-born actress then admitted that she only gets six hours of sleep a night, thanks to having "two dogs, a toddler and a partner who likes to watch Spanish telly on his laptop 'til stupid hour".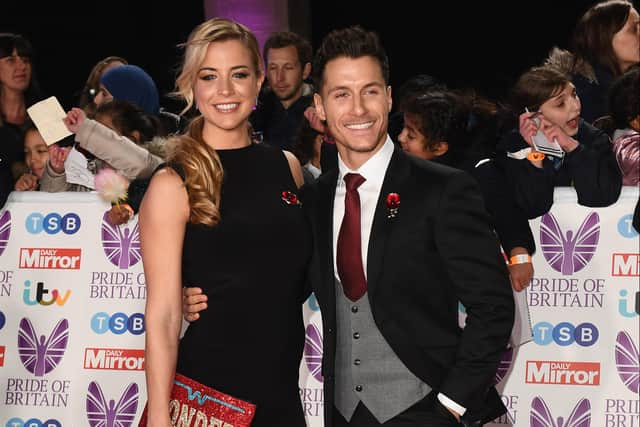 Gemma told radio listeners that her fiancé, Strictly Come Dancing star Gorka, watches the Spanish version of The Voice Kids (La Voz Kids) whilst they are in bed.
The mother-of-one, who is expecting a second child this year, added: "It's the one thing where I think to myself, I could leave you over this."
She then revealed a funny anecdote about the Spanish dancer, saying: "The other night I woke up at about quarter to two and he'd fallen asleep with it [the laptop] open watching Es La Voz, and I thought, I can't cope with this.
"So I got out, I walked round my bed and I purposely slammed it shut on his chest. He went "Uh!", I said "I have been woken up again by this computer".
"I say to him "go in the other room", and he goes "no, because I want to be near you", and I said "yeah, but I don't want to be near you when you're watching Es La Voz"."
Gemma and Gorka met in September 2017 whilst competing on the 15th series of Strictly Come Dancing. However, the former Hollyoaks actress was partnered with Alijaz Skorjanec whilst Gorka was partnered with singer Alexandra Burke.
The professional dancer popped the question on Valentines Day in February 2021, however they are yet to announce any news of a wedding.
The pair welcomed their first child, Mia, in July 2019 - and have recently announced, via Instagram, that they are expecting a baby boy later this year.
Gemma has had long-standing roles in Hollyoaks, Emmerdale and Casualty between 2001 and 2022.
She began presenting the Hits Radio breakfast show alongside Gethin Jones and Comedy Dave in 2018, but now presents the drive time slot across the Hits Radio Network with Mike Toolan.
The mother-of-one previously co-hosted the Key 103 breakfast show with Mike, from February 2017 to May 2018.
Gorka began competing as a professional dancer on Strictly in 2016, and has been partnered with the likes of Maisie Smith and Helen Skelton.
He has never won the prestigious Glitterball Trophy but has been a runner up on three series, including the year he met Gemma.