An up-and-coming theatre artist is returning to the Manchester arts venue where her journey into a career in culture began for a new show exploring the link between bread, politics and protest.
The show takes audiences on a journey through the Arab Spring and turmoil in the Middle East while also drawing on Miray's Egyptian heritage to explore the role food and particularly bread plays in social change.
The show is appearing on the Manchester stage later this month.
Who is Miray Sidhom?
Miray Sidhom is an acclaimed theatre artist who spent around seven years living in Manchester.
She initially moved to the city for the final year of her studies at MMU and stayed for a while after graduating.
She joined the Contact Youth Company and said it was a vital first step to developing her career in the world of the creative arts.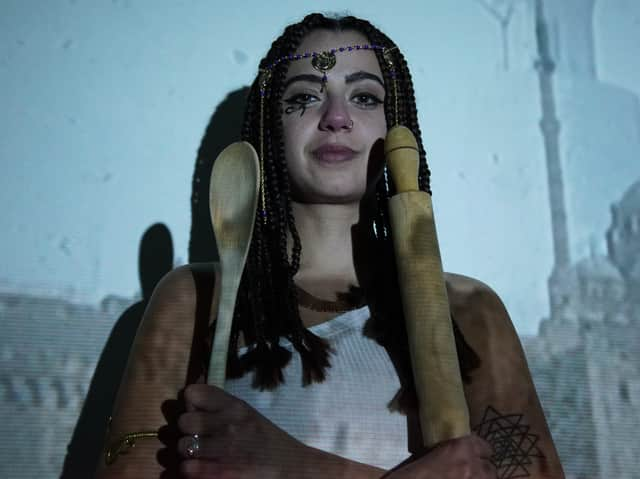 Miray said: "It was a crucial point. You go to uni and really love the atmosphere of theatre-making, but then you get thrown into the real world and you wonder how you can keep doing this.
"I joined Contact Young Company for three shows, collaborated with 20-odd other artists and got workshops from amazing practitioners and makers. I also did a solo show for Greater Manchester Fringe, which was a great experience."
What is her show The Bread We Break?
Miray says the idea for the show she is now bringing to Contact came from reading an unexpected story about how making and selling bread became embroiled in a brutal civil war in the Middle East.
She said: "I was on my lunch break reading a magazine and there was an article about the situation in Syria focusing on the bombing of bakeries, both by government and rebel forces.
"Everyone was so reliant on the bread there would be long queues outside and it just became a target. Whoever still had bread and could distribute it had all the power because people needed it.
"That sparked my thoughts about how political bread is. I'm from Egypt and it was the exact kind of bread they have in Egypt in the Syrian bakeries. It's something you eat with every meal, it felt very close to home.
"I had to dig deep and see what the links were. I started looking at bread in Egyptian history and there was just so much of it."
The result is a show which runs from the days of the Pharaohs to modern attempts at revolution and change.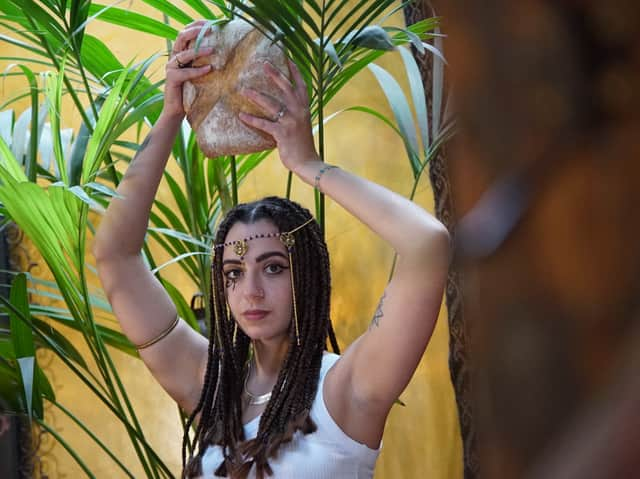 Miray said: "The first workers' strike in recorded history was in ancient Egypt and it was about them not being paid grain. There have been countless protests starting out because subsidies on bread have been cut.
"It seems to be the sparking factor for a lot of movements. It's a baseline for survival and once that's threatened people will kick off."
Miray pitched the initial idea for The Bread We Break to the show's producer, giving the rough outline of a performance outlining a connection between bread, war and protest.
Having gained an intrigued and positive response she then went through a process of online monitoring and assistance sessions over Zoom during the first lockdown and did more intensive weeks of research and development last September.
She said it is not just a show about history, though, and is very much about how people continue to battle against the system for their rights all over the world.
Miray said: "This piece is just as much about the UK in 2022 as it is about Egypt in 2011. The need for protests, their function in negotiating social contracts, is as necessary and as universal as bread itself.
"What began as a performative exploration around a history of protesting bread has become inseparable from the current political climate.
"From viewing the 2011 revolution as a past event to understanding that it is a living history, that the discourse of freedom in Egypt is still growing, that the prisoners of the revolution are still imprisoned, that the three protests which I believed to be separate entities were actually a continuation of each other."
When it the show and what has Miray said about it being performed in Manchester?
The Bread We Break is on at Contact between 24 March and 31 March.
Miray is currently spending her weeks in Manchester preparing the show and says it has very much reminded her why she loves the city so much.
She said: "Every time I come back to Manchester I ask why I don't still live here. It's one of those places it's hard being away from.
"When I come back I see all the reasons I love it.
"Being back in Contact, and seeing people back in the building after its big refurb, feels really homely and nice.
"Coming back to Contact I feel all grown up. It's really inspiring seeing all the young people in the building and hopefully they will be coming to the show.
"It's really exciting to think they are the next generation and they might see my show and then go off to do their own shows."