Manchester's oldest library, newest concert hall and famous music school: behind the scenes at hidden gem
Many people will walk past the landmark opposite Victoria train station, but how many know what happens there?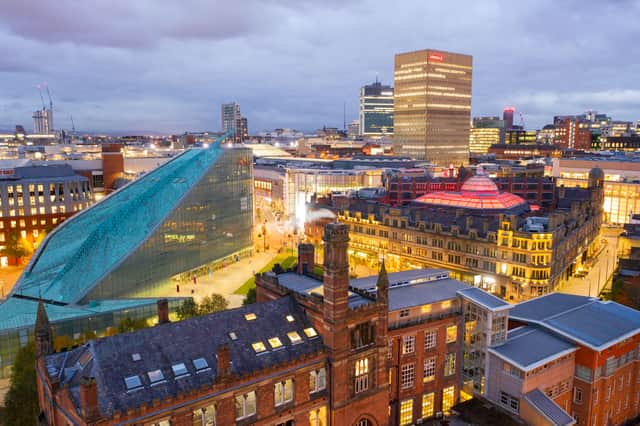 When you emerge from Victoria train station in the middle of Manchester, the Chetham's complex dominates the view in front of you.
In many ways the world-famous school of music, which attracts an international array of brilliant budding classical stars to study in the city, is a Manchester institution.
Yet in others the site is also something of a hidden gem, something that perhaps many Mancunians have just walked past or not fully noticed what is there.
ManchesterWorld spoke to the team at a site which spans the centuries, from some of the city's most beautiful old buildings to one of its newest arts venues, about its efforts to shout more loudly about what it does.
What are the three institutions on the Chetham's site?
The site across the road from Victoria station actually is home to three very different Manchester institutions.
Firstly, there's Chetham's School of Music, which provides expert tuition to around 350 young people, some 200 of them living there as boarders.
It has been a specialist music school for around 50 years, before that serving as a boys' grammar school and before that a school founded way back in 1653 by Humphrey Chetham.
Then there is Chetham's Library, the oldest public reference library in the English-speaking world.
It is located in a stunning building that forms part of the oldest structures on site, dating from 1421 when it was built as a residence for priests of the church which is now Manchester Cathedral.
Finally there is The Stoller Hall, which opened in 2017 and puts on a year-round programme of concerts and events for the city's culture enthusiasts.
'This is a place for the public'
One of the biggest misconceptions the team at Chet's and The Stoller Hall face is that as there is a school on site the whole area is completely off-limits to the public.
The library is available for tours to see some of the incredible treasures that make up its collection (though they are currently not running but should be starting again soon) and the Stoller Hall, which has its own entrance, welcomes music lovers to enjoy its packed programme of shows.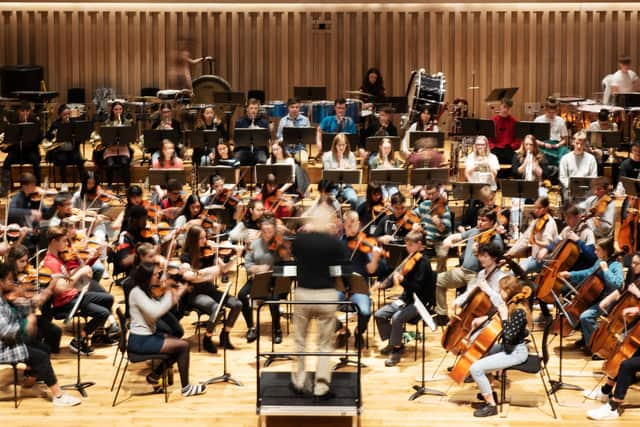 Fran Healey, general manager at The Stoller Hall, said: "There's still a bit of mystery around Chet's. We get described as this Harry Potter world.
"Because the Stoller is within the school buildings it gets quite misunderstood. People think it's a school concert hall, not a place for the public.
"We're also battling the perception we're just a classical music institution. We have a whole mix of things and it's for everybody."
What is there to see at Chetham's Library?
Chetham's Library has an extraordinary array of documents, manuscripts and historical artefacts located within its walls.
Probably the most famous object in the library is the desk where Karl Marx and Friedrich Engels sat and worked on what would become the Communist Manifesto when they were in Manchester in the 1800s.
It holds extensive collections in areas including medicine, science and music, and some of the oldest books are actually chained to their shelves as in days gone by readers would have to bring a stool and hold the book they wanted to peruse while it was still connected for security purposes.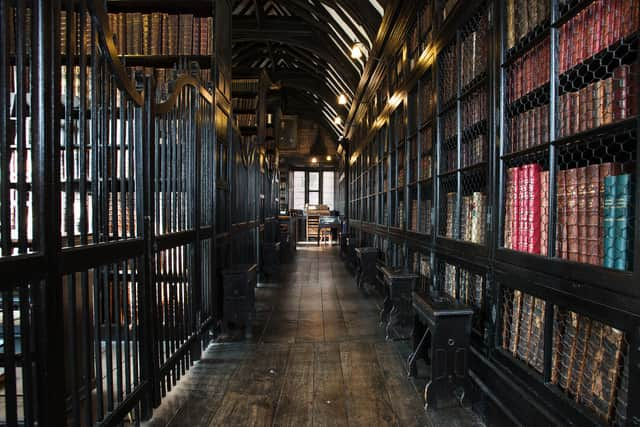 Local artefacts include a collection of mosses from different parts of Manchester and old maps of the city.
There are also mouseholes and cat flaps all over the library as there were notable vermin problems close to the river and four-legged pest controllers had to be employed.
The library runs themed tours so people can come along more than once and see different collections of books and documents related to whatever subject is in the spotlight on a given day.
Fran said: "The library is the most beautiful building, and the way it is surrounded by the city makes it a very special place.
"It's such an historic place to be and there's a feel to it when you walk under the archway. It's an oasis in the middle of Manchester."
Stoller Hall going green in 2022
While concerts explore the long-established and intertwined relationship between music and the beauty of the natural world, the concert hall is attempting to make its activities as environmentally sustainable and low-impact as possible.
This started by stocking the bar with drinks by local breweries and gin makers and dispensing with single-use plastic bottles of water before becoming more ambitious in its scope.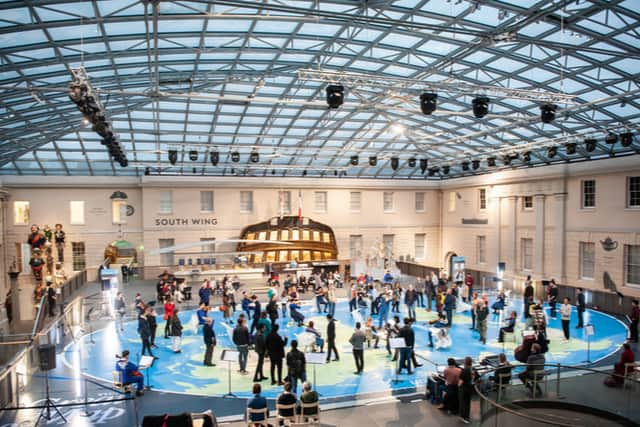 Fran said: "We now want to have that conversation with audiences and the logical way to do that was through the programme.
"We're quite fortunate that the building is well-designed environmentally, but we're looking at a number of different areas."
Opening up the world of classical music
The site as a whole is keen to bring new people into what can seem quite a closed-off and exclusive place.
The Stoller Hall has taken its place within the Music Venue Trust, where it is one of the very few places which put on classical music on board.
And the music school as a whole is keenly aware that the Covid-19 pandemic has had a major impact on young people's ability to hone their instrumental skills and play in larger ensembles or orchestras.
The school recently held a Brass Day bringing together former pupils who are now professional musicians, students currently at Chet's and brass players brought in for the day from other schools.
A similar day for woodwind players is planned for March.
As well as bringing people through the gates Chet's also takes its message out to mainstream schools in other parts of Greater Manchester.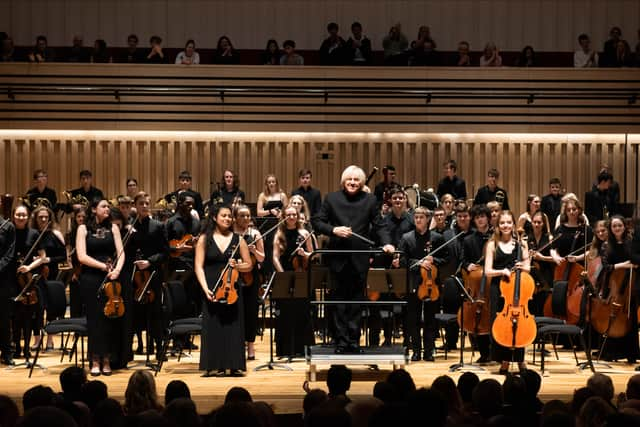 Joint principal and director of music Tom Redmond, who is himself a professional French horn player and BBC Radio 3 presenter, said seeing young people who study at Chet's can have a powerful impact on their peers.
He said: "We're trying to open the doors as much as we can and we're also looking at the musical ecosystem.
"This city has an incredible history of music and we have a responsibility to nurture that from the grass roots all the way up.
"With Covid children haven't had the opportunity to access those important milestones in their development, such as moving up to the next ensemble or playing in a youth orchestra,
"We're trying to help as much as we can to fill those gaps that have opened up and make what we have here even more accessible than it would normally be.
"Looking forward we have to do even more to support grass roots music making. Next week we're rehearsing a big Rachmaninov symphony with the Chetham's Symphony Orchestra and we're going to do that in residence at a school in Didsbury.
"Students will be able to hear that and take part in chamber music workshops.
"We did this pre-pandemic too, we took an orchestra to a school in Bolton. An orchestra coming to 900 teenagers who haven't heard one before changes the dynamic and it was incredibly powerful because they were the same age.
"I hope we can do more and more outside the walls of the school."
Asked to sum up what Chetham's School of Music can do for a young person, Tom also reaches for a reference to JK Rowling's famous fantasy series.
He said: "It's not always easy to be a musician in mainstream state school. When I went to youth orchestra on a Saturday I found my musical tribe.
"Here you are surrounded by like-minded people in a creative and supportive environment. It's like Hogwarts for musicians."