'It's a rollercoaster - much like motherhood': Manchester artist Amy Vreeke on her new show at Contact
Stand-up comedian, writer and women's health advocate Amy admits it is not always easy to put her own personal stories on stage but says she feels it is very important to do so.
Watch more of our videos on Shots! 
and live on Freeview channel 276
Visit Shots! now
A Manchester artist is bringing her new show to the boards of a city centre arts hub which explores the question of what it is really like to become a mum.
Amy Vreeke's new production Glowing contrasts some of the common assumptions and views about motherhood with her own personal experiences of being pregnant and becoming a parent.
The show is being put on at Contact, the cultural centre on Oxford Road which Amy says has played a key role in the development of her career as a stand-up comedian, writer and creator of theatre shows.
She spoke about the difficulties of putting her own personal stories on stage and why, despite the emotional toll, she feels compelled to share experiences which other people might also have had.
What is Glowing, Amy Vreeke's new show?
The idea for Glowing started to form while Amy was pregnant during lockdown with her son, who is now almost two.
She quickly found that many of the expectations around pregnancy and parenting were very different from the reality.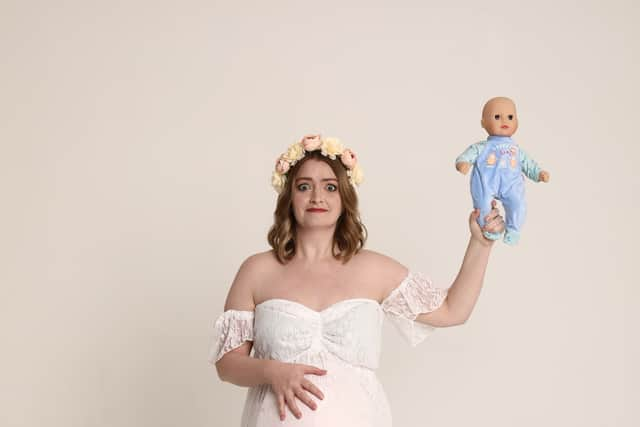 Amy, who lives in Whitefield, said: "I suffered with pre-natal anxiety and depression, which I never knew was actually a thing until I spoke to the doctor about it and got diagnosed.
"I felt a lot of pressure to be glowing, when I felt the complete opposite. I was really struggling with my mental health, I felt really sick and was just low.
"I started writing blogs about it. I was quite nervous to put it out into the world because of the stigma that surrounds this. I didn't want people to think I didn't want a baby or wasn't grateful.
"But when I started blogging lots of other women got in contact saying they had had the same experiences and felt really alone. They felt they couldn't talk to anyone about it.
"It made me think that this needs to be talked about more. You get told you have to feel like it's perfect all the time and there's a lot of pressure to enjoy the moment as well as this vision of the glowing mother.
"From my experience that's just so unrealistic. I don't think the work that mothers do is valued as real work but it's the hardest job I've ever done."
Glowing is an autobiographical theatre show which puts Amy herself on stage talking about these issues around becoming a mum, partly drawing on her background as a stand-up comedian but also including some much more serious moments.
She said: "I tell stories that reflect on my journey through motherhood. It's quite funny but there are moments that definitely aren't. I would say it's a bit of a rollercoaster, much like motherhood."
How does the show explore motherhood?
Amy spoke about the highs and lows of being pregnant and being a parent which Glowing explores.
She said: "The highs are that children bring you so much joy. They are learning new things and you are seeing them grow and being part of that. They're also hilarious, my little boy is definitely funnier than me.
"The unconditional love they give you and you give them, there's nothing like it, it's amazing.
"However, it's also hard work. The low points are not sleeping through the night for a year, not having any of your own space and all the challenges of going back to work, having to pay extortionate amounts for child care and trying to juggle it all.
"I also very much felt like I lost a lot of my identity when I had a baby and there's that struggle between wanting to be a great mum but still wanting to be me."
When is Glowing being performed and how can I see it?
Glowing is being performed at Contact, on Oxford Road, between Tuesday 18 and Saturday 22 October.
The show is directed by former 20 Stories High co-artistic director Julia Samuels and Amy said she had enjoyed an extremely supportive team in putting this personal story on stage.
Making theatre based on personal experiences
In turning aspects of her own life into theatre Glowing has similarities with Amy's debut solo show for Contact, which was called The Year My Vagina Tried To Kill Me and focused on her experiences of endometriosis.
She admits that making very personal stories into art is not always an easy thing to do but explained why she felt it was so important, particularly for subjects such as women's health.
She said: "You can feel very vulnerable putting your story on stage and maybe after this show I will take a break from it becaue it is quite emotionally difficult.
"However, I've also got a platform to raise awareness and help other people feel more comfortable with their stories so they can share them.
"It also makes conversations much more accessible if people can have a laugh about something.
"Women's health in general is so underfunded and under-researched but both these shows are about issues other women have struggled with. Nobody talks about them enough, they feel shame around them, people go undiagnosed.
"If I'm able to play a part in helping people get diagnosed or feel like they're supported then it's great that I can do that with my job."
The support of Contact
She spoke about how important it is to have the backing of an arts hub when trying to establish a career in the cultural sector.
She said: "Contact's support has been essential to me being able to do this. I think it's quite a rare thing to find a venue of the stature of Contact that really supports young artists from the beginning and gives them a leg up.
"It's really difficult to make your way on your own and the helping hand it feels like I've had has been invaluable."