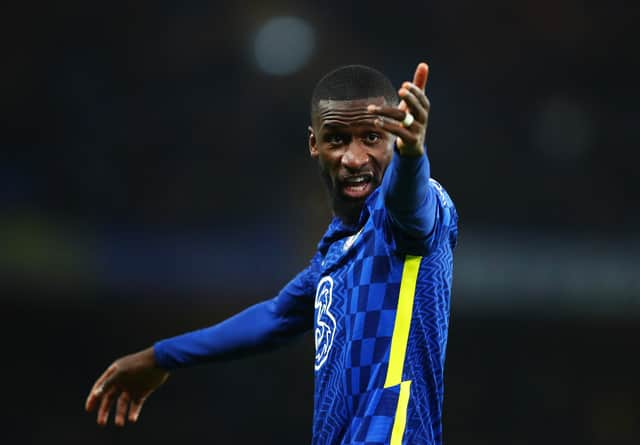 Antonio Rudiger has six months left on his contract with Chelsea and it is looking increasingly likely that he will not remain at the club after his five-year stint terminates.
While Thomas Tuchel's side have made attempts to persuade the 28-year-old to stay, his demands appear to have not been met and the defender is becoming an increasingly hot topic for many clubs in the transfer window.
Rudiger has had an excellent season for both club and country, winning the Champions League for the first time in his career as well as helping his nation secure a spot at the 2022 FIFA World Cup.
As a result of his current success, the German defender has found himself at the centre of a web of transfer interests from around Europe and Sky Deutschland are now claiming that Manchester United are among the next contenders to enter the race for the star.
Who is Antonio Rudiger?
Born in Berlin in 1993, Rudiger was eligible to play for both Germany and Sierra Leone as the latter was the homeland of his mother.
The centre-back spent time at Borussia Dortmund's youth club before signing with the youth team at VfB Stuttgart in 2011.
He began playing for their reserve team in the 3 Liga before moving up to the first time in the Bundesliga in 2012. In the three years Rudiger was at Stuttgart, he made 66 appearances and scored twice.
Rudiger was sent on loan to Roma in 2015 for €4million and the clubs also agreed on an optional €9million transfer fee at the end of the one year-contract.
The defender made just under 60 appearances for the Italian club with only two goals before he was bought by Chelsea in 2017 for a reported initial fee of £29million on a five-year-deal.
Rudiger made his debut for Chelsea in August 2017 and scored his first goal for the Blues in the round of 16 of the EFL Cup in a 2-1 win over Everton.
The centre-back made his 100th appearance for the club on 1 February, 2020, and scored both of Chelsea's goals - both headers assisted by Mason Mount - in a 2-2 draw against Leicester City.
Rudiger won his first ever UEFA Champions League after the Blues beat Manchester City 1-0 in the final.
Rudiger's current form
According to whoscored.com, Rudiger is enjoying an overall average rating of 6.91. His pass percentage is 89.8% and he has seen most success with this in the FIFA World Cup qualifiers where his rating was 7.11 with a pass percentage of 95.9%.
Rudiger is a versatile defender. He is normally situated as a centre-back but is able to play full-back on either side.
ESPN have described the player as a "tall, quick and athletic defender who is … comfortable with the ball at his feet."
Not only is the player known for his strong physical abilities and aggressive style of play, but Rudiger is also recognised for his commanding leadership qualities.
How likely is the deal to go ahead?
Unfortunately for the Red Devils, it seems rather unlikely that they would secure the Germany centre-back.
Sky Deutschland have cited that Paris-Saint Germain, Bayern Munich and most significantly Real Madrid all have the former Roma player in their minds.
According to Eurosport, Tottenham Hotspur and Liverpool are also linked with hoping to sign the 28-year-old.
It has been reported by The Athletic that Rudiger is hoping for a weekly fee of around £200,000 which Liverpool and Spurs would easily be able to pay.
The Guardian and The Sun are reporting that Real Madrid are the closest to signing the international star and it therefore seems unlikely that Manchester United will be able to secure the star if they are in serious competition with PSG, Bayern Munich, Real Madrid and potentially two other Premier League clubs.
What are the fans saying?
@EkpeKosiso tweeted "Rudiger and bailly vs Zaha would be box office"
@thatguy_sh has said "Bring him in @ManUtd Varane X Rudiger
However, @www_pokeball_dk has tweeted "It's a no - we got Varane and Rudiger is too old!